Northrop Grumman has won the contract to develop and build a next-generation US long-range strike bomber (LRS-B) in the largest award by the Pentagon in over a decade. At the same time, an ex-RAF Avro Vulcan nuclear strike bomber, a veteran of the Cold and Falklands Wars, has flown for the last time in the UK.
According to Reuters, analysts have said the Northrop deal could be valued at up to $US80 billion if the US Air Force (USAF) buys all 100 stealth bombers now planned.
Both Boeing and Lockheed Martin had competed for the contract, which will deliver an aircraft capable of delivering both conventional and nuclear weapons.
The bomber is slated to be ready for initial combat use by 2025, and the cost per unit is tipped at $US564 million, though this figure is likely to fluctuate, with estimates for the total cost of the program having undergone drastic (in the order of tens of billions of dollars) adjustments in recent weeks.
The award marks the USAF's second drive to start replacing its aging B-52 and B-1 bombers in recent years. Former Defence Secretary Robert Gates cancelled the first program in 2010 because he thought it was too ambitious and expensive.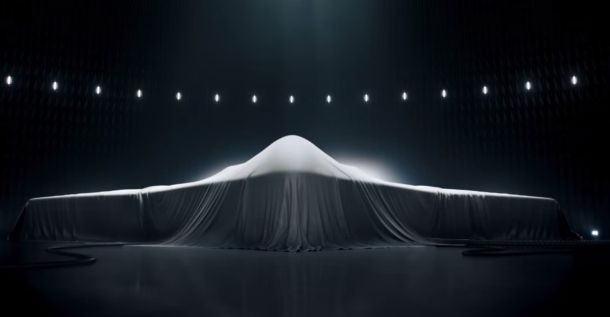 A screenshot from a Northrop Grumman commercial. The project is highly classified and no images of the design have been released. Credit: Northrop Grumman
The program remains classified and the Air Force released few details about the aircraft, which company would build the engine, or any of its key characteristics. The Air Force also provided no artistic renderings of the new plane.
Meanwhile, the only remaining flying Vulcan bomber has landed for the last time.
The distinctive delta-winged Cold War aircraft, which once carried Britain's nuclear deterrent, took off from Doncaster Robin Hood Airport for a short final trip on Wednesday afternoon, according to
The Telegraph
.
Organisers had kept details of the final flight secret until the last minute over fears that dangerously large crowds would throng the airport for one last chance to see the aircraft. Hundreds of thousands are believed to have glimpsed Vulcan XH558 as it spent two days doing flypasts around the country a fortnight ago.
Martin Withers, who led the 1982 Vulcan raids on the Falklands, was the pilot for the final flight.