After long and distinguished service in the RAN, decommissioned vessel ex-HMAS Darwin will receive a new lease on life as a dive wreck in the waters off Tasmania.
Ex-HMAS Darwin was commissioned in July 1984 and was a long-range escort frigate that undertook roles including area air defence, anti-submarine warfare, surveillance, reconnaissance and interdiction. In August 1990, the ship became the first Australian vessel to deploy to the Persian Gulf.
In 2014, the ship intercepted over 1,000 kilos of heroin and over 6,000 kilos of hashish off the east coast of Africa, and in 2016, intercepted heroin worth $800 million and a cache of weapons from a fishing vessel off the coast of Oman.
Ex-HMAS Darwin was granted three Battle Honours: East Timor 1999, Persian Gulf 2002-03 and Iraq 2003. She was decommissioned in December 2017.
Minister for Defence Marise Payne said she was pleased that ex-HMAS Darwin would call Tasmania home after sailing over 1 million nautical miles during 33 years of service.

"The Government is pleased that ex-HMAS Darwin will be used in Tasmania as a dive wreck, particularly given the significant tourism and economic benefits that will flow from the decision," Minister Payne said.

"My Tasmanian Coalition Senate colleagues have played an important part in demonstrating the benefits of sending ex-HMAS Darwin to Tasmania one last time."
The planned scuttling aims to enable future generations to appreciate the ship and drive tourism.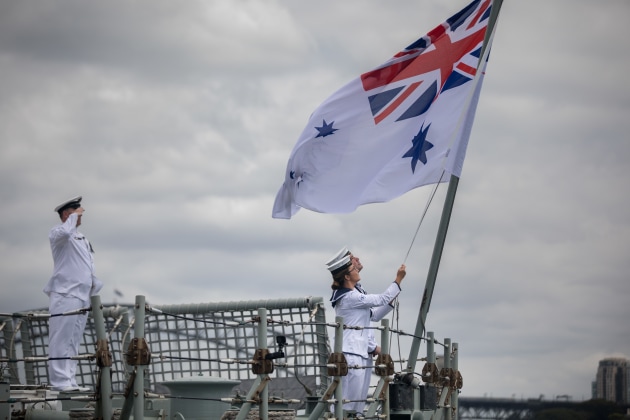 Nationals Senator for Tasmania Steve Martin said the decision to gift ex-HMAS Darwin to Tasmania would give a much welcome boost to the local tourism sector, creating new jobs and bringing more visitors to the east coast.

"The creation of a dive wreck offers small businesses in Tasmania the opportunity to capitalise on national and international interest to dive in the magnificent Tasmanian waters," Senator Martin said.

"This will bring additional tourists and spending to Tasmania, which will create and support local jobs, both directly and indirectly through the industries that support tourism in our state."

The Commonwealth and Tasmanian Governments will work together on funding arrangements for the vessel's scuttling.