Civmec has announced that two important milestones have been achieved at its Henderson facility.
The first is the erection of the first steel for one of the world's largest undercover Ship Assembly Halls, and the second is the preparation of steel for delivery to SA for Australia's new fleet of Offshore Patrol Vessels (OPVs).
According to Civmec, construction of the new Ship Assembly Hall is on budget and on track to meet the scheduled completion date of late 2019.
The 53,000 sqm, 70-metre high facility will be one of the largest single undercover modularisation, repair and maintenance facilities in Australia. It will be able to house complete Air Warfare Destroyers, Frigates and OPVs, for construction or maintenance.
"At times like this, it's important to stop and reflect on the company's achievements. I would like to take this opportunity to thank everyone who has contributed to the company for their support and encouragement which has helped to get us to this significant moment," Civmec's Executive Chairman James Fitzgerald said.
"This facility will create employment for numerous generations to come. It will be a hub for training and innovation and will be a home-grown leader in the future of modern heavy engineering. It's a facility that West Australians, and indeed all Australians, can be proud of."
The second milestone reached was the preparation and profile cutting of the Australian steel plate for the first of 12 OPVs to be constructed for the RAN.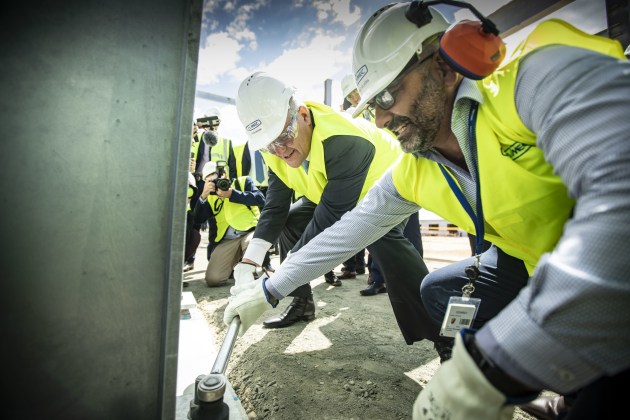 In April, Luerssen awarded Civmec a significant contract  for the new build program for the OPVs under Sea 1180. The contract includes the supply and processing of steel for 12 vessels. The first two vessels will be built in SA by ASC and Civmec will undertake the fabrication, construction and consolidation for the following 10 vessels in WA.
"We are extremely pleased to be involved in the OPV program," Pat Tallon, Civmec's CEO, said. "This represents an important step in our long-term commitment to further support the establishment of a competitive Australian shipbuilding industry and supply chain that can export to the global market."
The event was officiated by PM Scott Morrison, Senator Mathias Cormann, Commodore Stephen Hughes, Director-General Littoral for the RAN, and Peter Croser, Assistant Secretary Specialist Ships for CASG.