The Australian Strategic Policy Institute's Dr Malcolm Davis has published the Australia's Future in Space report today, urging Defence to take advantage of the democratisation of space to develop local sovereign space operations.
From a defence perspective, Davis says traditionally, Australia has only been a space power with US support, coughing up the occasional sum for a satellite (such as for the Wideband Global Satellite network's WGS-6) and providing convenient locations for ground facilities.
As recent technological developments reduce the costs of accessing space and open up niche areas in the commercial sector where Australia can participate profitably, the familiar approach of taxpayer funded, NASA-style space programs (known as 'Space 1.0') are being replaced by Space 2.0, which emphasises commercial space enterprises as leaders and exploits new technologies that deliver low costs and high returns in good time.
Davis welcomes the Commonwealth's decision to establish a space agency as well as its current review into the revitalisation of Australia's space industry, but warns "the devil is in the detail", claiming   any success of the agency will depend upon what it's required to achieve and its level of funding.
He points to Defence's Strategic Policy and Intelligence Group which acknowledges Australia's reliance upon the US for 'access to high end space capabilities as a significant vulnerability for the ADF' and warns that 'as some nations increase their use of space and develop and test counter-space technology, it will become important for Defence to have the ability to monitor and protect Australia's interests in space through a spectrum of responses'.
Other challenges for the ADF will be the need for increasing bandwidth as platforms such as the F-35 and theMQ-4C Triton come into service and the congestion in space caused by the emergence of mega-constellations of satellites launched to meet similarly increasing bandwidth demands for broadband communications globally.
Davis proposes a three tier framework for ADF space capability where Tier I is US-provided strategic space, Tier II is commercial space and Tier III refers to an Australian indigenous space capability (see table).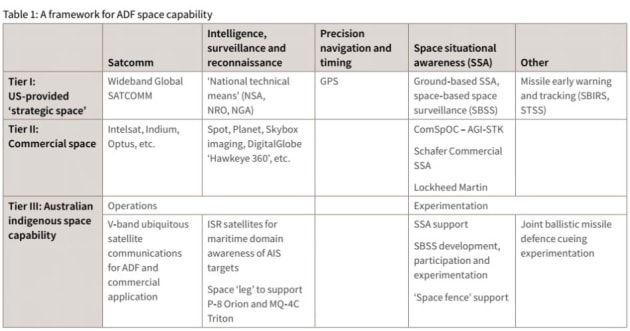 "It's in Tier III where the development of a sovereign Australian space capability would allow us direct control over our own assets and the information we gather to ensure timely and secure space support for the ADF," Davis writes, albeit advocating such efforts should be done in a manner that complements Tier I and supplements Tier II.
The potential opportunities offered by these new technologies, including CubeSats (encompassing nano-, pico- and femtosatellites) as well as larger and more capable microsatellites and even, potentially, small satellites, is clear, according to Davis.
"These types of satellites could be locally designed and built ... and launched at very low cost using commercial launch systems overseas, or eventually using sovereign launch capabilities once that sector of Australia's commercial space industry is established."