With small, commercially available drones or UASs (unmanned aerial systems ADM's preferred term) featuring high up on the Christmas wish lists last year, it's no wonder that the threat posed by them to security and safety is being taken seriously, with two counter-UAS security companies listing on the ASX in just the past year.
On January 7 this year, the first reported UAS-to-passenger jet collision occurred in Mozambique. A small UAS crashed into a packed Boeing 737-700 passenger jet with 80 people on board, tearing holes in the LAM aircraft's nose as it was on final approach to an airport. The aircraft is understood to have landed safely with no casualties, however experts warn that it is simply a matter of time before a small UAS causes a fatal crash.
US counter-UAS security companies Department13 and DroneShield have significantly increased their presence in Australia, foreseeing the need for a mitigation of the threat posed by small UASs. Both companies, which have originated in Virginia, US, work across the public and private sectors, and in the past year they were listed on the ASX, demonstrating the increasing significance and growth of the market.
The detection system markets include prisons, airports, event organisers, critical infrastructure protection, even movie sets, and VIPs and celebrities with security, and/or privacy concerns.
There are many methods to detect small UASs, and all come with their advantages and disadvantages. The most commonly used detection methods are Radio Frequency (RF); Acoustic signature; ground radar; and Camera/Video.
Camera detection is cheap and works very well for near term detection, with special computer vision and pattern recognition algorithms allowing the system to distinguish between birds and UASs. While it does have uses in some applications, it's not ideal when detection is preferred at longer ranges, especially when the speed of the latest commercially available UASs is around 20 metres per second.
Ground based radars are very effective at detecting small UASs at very great distances. The majority however, are used by the military for the detection of much larger objects such as aircraft and they are therefore not very portable, and prohibitively expensive. They are also blind at near distances and often won't cover the full 360 degrees.
New generation radars, such as those developed for bird detection, have some potential and they can be easily adopted for UAS detection however cost is still a premium. They certainly have a role to play and can detect small objects at very near distances.
Department 13
Department 13 uses RF detection via its portable solution known as Mesmer, which was officially launched on January 23 this year. Australian protective equipment supplier EPE has teamed up with the company to market the product in Australia, and the technology was recently showcased during a number of events throughout the country; ADM attended the first such event in Sydney.
Mesmer works by recognising and characterising signals from the UAS, then manipulating it by sending it signals. Through this intelligent process, known as protocol manipulation, the system can identify the UAS's profile and features, obtain system information and ultimately persuade it to listen to a new control system from other than the original pilot.
It interdicts and mitigates the threat posed by taking control of the UAS, directing it away from the threatened area and even landing it safely on a pre-designated zone for further response.
"What many of our competitors are doing is what's called "de-auth" – denying or de-authorising the UAS off the network, but still allowing the operator to retain control," Department 13 CEO Jonathan Hunter explained to ADM. "That's not protocol manipulation and it's relatively simple to do."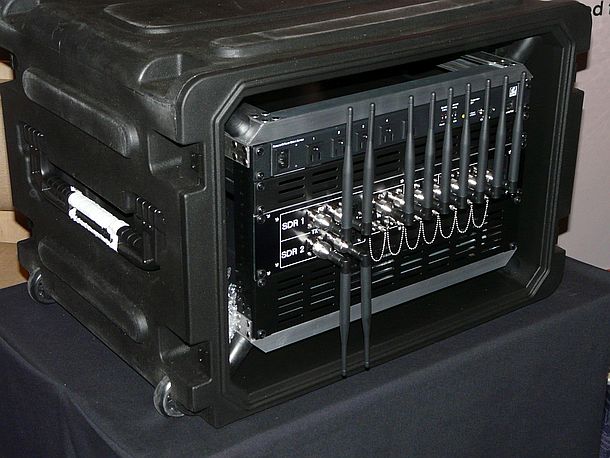 Department 13's Mesmer The physical system consists of a 41 kilogram stand-alone, rack mountable unit -essentially a server with an RF front end to control the gain and transmission of the RF signals. Credit: ADM Patrick Durrant
In September last year, the company successfully demonstrated Mesmer at Black Dart, a US Department of Defense Counter-UAS evaluation exercise.
"We were the only company present to take positive control of the UAS at the event, all the others in the commercial space were using jammers where they created a lost link effect or where they crashed the UAS," Hunter said. "From a tactical, or operational point of view, we have the smallest footprint, so imagine a Pelican case, a generator, and an antenna system; that's all you really need to have a counter UAS solution."
The physical system consists of a 41 kilogram stand-alone, rack mountable unit housed in a ruggedized Pelican case. It's essentially a server with an RF front end to control the gain and transmission of the RF signals.
Hunter said it had an effective range of at least one kilometre using only one watt of transmit power, and range was a variable depending on the antenna type, transmit power and terrain.
"Urban environments will introduce a degradation of the detection range, but even in those areas we have been getting plus-600 metre effectiveness from a sub-1 watt transmission," Hunter said.
Software for the system does need to be updated at regular intervals to keep pace with the ever increasing number of new, technologically advanced UASs appearing on the market. Many of the models currently available have a single frequency connection which is easier to mitigate against. One of the most popular commercially available UASs on the market is the Chinese Phantom 4 UAS built by DJI. It uses a frequency hopper based on the company's Lightbridge software, and this makes it more difficult to counter.
Department 13 is already working on overcoming such protocol hurdles and doesn't see it as a problem.
"We haven't found a UAS we can't hack yet – by the end of January 2017 we'll be able to mitigate against the Lightbridge 1.0 UASs and we'll move onto countering the Phantom 4."
DroneShield
DroneShield, which headquartered in Sydney in late 2015 last year, offers separate detection and mitigation solutions. UASs are detected via an acoustic signature based system, with the company offering both longer range detection up to around one kilometre in a 30 degree arc, and shorter range detection from omnidirectional sensors ('omnis') to about 150 metres.
DroneShield CFO Oleg Vornik told ADM that their acoustic detection offering was "cheap, effectively a microphone in a box or dish with an omni-sensor in terms of the hardware".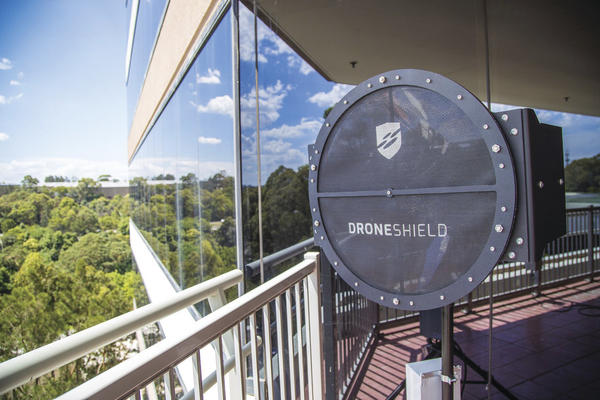 Credit: DroneShield
He explained the secret source is within the software, the algorithm separating the UAS from the background noise and matching it to a library of acoustic signatures. Once detected, an alert is sent to the user via a GUI interface displaying a Google Earth image of the facility and the detection sectors of the deployed sensors.
"So, for example if you are a prison facility you want to have 12 dishes in the middle of the facility covering a circle out to one kilometre radius, and then you have a few omnis around the corners, effectively providing an immediate proximity alert," Vornik said.
The system, according to Vornik, even works well in noisy, inner city environments.
"An effective signature detection system for us is one that can withstand environments such as a field of crickets or a downtown Tokyo kind of noise."
To mitigate against the detected UAS, DroneShield offers the DroneGun, a rifle-styled jammer device effective at the 2.4, 5.8 Ghz and (optional) GPS/Glonass frequencies which are those used by commercially available UASs. Currently in Australia this product can only be sold into the military, law enforcement and first responder markets.
Aware of the dangers of simply knocking a UAS down via kinetic means, Vornik said it was important to be able to bring down the UAS in a controlled manner while also locating the pilot.
"The DroneGun will stop the communication between the pilot and the UAS, with the default solution being for the UAS to return to the operator, thus allowing you to locate that person," he said. "When an optional GPS-jamming capability is also used in conjunction with the RF jammer, the common response is for the UAS to just land in a controlled manner, so that allows you to retrieve it and conduct an investigation."
The range of the DroneGun is nominally around two kilometres, with effective mitigations having been achieved at almost double that, according to Vornik.
It is also effective against the frequency hopper types because it will jam the entire bandwidth, leaving no frequencies for the UAS to hop to.
US experience
The US Departments of Defense and Homeland Security purchased similar counter UAS technology last year, namely Batelle's DroneDefender rifle.
Jammers like the DroneGun are proving popular in countries where the laws regarding RF jamming are less restrictive as they are, for example, in Australia and the US. While customers will be interested in detection systems in the long run, Vornik said, often they will prefer to opt immediately for a jamming device that will take care of any unwanted UASs that approach them in the meantime.
He worries that regulations controlling the use of UASs are not keeping up with the proliferation of the technology.
"Unfortunately it will take a disaster where there is a considerable loss of life before authorities give the problem the attention it deserves; this could be an act of terrorism where a UAS is used to deploy a dirty bomb or a UAS simply flies into a jet engine of a large passenger aircraft."