Ten Flinders University students are set to kick off international careers with a number of leading French companies, following their success in the June 2018 round of Nicolas Baudin 'Internships in France' scholarships, where they claimed the most scholarships of any participating Australian university.
Industry partners such as Naval Group, Cementys, Semofi and Thales will provide internships for Flinders University students for between three and six months, in collaboration with world-class higher education partners in France.
The successful students will undertake industry-focused research projects in areas such as marine technology, advanced manufacturing, structure and material engineering and even earthquake engineering.
Flinders University vice-president and Pro vice-chancellor (International) Sebastian Raneskold says the internships are a wonderful opportunity for Flinders students to gain invaluable industry experience and to connect with the University's overseas partners to develop research of global significance.
"Our success reflects the exceptional skills and global ambition of our students as well as the strong educational and research links between Flinders University and French institutions such as Centrale Nantes, Centrale Supelec and ENSTA Bretagne," Raneskold said.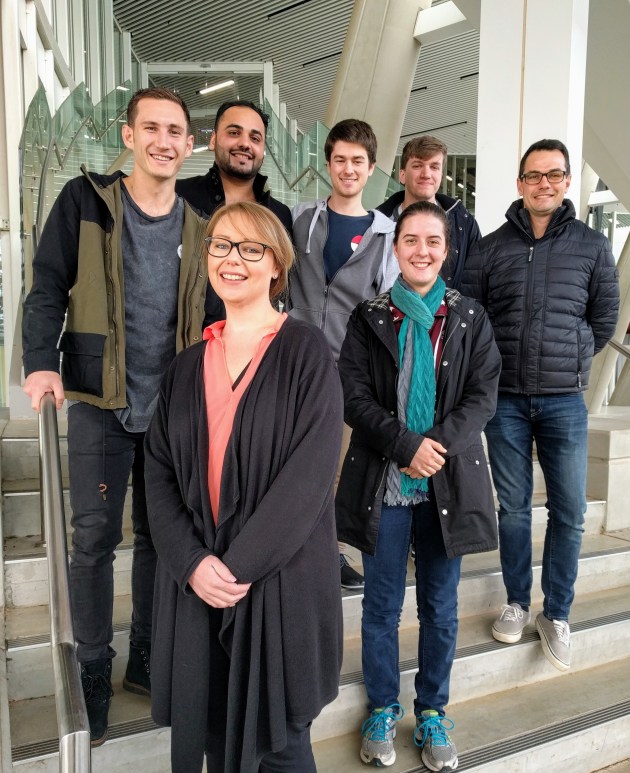 Flinders University College of Science and Engineering student interns heading for France (back row, left to right) Dalton Rieck Master of Engineering (Civil), Arslan Ahmad Bachelor of Engineering (Civil) (Honours), Jayden Grigg Bachelor of Engineering (Electronics) (Hons), Matthew Evans Bachelor of Information Technology (Digital Media) / Bachelor of Software Engineering (Hons), Chris Przibilla, Bachelor of Engineering (Civil) (Hons) and (front) Larissa Pearce, Work Integrated Learning Coordinator, College of Science and Engineering and Caitlin Kramer Bachelor of Engineering (Robotics) (Hons)
Credit: Flinders University.

In addition to the important industry experience, the Flinders students will receive a Flinders University mobility grant and a monthly French stipend. Select students will also receive a travel grant awarded by the Embassy of France or the host French university.
In May 2018 Flinders University became a signatory with other members of the Innovative Research Universities (IRU) Network to the Nicolas Baudin 'Internship in France' initiative offered by the Embassy of France in Australia.