Australian university and industry experts in robotics and autonomous systems have enjoyed a unique opportunity to explore collaborative R&D opportunities with a high-level delegation of US military and Australian Department of Defence research leaders at the 2017 US-AUS Robotics and Autonomy Workshop in Adelaide.
Organised jointly by Melbourne's Defence Science Institute (DSI) and the Adelaide-based Defence Innovation Partnership (DIP) in collaboration with the US Army RDECOM's International Technology Centre – Pacific (OTC-PAC) and the DST Group, the 2017 US-AUS Robotics and Autonomy Workshop saw researchers from 16 Australian universities, CSIRO's Data61 and three SMEs deliver 56 separate presentations on Monday 6 and Tuesday 7 November.
Their audience was a mix of DST Group and US military researchers representing 11 separate research organisations,
ranging from the US Army Research, Development and Engineering Command (RDECOM) to the Space and Naval Warfare Systems Command (SPAWAR).
The 2017 US-AUS Robotics and Autonomy Workshop was part of a wider program of bilateral activities for the US delegation and its counterparts in the DST Group. This is designed to enhance bilateral cooperation and help strengthen each country's defence forces by targeting and engaging the scientists and engineers that are actually doing the R&D work. This style of workshop is a first for this community.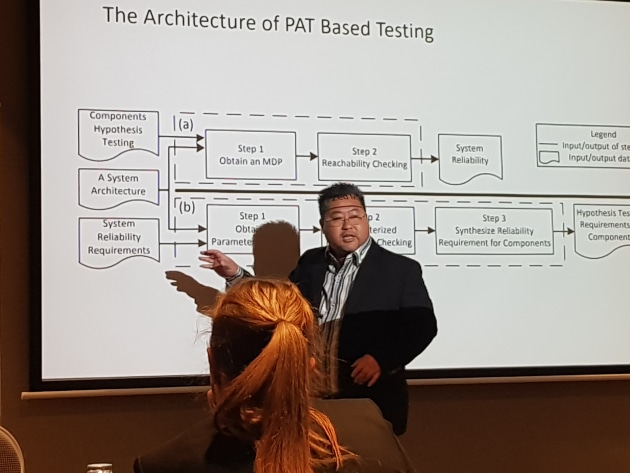 The US delegation is looking for early stage robotics and autonomy research projects that are potential candidates for US-Australian collaboration or cooperation, according to DSI Director, Dr Regina Crameri. Research projects presented by Australian researchers addressed challenges ranging from Trust in Human-Autonomy Teaming, through Exploring
Legged Robots, to Sensing and Perception – Improving ISR capabilities using Autonomous Vehicles.
"The US defence research community's specific areas of interest include Sensing & Perception, Networks & Communications, Payloads, Human Interfaces & Trust of autonomy/robotics, and Supervised Autonomy for Target Tracking," she said. "This aligns well with Australia's defence needs," Dr Crameri added.

"This is the first time so many researchers and research leaders from the US have been able to engage with a broad group of Australian researchers," Dr Crameri said. "Along with any collaborative activities flowing directly from 2017 US-AUS Robotics and Autonomy Workshop, this helps build international relationships and develop knowledge of the R&D that's being done in both countries and what opportunities there are for future engagement and collaboration."
The DSI and DIP were approached originally by ITC-PAC's Director of Robotics and Autonomy and Canberra-based representative, Dr Robert Kania, to organise the 2017 USAUS Robotics and Autonomy Workshop. Dr Kania received more than 120 Expressions of Interest from Australian researchers and down-selected 21 universities and companies to
present on 56 R&D projects.
The US researchers will evaluate the 56 Australian research proposals delivered during the 2017 US-AUS Robotics and Autonomy Workshop. If any of them are candidates for further joint work, the delegation will then examine possible mechanisms for undertaking and funding joint and collaborative R&D.
Eighteen universities from every State and Territory in Australia except the NT presented early-stage research projects. In addition, three Melbourne-based SMEs, DefendTex Pty Limited, Tectonica Australia and AOS Group also presented R&D programs that are much closer to market readiness.