Then Chief of Air Force Air Marshal Geoff Brown released Plan Jericho two years ago at the last Avalon Air Show. ADM has a look at the transformation plan now to see what the program has achieved.
Katherine Ziesing | Avalon
In essence, the Plan Jericho vision is to develop a future force that is agile and adaptive, fully immersed in the information age and truly joint; the RAAF of the future is dependant on complex platforms operating in a multi-faceted joint and networked battlespace.
To support this vision, Plan Jericho is broken down into 16 streams of work (see box for more on the streams and their achievements) that are being pursued under the three guiding principles of:
Top-down Design Meets Bottom-up Innovation.
Strategy-Led: A Compass not a Map.
Combat Mission Focused.
Each work stream has its own goals, budget and management and is headed by a RAAF one star.
Affectionately known as one of the Jericho twins, Group Captain Jake Campbell (now Air Commodore on his next posting at the time of publication), confirmed that the work streams are part of a living document that underpins Plan Jericho, as new streams can be added as needed while others are removed once complete.
"This is the top down part of the approach," GPCAPT Campbell said. "But we've encouraged all parts of Air Force to look at what they do and how they do it as Jericho can provide a way to evolve and make changes."
And Air Force has indeed been responsive to the call out. Group Captain Pete Mitchell, the other Jericho director, told ADM that over 40 of the programs that Jericho has underway have come out of this approach.
"These activities are separate to the Jericho Dawn activities, which are more formal demonstrations of achievements within Jericho or demonstration of Jericho-centric concepts," GPCAPT Mitchell said.
There have been a number of Jericho Dawn activities, with two recent events demonstrating ISR integration and more recently using Microsoft's Hololens augmented reality product to explore options to enhance command and control concepts or advanced operational planning.
The Jericho program of work saw RAAF spend $15.497 million 15/16 FY.
Innovation
Despite the buzzword nature of innovation in Defence and the wider government environment, the Plan Jericho team is walking the talk. Partnering with University of Technology Sydney (UTS) Design Innovation Research Centre (DIRC) and industry, many Jericho programs are working differently within existing structures. A key development has been the application of Design Led Innovation (DLI) to appropriate programs.
Design Led Innovation is one of DIRC's methodologies that builds capability through tried and tested, design-oriented practices applied to real world problems. The methodology has previously been applied and refined across multiple sectors including food and agribusiness, automotive, advanced manufacturing and renewable energy.
In June 2016, nominated personnel from DIRC, Plan Jericho and major industry primes, medium and small enterprises attended a four-day scrum (workshop) with approximately 70 per cent of participants travelling internationally or interstate to visit UTS. The aim was to delve into a specific, urgent and challenging Air Force problem, and move it fast from ideation to implementation.
The goal was to challenge assumptions and reframe requirements relating to ADS-B (Automatic Dependent Surveillance – Broadcast); a capability that will upgrade the Hawk 127 Lead-in Fighter training aircraft to meet CASA safety and technical regulation requirements. This program was already late, with parts of the RAAF admitting that they had dropped the ball to meet the new civil regulation.
A Royal Australian Air Force F-35A flies in formation with a US Air Force F-35 and F-16 during trial flights from Luke Air Force Base in Phoenix Arizona. Credit: Lockheed Martin
Usually, Air Force would develop its requirements in isolation, and then release these to industry for their response. Industry would approach this problem by launching into 'solution mode' and preparing a pitch for tender, arguably without a deep understanding of the problem or the end-user context. Indeed, when industry was informally approached about the issue, the costs involved were prohibitive at first glance under regular frameworks.
In this scrum, participants were provided with the opportunity to meet with all the stakeholders, including the end user (pilot), the platform chief engineer and CASA.
"Part of the problems we've had in the past is that we've made assumptions – asked the wrong questions, and got the wrong answers," GPCAPT Campbell said.
Over the four days, participants were divided into mixed groups that united various areas of industry with Defence personnel to collaborate through a series of DIRC facilitated DLI tools that encouraged participants to explore unchartered territory by trying to understand the problem from multiple stakeholder perspectives.
"Industry understands the issue as much as we do and the DLI approach gives us a valuable forum to explore the art of the possible," explained Wing Commander Jerome Reid, who is leading the Jericho acquisition and industry engagement efforts.
Industry could see the potential opportunities and were prepared to engage, although there were some initial hesitations and reservations about the process and the ability to change the acquisition paradigm. Old habits are hard to break. Most industry participants had a technical or engineering background and entered with preconceived notions of the scrum process being technically driven.
Air Force moved fast, and within three days of the scrum being concluded, a Request for Tender was posted on AusTender. Industry was asked to submit their proposed solutions utilising this new DLI perspective.
The next step was to down select and invite the most suitable candidates to take up the opportunity to undertake co-funded prototyping. This approach to capability acquisition has had profound benefits to both industry and Defence. The program has now been formally approved, and the RAAF and BAE Systems are now forging ahead with four down selected companies, sub-contracted to BAE Systems for the prototype phase. Details of the four companies had not been announced at the time of publication.
"We took the program to this point in three months," WGCDR Reid said, also noting that the program would have taken the better part of two years under existing arrangements.
The DLI approach is a fast paced framework that is not suitable for all programs but applied correctly can have huge benefits for all parties.
"The sprint methodology seen with ADS-B is based on a large body of research that we've been conducting," WGCDR Reid told ADM. "That research included talking to industry, looking at best practice, and engaging with academia. Thanks to this work, we realised that there are two types of innovation that Air Force undertook. One was sustained innovation or incremental change; we were very good at that as it increased reliability.
"Then there is disruptive innovation, which we're not so good at. It involves a whole bunch of risk and it involves validity rather than reliability. Our future development is a disruptive spiral thanks to dealing with transient advantage in a complex operational environment."
The Jericho team is looking at which IIP programs are suitable for a sprint methodology, which will be included under the CASG Smart Buyer process.
"Going through the Smart Buyer process, it will become apparent as to whether or not the sprint approach is appropriate for any given program as an acquisition strategy," GPCAPT Mitchell said, acknowledging the different risks and players of any given program.
"Whenever you are after a disruptive technology and the need is urgent, that is where the sprint methodology comes into its own," WGCDR Reid concluded.
Industry feedback
Industry has been enthusiastic about the Plan Jericho partnering approach thus far. Companies working on Jericho related programs include:
Northrop Grumman, which worked on a Jericho Dawn demonstration with their airborne gateway technology, Battlefield Airborne Communications Node (BACN).
L3, Honeywell, Northrop Grumman, Boeing, Inmarsat and ViaSat on the AirView 360 system to provide wireless connectivity in the back of AMG aircraft.
Rockwell Collins for testing wideband High Frequency IP as a low capacity beyond line of sight communications bearer.
Insitu Pacific and AOS Group for a trial of small UAVs and intelligent software agents to autonomously respond to ground based intrusions.
Lockheed Martin to explore force level integration through Open System Architecture.
Daronmont to identify the Digitised Air Base architecture prior to engaging industry via technology identification/demonstration.
DST Group and SAAB Australia explored Augmented Reality for future advanced Command and Control applications
---
PLAN JERICHO STREAM ACHIEVEMENTS TO DATE
Project 1. Enhance Air-Land Integration
Acquisition of 4SQN equipment including JTAC Part Task Trainer, JTAC Fielding and Training System and Digital Aided Close Air Support (DACAS) system
C-17 enhanced communications for embarked forces incorporating wi-fi, SATCOM and AirView 360.
C-130J Beyond Line of Sight (BLOS) communications capability
Project 2. Enhance Air Force's Maritime Operations Capability
FMV demonstration ISO Fleet Maritime Operations (Nov15 FCP-E) – Secure comms - COMPLETED
AP-3C Static Aircraft - WBHF Trial to support Open System Architecture development trials, COMPLETED
CIB/IBS trial completed on GW16-3. Trial splitter to enable concurrent use of SATCOM data and CIB/IBS. Testing Complete. Acquisition to facilitate fleet wide incorporation.
Project 3. Establish an Air Warfare Centre
Air Warfare Centre achieved Initial Operating Capability (IOC) in January 2016 including establishment of Integrated Mission Support (IMS), Tactics & Training and distributed Test and Evaluation (including OT&E) Flights (TEF).
Established AWC 'Innovation Hub' - currently engaged in facilitating IPTs and developing innovation toolkit for application against IPT/RFA's.
Established internal Defence relationships to coordinate Amphib/Maritime integrated activities in partnership with RAAF.
Project 4. Enhance Air Force's Command, Control, Computer and Communications Capability
Established a Capability System Management Committee for Communications and Information Systems (CIS) at the HQAC level with FEG representation
Commenced capturing C4 issues across Air Force so they can be prioritised and remediated
Funded the Jericho Innovation Team within Command Intelligence Systems Support Organisation (CISSO) to provide additional capacity to improve Air Force's C2 capability
Project 5. Optimise Air Force Contribution and Access to the Common Operating Picture
Delivery of XMPP Chat Capability – E-7 BLOS Chat Capability.
Tactical Display Format (TDF) Portal is web-based software application supporting the Vigilare and MROC GUIs (graphical user interface) allowing for the Vigilare RAP to be made available to users based on their IP address via DSN infrastructure.
37 SQN L-16 Joint Range Extension (JRE) Support.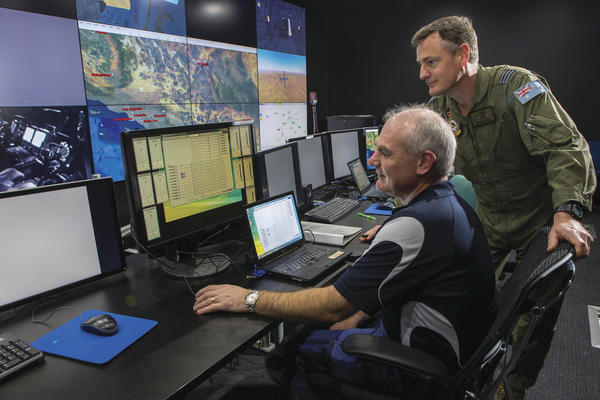 Daryl Hopton from CAE Australia and Commanding Officer No 285 Squadron, Wing Commander Jason Baldock watch the progress of the training in the C-130J Simulator during Exercise Coalition Virtual Flag 16. Credit: Defence
Project 6. Grow the Air Force Capacity to Support the Joint Cyber Capability
Preliminary implementation program includes the development and approval of the detailed Cyber CRP Implementation Plan (CIP).
462SQN attended Ex CYBER GUARD 16 (CG16) in Suffolk, VA in June 2016.
Project 7. Develop an Integrated Fire Control Capability
Integrated Fire Control concept brief developed jointly with Navy and presented to the Joint Warfare Council in November 15.
Responsibility for IFC within Air Force transferred from ACG to AWC in January 2016.
Project 8. Enhance Air Force's Air Base Warfighting Capability
Digitised Movements. Engaged RPDE to identify possible options for the ADF requirements for an integrated and automated air movement solution and what options or combination of options could meet those requirements by November 2017. Following engagement with service stakeholders and industry RPDE identified a COTS Departure Control System that could meet the CSG digitisation requirements.
CSC2 System. Finalised Capability Reporting Information System (CRIS) development with DPRA and now liaising with CIO to install tool on DSN.
Digitised Air Base Architecture. Contracted Daronmont to identify the Digitised Air Base architecture prior to engaging industry via technology identification/demonstration in April 17.
Project 9. Implement an Air Force Collective Training Plan
Commenced body of work to matrix AF core roles/missions against Defence Response Options by platform, with the view to identify supported/supporting relationships across FEGs for each DRO, and capture this data within REACH, the RAAF Exercise and Activity Collaboration Hub.
Project 10. Enhance Air Force's Live, Virtual and Constructive (LVC) and Ranges Capability
C-130J participation in Coalition Virtual Flag as a proof of concept in the distributed training environment.
Virtual Wedgetail (E-7A) participation in Fleet Synthetic Training - Joint, a Coalition exercise that provided a raise train and sustain activity for 2SQN but also in support of the RAN. The exercise enabled the Virtual Wedgetail (and full crew) to participate in high end air surveillance tasking in support of USS Ronald Reagan's WUP to be certified as operationally ready.
Project 11. Integrate Logistics into the Battlespace
Fleet Management (Production Planning and Control) - Workflow ICT Demonstration - Intelledox Infiniti (note: Intelledox Infiniti was developed to address the market requirement for software specifically designed to assist with the construction of repetitive documents. Intelledox allows non-technical users to implement common Microsoft Word skills, to create reusable document components in a central repository, without the requirement of macros or coding. Intelledox Pty Ltd is an Australian company headquartered in Canberra).
Project 12. Develop Capacity to Manage Air Force Security
The implementation plan for Task 12 has not been signed by DCAF/ACUST at this time, latest version is with DGMOD at this time expectation is that it will be staffed to DCAF/ACAUST for signature before end August 16.
Actions currently underway IAW implementation plan:
Restructure of DSEC-AF has been achieved through the AFHQ AFOD and the EVR for DSEC-AF has been submitted to DGMOD.
Development of the statement of capability intent for Security is underway and peer review feedback in currently being incorporated, on track for completion by mid 2017.
Project 13. Develop Air Force's Strategy-Driven Operating Model
At the July 16 Chief of Air Force Advisory Committee (CAFAC), the updated operating model was accepted by CAF with implementation of the model to occur in line with development of the FY17/18 Air Force Business Plan.
Further refinement of some of the detail regarding documents supporting the Operating Model will occur during the coming months, together with communication regarding how the model will work.
Project 14. Establish an Air Force Integrated Capability-Management Process
Intention to close Jericho 14 initiative as it will be subsumed under Capability Life Cycle (CLC) project.
Project 15. Implement the Workforce Management Strategy
Personnel Performance System (PPS). Project Suakin and New Horizon, the PPS has now been implemented across Air Force. The PPS provides improved coaching and mentoring mechanisms, more clearly links reported performance dimensions with Air Force values, provides reliable information to support promotion, selection and other personnel decision making within Air Force, and automates much of the reporting system, thereby providing efficiencies for members, assessors, and processors within Air Force.
The Talent Management Framework has now been implemented for WGCDRs and WOFFs, and will be rolled out for SQNLDRs in 2017. The Talent Management Framework draws on a range of information sources to assist to identify and invest in high value and high potential people in Air Force. Elements include use of the Talent Management Framework to provide better information to individuals on their potential in the organisation, an Executive Coaching trial for women identified through the talent management framework, and use of the Talent Management Framework to better inform selection of individuals for roles. The net effect of the introduction of the Talent Management Framework has been superior succession planning, thereby assisting Air Force to better identify and develop talent to support fifth generation personnel requirements.
Project 16. Modernise Air Force's Education and Training System
This project was included in the revised Jericho Program of Work in October 2016 and is headed up by Commander Air Force Training Group to ensure all the new and ongoing training and professional education requirements of a 5th Generation Air Force.
---
This article first appeared in the February 2017 issue of ADM.