German based multinational Siemens has demonstrated its electrification, automation and digitisation capabilities on a stream of defence platforms in the Asia Pacific, from F-35 Lightning II to Australian and NZ Anzac Class Frigates, the Collins Class submarine and Australia's new Canberra Class LHDs.
Philip Smart | Adelaide
ADM: What footprint does Siemens have in Australia?
Connolly: Siemens has been in Australia doing projects since the first overland telegraph in 1872. We've got about 2,000 direct employees; Price Waterhouse have done an audit and they say we enable 29,000 jobs in Australia just by what we're putting in to the market from all sources, either directly in Australia or from projects that get delivered in to the country. The Siemens' group's turnover from the region is more than $2 billion annually.
ADM: Siemens works in defence, but doesn't refer to itself as a defence company. How does that work?
Connolly: Siemens' entire portfolio globally is centred around electrification, automation and digitisation. Siemens is in fact the largest automation company in the world. In defence, they're the three themes that are recurring on nearly every platform. Siemens technology is used in many major defence, aviation design programs globally. Automation, energy, product lifecycle management and electric propulsion are large parts of our portfolio. For instance we've been a partner as far back as 1904 with the first electric propulsion system for submarines. And we are a major supplier of the successful Anzac frigate project – supplying electrics and control systems.
Our healthcare unit is providing mobile imaging solutions such as MRI and ultrasound. JP2060 is of significant interest and we are talking with potential partners on deployable hospital capability. We're broadly across many of the technologies and activities of defence. Our building technologies group supports defence installations via energy efficiency technologies and security systems for example. This is a big part of our portfolio with the US DoD.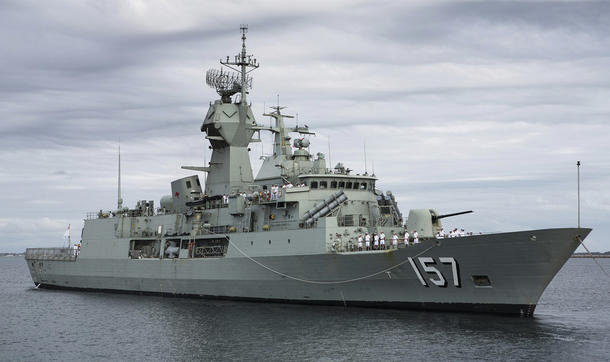 HMAS Perth. Siemens has been working numerous systems on the Anzac class frigates. Credit: Defence
Are we the single biggest supplier to a submarine or ship? No. If you look across entire defence, are we a significant supplier to defence in many different fields, the answer is yes, we're one of the larger ones, demonstrated by our global MoU with BAE Systems.
If you ask at a shareholder meeting of Siemens AG in Munich, is Siemens in defence? The answer is we don't have a single department that looks after only defence. We're not a provider of weaponry, but every one of the departments in some way, shape or form is probably delivering technologies to support the defence.
ADM: During the Sea 1000 Competitive Evaluation Process you were closely allied with German ship building firm TKMS. What was your experience in that process?
Connolly: We were a major supporter of the TKMS bid when that process started. TKMS was a private enterprise bidding in to that process against two governments – being Japan and France. We were specifically encouraged on the German end to be front and centre on the German bid, notwithstanding that TKMS were the responders to the CEP and we didn't field any direct questions during the CEP process on our technologies.
It became clear to us after the process and in all of the reporting that the selection criteria was about the ability of defence to work with a design partner. And the supply chain elements underneath that, the critical parts of the supply chain, would necessarily come later.
ADM: With DCNS now chosen as the preferred partner for Sea 1000, how do you see your role in any future submarine and on the Sea 5000 Future Frigate?
Connolly: We are an existing automation supplier to DCNS – in fact they have our automation platforms on Barracuda and Scorpene. Although Siemens is a German founded company we are really a global operation covering around 200 countries. We have a large and long standing business in France as well. The DCNS relationship naturally has historically largely been in France, where they build the majority of their vessels. So the short answer is we still have the relationships, we're still in dialogue with them.
In frigates we are a major supplier to all the short listed builders. Siemens electrical, automation and propulsion systems could play a part in any or all of the solutions
ADM: You've talked about the importance of learning the lessons of Collins and the Anzac Frigate projects. What are the issues you believe need to be addressed?
Connolly: Given the history, we would expect that the critical elements of the programs such as propulsion would still be contestable, to make sure we learn from the past.
We talk about really strong local supply chains, companies that are here in Australia, for Australia. The parent company background enables that continuity you need in a continuous build environment. I wouldn't criticise the previous program of Collins, but certainly we would be silly not to understand what it was that caused those sovereign capability shortages and the supply chain shortages for some of the major components. The Anzac frigates had a strong local supply chain and content which was a key part of the program's success.
We think that we still have a way to go, for example to get contestability in to the propulsion units of the submarines, to make sure that the companies in that supply chain really can go the full journey and have a view on the future.
---
"Our activity in the US with partners like Huntington Ingalls are great examples of digitalisation and workforce development to create a fully digital shipyard"
---
That links in to the R&D question. To be able to get on the platform for the first batch of submarines you already need to have a view on what does the evolution of electrical propulsion look like? What does the evolution of fuel cells look like? What does the evolution of lithium look like? And we have collaboration with DSTG and QUT on high temperature superconductors, for example, because we believe that, particularly in the submarine and surface ship environment, that's the logical next step.
And in the digitisation piece, there's a suite of software acquisitions that Siemens has done over the last 10 years, more than $US7 billion of acquisitions, broadly described as the PLM software suite.
During the Sea 1000 process we were out there saying look, the future is in fact the digitisation or the creation of a digital twin to enable whole of life support, to minimise risk, to be able to simulate before you take a product or design in to the field.
Our activity in the US with partners like Huntington Ingalls are great examples of digitalisation and workforce development to create a fully digital shipyard.
Industrial companies of all sizes can benefit from the digital transformation. Defence industries are no different. At Siemens we call our extended portfolio for the achievement of end-to-end digitalization, the "Digital Enterprise". This is an array of digital applications and innovations to help our customers merge the real and the virtual worlds to achieve competitive benefits.
A great example of this changing world is the announcement we made early this year where we 3D printed our first gas turbine blades. The casting of turbine blades requires complex mould construction before each blade can be individually cast – a time-consuming and costly procedure. Additive manufacturing changes all this. With 3D printing we've reduced the period of time from the design of a new gas turbine blade to its production from two years to two months. Another area that would have tremendous impacts on defence is the exponential growth and availability of data.
ADM: You mentioned the evolution of electrical propulsion for vessels and your development of high temperature superconductor (HTS) propulsion with DSTG and the Queensland University of Technology. Where is that technology going, and what other technologies may play a part?
Connolly: If we talk about high temperature superconductor motors, you have about 30 per cent less footprint, weight and size for the same power. Other systems are of course required to cool it, but those systems are then leveraged out to other systems in the vessel.
Our unique partnership with DSTG and QUT reinforces Siemens' record of introducing technologies that matter to Australia. It exemplifies the benefits of a strong bilateral relationship between Australia and Germany – being able to provide our prototype HTS motor to partners who can look at real-world applications.
For the Australian Navy, it opens a pathway to more energy-efficient vessels with huge leaps forward in size, weight and capacity. HTS will also mean less environmental impact and reduced operating costs. This is a game changer when you think of the benefits.
The other thing to bear in mind with concepts like HTS is the capability to potentially increase operational efficiency by 10 per cent at 30 per cent load. When talking submarines, that's massive when you're under water and need to conserve as much energy as possible. We also talk a lot about hydrogen at the moment, an emerging technology and understated form of energy storage.
We started the discussion on hydrogen management for Sea 1000 because the German submarine has hydrogen fuel cells built in to it, running and functional. As a company we've done half a million operational hours with fuel cells in submarines. In terms of the future of energy, hydrogen can play a significant role in stabilising the energy grid as we have more intermittent forms of generation such as wind and solar. There are obvious defence applications.
ADM: You're Chair of the Prime Minister's Industry 4.0 task force, which is all about an industry transformation in automation and data exchange in manufacturing technologies. What appetite are you seeing amongst Australian companies for transitioning to Industry 4.0?
Connolly: Industry 4.0 is a German conceived socially responsible framework to transition the working environment of today in to the working environment of 30 years in to the future.
It's talking about what the manufacturing environment needs to look like. Given that the global supply chains are actually dominated by a relatively small number of global multinationals who are using all of these engineering collaboration tools and simulation tools, if you don't actually understand how to use those tools and get on board you'll be cut out of the potential to join the global supply chain.
But if you're on it, you have the ability to export advanced manufactured products. More and more the value of the product will be the engineering and design content rather than the physical element.
The Prime Minister's Industry 4.0 Taskforce has established workstreams in Australia to align to the German workstreams established by Germany's Plattform Industrie 4.0 group. The first work stream is about reference architecture, standards and norms. It's critical that Australia doesn't try to reinvent the wheel and have our own standards which actually restrict our industries from being able to compete efficiently in global projects.
Through the work of the taskforce and Standards Australia leading this workstream we have already been able to not only participate but also contribute to important global discussions around digital standards.
The second workstream is about defining the sorts of researching capabilities and innovations that need to be accelerated to facilitate the way forward for Industry 4.0 in Australia.
The third element is this work stream about network security. With threats and media coverage of geopolitical interference into certain countries in the world at the moment, particularly in defence you don't want a massive amount of data being transmitted unless you're a hundred per cent sure that it's secure for your sovereign purposes.
The other consideration is actually preparing the existing and future workforce for the fourth industrial revolution. This impacts defence and defence supply chains as much as it affects all of society. We have a work stream dedicated to 'Work, education and training' for this purpose. The holistic view is that you need to bring your current workforce with you. So what are the skills that they need in the short to medium term, to be adapting to use those coming tools?
We launched the first Industry 4.0 apprenticeship this year in a joint effort between Siemens, Swinburne University and the Australian Industry Group. This type of vocational learning model is an important step forward in preparing for a more digitalised future.
We are on the right path in terms of aligning ourselves to the German model and remembering the German model is a framework that we can leverage.
And part of that leverage is a 'test lab' environment, where you build these mini-production environments through the university ecosystems to develop capability. There are already dozens of test labs available in Germany. Recently a test lab was established in Australia, with plans to establish more.
For Australia to have a role in exporting any product to the world, we have to be engineering capable. That's what this whole Industry 4.0 is actually preparing us for – and the defence industry needs to play a major part.