Landing Helicopter Dock HMAS Canberra has been busy trialling embarkation of a variety of US Navy landing craft within its internal well dock during Exercise RIMPAC 2016.
The two craft types tested were the Landing Craft Air Cushion (LCAC) and the US Marine Corps (USMC) amphibious assault vehicles (AAVs).
HMAS Canberra's Boat Group Commander, Lieutenant Sandy Jardine told Navy Daily the achievement was the first step in a long future working with US amphibious assets and the docking of the LCAC was the first for a Navantia designed Juan Carlos I-class LHD and the RAN.
"The AAV will bring protected mobility across the water for our soldiers, while the LCAC gives us over the horizon reach at more than 40 knots," he said.
The US Navy LCAC is a high speed, "over the beach" fully amphibious landing craft (or hovercraft) capable of carrying up to 75 tonnes of cargo at speeds of over 40 knots.
It is used to transport USMC personnel and equipment from ship to shore and across the beach in either amphibious assault or humanitarian and disaster relief operations.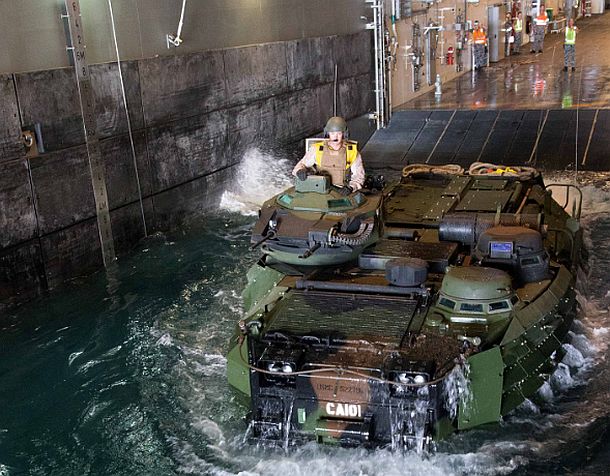 A United States Marine Corps Amphibious Assault Vehicle from USS San Diego 'swims' through the well dock of HMAS Canberra off the coast of Hawaii during Exercise Rim of the Pacific (RIMPAC) 2016.
The ship had to be re-trimmed in order to allow for the egress of the LCAC from the dock, but embarked US Navy Senior Deck Assessor, Chief Warrant Officer Anthony Diaz said the issues were quickly resolved.
"For LCAC recovery, we needed to ensure the well dock stayed dry and at the correct angle," he said.
"We achieved that by adjusting the trim of the ship, and bringing the ship up to a higher speed."
LEUT Jardine said the AAVs were required to conduct an "administrative swim" once inside the well dock – basically navigating the length of the dock without touching the sides.
"An admin swim is very dependent on the state of the dock," Lieutenant Jardine said. "An AAV can swim out into a Sea State Four".
The AAVs from amphibious transport dock (LPD) USS San Diego were not used to the split well deck.
"San Diego doesn't have a split well dock," AAV crewman, USMC Lance Corporal Ryley Sweet said. "It's all even, so we go in, our tracks hit the deck, and we start to drive like we're already on land."
"But when we enter Canberra we're still in deep water, so we're using our marine propulsion system instead of tracks."
The trials have further proven Canberra's interoperability with US units.