A subsidiary of Serco Australia has been awarded a $1.9 billion contract by the Commonwealth to design, build operate and maintain a new research and supply icebreaker vessel for the Australian Antarctic Division (AAD).
The icebreaker vessel will be designed and built by Damen Schelde Naval Shipbuilding (Damen) in Romania under a subcontract to Serco subsidiary DMS Maritime, with commissioning and delivery expected in October 2019 and mid-2020 respectively. DMS Maritime would then operate and maintain the vessel in support of the Australian Antarctic programme on a long-term basis.
Replacing the Aurora Australis, the new icebreaker will be faster, larger, stronger and offer increased endurance. The vessel will supply Antarctic research stations with cargo, equipment and personnel, and as a research ship, it will also have extensive laboratory facilities on board.
The vessel is expected to accommodate 34 DMS Maritime crew and up to 116 AAD scientific personnel, and has the ability to embark up to four helicopters, two landing craft and a dedicated science tender. Its physical specification is expected to be 156 metres in length and 23,400 tonnes displacement.
The new ship provides a modern platform for marine science research in both sea ice and open water and a moon pool for launching and retrieving remotely operated underwater vehicles. A multi-beam bathymetric echo sounder will enable seafloor mapping, while portable science laboratories will offer scientists space to conduct research.
According to the Government, $529 million will be invested in the capital cost of the icebreaker, and $1.38 billion is to be spent on operations and maintenance over its 30 year lifespan.
The Department of the Environment undertook a two part procurement process through an initial open market Request for Proposal and a subsequent Request for Tender (RfT) process.
The Department engaged KPMG as the commercial advisor throughout the RfT process and, following an extensive evaluation process, is confident it has secured the best solution for the delivery of the icebreaker from both a capability and value for money perspective.
Despite recent announcements of major naval shipbuilding programs, SA's Defence Teaming Centre voiced its concern that the ship would be built overseas, affirming Australia's capacity to build locally.
"The only way our industry will remain sustainable into the future is by considering defence acquisition as part of a national shipbuilding strategy that incorporates both naval and non-naval fleets," Chris Burns, national spokesperson for the Australian Made Defence campaign said.
"We must not revert to the old ways of getting quick, easy fixes for our Defence Force, we need to use every project as an opportunity to develop the best project and build up our domestic capabilities."
Serco's release described DMS Maritime is one of Australia's largest marine service operators, with facilities in major naval ports around the country and a support network that extends a wide range of engineering and technical services across Asia Pacific. These include integrated management of through-life support covering vessel design, build, modification, engineering and maintenance; marine systems support; port services; maritime training; and specialist services such as under-sea exploration and recovery. DMS Maritime manage, operate and maintain over 600 vessels, serving commercial, defence and government agency customers.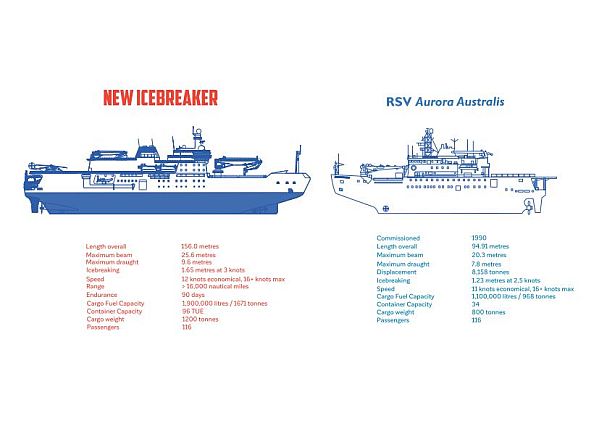 Damen is a leading international shipyard group, with more than 6,000 employees and a presence in 34 countries. Damen produces a broad range of bespoke vessels including scientific, hydrographic, naval and ice ships, and since 1969 has delivered over 5,000 vessels.
To celebrate the central role of the icebreaker for the Australian Antarctic programme and the significance of Australia's connection to Antarctica, the Australian Government will seek public input on the naming of the vessel. Details of a competition for Australian school children will be announced in due course.
Note: ADM sincerely hopes the outcome of the naming competiton won't result in a name akin to Boaty McBoatface, the result of a competition run by the UK's Antarctic division to name its new icebreaker.