The ADF has traditionally maintained an edge in the night fighting equipment space. This has been through previous employment of starlight scopes and limited quantities of night vision devices, which provided a welcomed, but limited, capability from Vietnam onwards. The delivery of the Ninox night fighting project in the late 90's heralded the introduction of a greater night fighting capability for the ADF.
Army | Canberra
The recent Government approval for Land 53 Phase 1 BR (L53-1BR) Night Fighting Equipment (NFE) Replacement has enabled the ADF to again take the lead with cutting edge NFE technology. The project went to tender in April 2014 and after extensive deliberation and evaluation was approved in late 2016.
As a result Australia will continue to maintain technological edge for ADF combatants via L53-1BR. This acquisition will replace the legacy Ninox night vision goggles (NVG), lasers, mounts and head harnesses with cutting edge and market leading equipment enhancing the lethality and situational awareness of combatants.
---
"The delivery of the equipment will occur in yearly batches (out till 2022) with maintenance support provided locally for the NFE."
---
The new equipment will consist of a binocular NVG, Laser Aiming and Illuminating Device (LAID), Laser Aiming Illuminating and Ranging Device (LAIRD), Head Harness and Helmet Mount. The selection of this equipment was through a detailed tender process and field trials with from a broad selection of combatants including Infantry, Transport, Special Forces and RAAF.
The NFE is to be provided by L-3 Warrior systems and a separate contractor for the Head Harness. This equipment will provide a significant enhancement for combatants across Army, Navy and Air Force. The components consist of:
The L-3 PVS-31A Binocular is the NVG, with a black and white phosphor screen and a significant increase in the performance or figure of merit (an estimate of NVG performance based on resolving power [line pairs/mm] X light performance [signal to noise ratio]) and reduction in weight over legacy NVG.
The L-3 PEQ-16B is the LAID, with visible laser, infra red laser, infra red illuminator and visible illuminator/ torch. This device offers both low power (Class 1) and high power (Class 3B) laser output, to permit effective employment both in training and operational environments.
The L3 Squad Range Finder (SRF) is the LAIRD, with visible laser, infrared laser, infrared illuminator and laser range finder. This range finder will be able to accurately provide range data to targets at distances exceeding 1,000 metres. This device offers both low power (Class 1) and high power (Class 3B) laser output, to permit effective employment both in training and operational environments.
The Wilcox G24 is the NVG mount, which is will supplement current stocks of G24 mounts, which have been employed effectively by the ADF both in Australia and on operations.
A soft Head Harness will be integrated with the Wilcox G24 mount and NVG.
Key improvements include:
The NVG is of binocular design and provides stereoscopic vision for ADF combatants.
The NVG (with mount) is 356gm (35 per cent) lighter than the legacy dual NFE.
The NVG provides significant detection increase under typical conditions.
The introduction of a laser range finding capability integral to individual and crew served weapons.
The introduction of an integrated torch and infra red illuminator on the laser.
Both Lasers provide both low and high power modes to optimise safe training and operational employment.
The Lasers interface to standard weapon rails (NATO 4694 and Picatinny 1913).
The NVG requires no specific NVG driver kits.
The components employ specified interfaces to permit component upgrades without system replacement.
The delivery of the equipment will occur in yearly batches (out till 2022) with maintenance support provided locally for the NFE. 1 RAR and the School of Infantry will be the first to receive the equipment, to enable complete equipping as part of the roll out of the EF88 with its advanced ancillaries package. This delivery will enable development of the doctrine and training for this enhanced equipment for employment across the wider ADF. The NFE delivered via L53-1BR will complement the equipment delivered by the soldier combat ensemble (Land 125 Phase 3B) and - Enhanced F88 (Land 125 Phase 3C Lethality).
The NFE will integrate with the ancillaries delivered for the EF88 and selected ADF small arms under separate projects. "This tranche will replace the night fighting equipment for the ADF and the next tranche will shift to new technologies to maintain this night fighting overmatch," Lieutenant Colonel Ben McLennan SO1 Soldier Systems Program at Army Headquarters told ADM.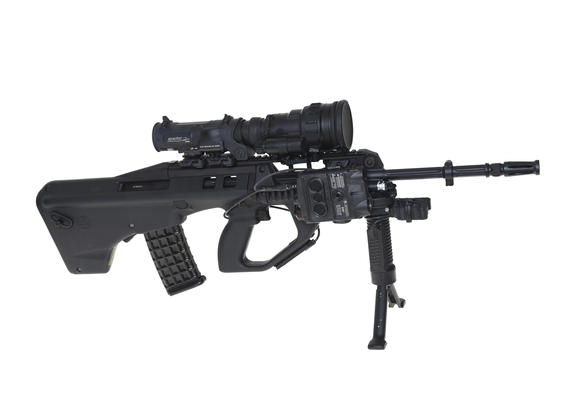 EF88 Austeyr rifle, Spectre DR, image intensifying sight, forward grip (with bipod), visual illuminating device, and laser-aiming illumination and ranging device (Squad). Credit: Defence
The continual enhancement of Night Fighting Equipment is coordinated via the Night Fighting Equipment Roadmap which continues to 2040. This is fully funded in the Defence Integrated Investment Program, with acquisition at approximately $2 billion delivered via three sequential night fighting projects; L53-1BR, Land 53 Phase 2 and Land 4110.
This roadmap will ensure Australia maintains the capability edge for ADF combatants with NFE as we transition to new technologies. Technologies being investigated included fused analogue night vision, digital night vision, fused digital night vision and augmented reality for future tranches and projects.
These future technologies will support the future integration into the ADF battle management system and future planned commander's decision support tools to provide enhanced 24hr vision dominance.
The point of contact for Army Night Fighting Projects is Major Cameron Fraser, Soldier Combat Systems Program – Army.
This article first appeared in the December - January 2017 issue of ADM.