The Royal Australian Air Force has successfully flown the final flight into East Antarctica in a series of proof of concept flights in support of the Australian Antarctic Division (AAD). And in Nevada, US, a RAAF contingent has completed the latest Exercise Red Flag.
Since November 2015 the C-17A Globemaster III has touched down in Antarctica at Wilkins Aerodrome five times, delivering heavy lift cargo in support of the Australian Antarctic programme.
Director General Air Operations, Air Commodore Joe Iervasi, said the flights have been a huge success.
"[We] successfully moved over 109 tonnes of machinery and cargo both in and out of Antarctica, conducted an air drop of four heliboxes from 500 feet and simulated an emergency aeromedical evacuation," AIRCDRE Iervasi said.
"The opportunity to test the C-17A in these conditions has proven to be an invaluable experience for the RAAF to enhance the capability of this aircraft and Australia's logistical and scientific capabilities in Antarctica."
AAD director, Dr Nick Gales, said the five proof of concept flights have demonstrated their ability to improve the logistic and scientific capability of Australia's Antarctic programme.
"The collaboration between the AAD and the RAAF has showcased and further developed the specialist skills of both organisations, with tangible benefits to Australia's Antarctic programme.
"We were able to deliver a range of critical equipment to and from Antarctica on the C-17A, including a 23 tonne tractor flown from Wilkins to Hobart for repairs with a turnaround of just over two months, compared to two years via ship. Another piece of machinery was taken south just four weeks after it returned to Australia for repairs on the Aurora Australis.
"That the flights to and from Wilkins Aerodrome flew return from Hobart Airport further demonstrates Tasmania's status as a leading gateway to Antarctica."
Results from the series of flights will now be considered by the AAD and the ADF. Currently there are no future commitments by either AAD or RAAF to undertake future flights.
Meanwhile, Exercise Red Flag 16-1 wrapped up with the conclusion of the last flight on 12 February at Nellis Air Force Base near Las Vegas in Nevada.

Over 130 aircraft and 3000 aircrew, Air Battle Managers, Intelligence and support staff from the US, UK and Australia worked together to overcome a determined adversary in a challenging tactical scenario during the three week exercise.

Group Captain Phil Gordon led the Australian contingent as well as being the Vice Commander of the Coalition Air Expeditionary Wing for Red Flag 16-1.

"Exercise Red Flag provides the most realistic replication of airborne and surface to air threats enabling highly effective training and validation of our tactics," Group Captain Gordon said.

"Short of actual combat, this is the ultimate test of coalition interoperability," GPCAPT Gordon said.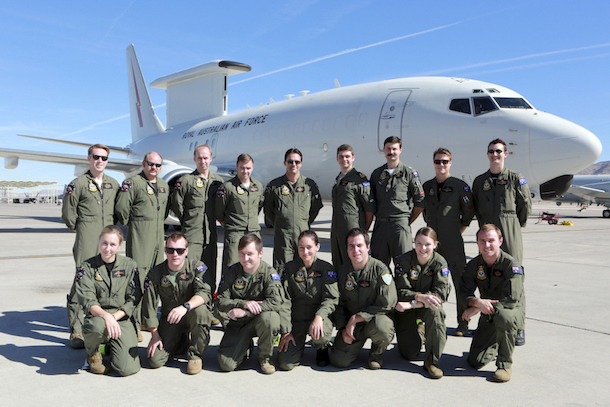 Royal Australian Air Force No 2 Squadron personnel stand in front of the No 2 Squadron A30 E-7A Wedgetail on the Nellis Air Force Base flightline. Credit: Defence
The Australian Task Group consisted of F/A-18F Super Hornets from Number 1 Squadron, F/A-18A Hornets from Number 75 Squadron, an E-7A Wedgetail Airborne Early Warning and Control aircraft from Number 2 Squadron, an AP-3C Orion from Number 10 Squadron, Air Battle Managers from Number 41 Wing and a host of specialist personnel including intelligence, space and cyber experts embedded in the Combined Air Operations Centre.

The exercise scenario covered a variety of missions including defending against enemy air attacks, dynamic targeting against fleeting ground targets and traditional offensive strike roles.

Red Flag directly complements Plan Jericho by allowing Air Force to understand how to better integrate advanced capabilities into our force structure.

"There were assets playing in this exercise that we either don't have in Australia, or that we are soon to introduce," Group Captain Gordon said.

"We were flying alongside the F-22A Raptor which gives us valuable fifth generation integration experience as we prepare to introduce the F-35A Lightning II Joint Strike Fighter".

The EA-18G Growler Airborne Electronic Attack aircraft also participated in the exercise.

"It was pleasing to see one of the key package leads for the Growler was an Aussie Electronic Warfare Officer on exchange with the US Navy," Group Captain Gordon said.

"This was an excellent opportunity to understand how to work with the Growlers effectively in what has been the largest and most successful Australian contribution to Exercise Red Flag to date."