Behind every RAN ship at sea there's a team of shore-based support specialists who are dedicated to its well-being, none more so than those responsible for the sustainment of Navy's newest and largest assets.
Julian Kerr | Sydney
Given that neither of the two 27,500 tonne Canberra class Landing Helicopter Docks (LHDs) has yet complete two year's service – HMAS Canberra was commissioned in November 2014 and HMAS Adelaide in December 2015 – the initial four-year support contract with a fifth year option won by BAE Systems Australia necessarily involves a natural learning curve.
"The contract covers both ships; the idea is it takes Canberra from acceptance through to its first potential docking cycle so the Commonwealth has the opportunity during that transition period to get a better idea of the activities required in the maintenance baseline and the cost of those activities," Darren Kirkby, BAE's General Manager Maritime Sustainment.
---
"The Commonwealth can self-sustain but what we tend to do now is join the ship on its way back from a deployment."
---
"About 90-95 per cent of the throughlife maintenance regime will be completed in that first five years because the cycle is annuals, 36 monthlies, 48 monthlies, then five years for the docking cycle."
The one-year gap between the projected dockings for Canberra and Adelaide would enable lessons learnt with Canberra to mitigate any risks that might otherwise present with Adelaide.
"In fact the Commonwealth has already said the amount of information they're getting from the in-service support contract is significantly more than they've ever had previously from a contractor in terms of detailed costs, detailed work instructions etc which become part of the IP that sits around the class," Kirkby commented.
"From the first it's been very clear between both parties what the objective of the contract period was. The Commonwealth will have at their disposal a lot of information to make really good decisions moving forward."
According to Kirkby, bidding for the $220 million contract drew on the knowledge base available from BAE Systems' global experience which provided a top-down view of the maintenance regime, coupled with data from the company's Australianisation of the LHDs' Integrated Logistics System (ILS) package.
"Tap that material into the local supply chain which will have conducted similar tasks on other ship classes and when you integrate all that information you come up with what became an affordable and agreeable cost for the Commonwealth."
An initial list of repairables amongst the ships' 60,000 components was compiled during acquisition and this generated a baseline spares set.
"After the first couple of years of experience and service we've found that a few items may sit outside that list. We do a repair assessment and use our engineering capability to determine whether or not that's a one-off or an ongoing repairable item and add it to the list if necessary," explained Kirkby.
"A number of companies in the Sydney basin have struck up arrangements with the European supply chains - OEMs if you like – and we deal with them on a broad range of repairs."
Peter Buchanan, Program Manager Amphibious and Support Ships for BAE Systems Australia, heads a 50-strong team, 20 of whom are located in the company's Sydney office and handle supply chain procurement, finance, and other back office functions.
The other 30 are co-located with the LHD Systems Program Office (SPO) at Sydney's Garden Island dockyard and provide waterfront maintenance and field engineering support.
Additional engineering design and ILS output support is also provided by an engineering team retained at BAE Systems' Williamstown, Melbourne facility despite the cessation of shipbuilding activity there.
The Garden Island team plans preventative and corrective maintenance, then coordinates with the SPO, comprised of serving naval personnel, public servants, and KBR staff filling a Capability Support Coordination role, on any capability improvements to be made to the platform.
"When that planning phase is complete and the ship arrives, a portion of that team becomes the waterfront delivery team and mobilise subcontractors and repair agents as well" explained Buchanan, whose previous role was solution architect on the in-service support team for the UK Royal Navy's Type 45 destroyer.
"Our technical support will go aboard with laptops and diagnostic equipment and work with the Engineering Officer and his heads of department to understand the functionality and the operating modes of the equipment. And if changing a filter necessitates breaking down a system, they'll do it.
"So on any given day there's probably 80 to 100 people who cross the gangway on maintenance tasks.
"We've got people who can go to sea, we've got people trained in helicopter rescue so we can deploy them out to sea to meet a ship. Generally, the mode of operation we're trying to enter into is where we're supportive of the naval personnel but not a substitute for them," said Buchanan.
"We find a lot of the time that the Commonwealth can self-sustain but what we tend to do now is join the ship on its way back from a deployment at somewhere like Townsville and ideally return with it to Sydney.
"That enhances our interaction with Navy on materiel state, operation of the equipment, any issues they've found during the deployment, and get forward information for when the ship is back alongside at Garden Island."
System support
The BAE Systems team also works closely with the LHD's designer and hull constructor Navantia, who manage the ships' Integrated Platform Management System (IPMS) and maintain the ships' diesel generators, built by the Spanish company under licence to MAN.
"The IPMS system has a health monitoring functionality. The intention is that the throughlife support facility being established at Garden Island will become a hub for managing that information through life. At the moment we work with Navantia, looking for any anomalies in downloads and analysing what's happened before during and after a corrective maintenance event," said Buchanan.
Navantia also provides BAE Systems with some local engineering support and reachback into the European supply chain. Additional platform information comes from a Spanish Armada engineering officer attached to the LHD SPO who has served on the Armada's Juan Carlos strategic projection ship, on whose design the LHDs are based.
Maintenance of the four LCMI-E landing craft deployed on each LHD is handled by UGL. Since extracting the landing craft requires the LHD to be docked down, this necessitates a close working relationship between the two companies to maintain an integrated maintenance schedule.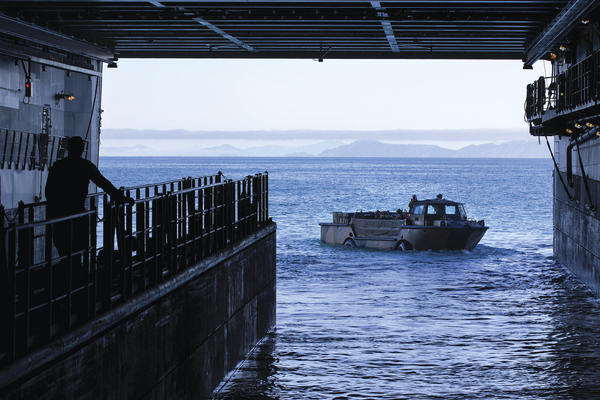 Credit: Defence
The largest single challenge to date involved the replacement in mid-2015 of the pair of hydraulic actuators that open and close Canberra's 20 metre-wide stern steel door and ramp. This followed an incident during operations that resulted in an excess pressure event in the actuators.
BAES' Kirkby declined to comment on the cause since this had been subject to a Navy-led investigation, apart from stating that it "had not been raised with BAES as a potential design fault".
He did however refer to the work as a major undertaking which entailed project management, technicians, repair agents, hydraulics expertise and some hydraulics modelling.
Such an event was an unusual occurrence in the course of what Buchanan described as a bedding-in of systems and a continuous, strategically-managed maintenance regime.
"We've got a really flexible model in terms of how our operations work and the flexible contracting model sits behind that. We're not trying to do all the 36 monthlies at the same time and we may bring some forward; it's not as if the clock started at zero on the day in which the in-service support contract was signed," he commented.
"There are something like 10 maintenance periods scheduled over the next year and we're looking at options including forward posting some personnel to Townsville, or on board if necessary.
"It's all about maintaining the availability of the asset as opposed to a timebased decision based on a ship's availability."
Other sustainment activities
BAES currently also provides sustainment services in Sydney across the three Adelaide class FFGs, for the eight Anzac class frigates split between Sydney and Henderson near Fremantle, and for the RAN's Cairns-based hydrographic fleet.
Kirkby confirmed the company's interest in competing for the Air Warfare Destroyer in-service support requirement, as well as for the follow-on contract for LHD support.
With Defence's Capability, Acquisition and Sustainment Group (CASG) appearing to focus increasingly on governance, he envisaged further roles for industry in transitioning new construction out of build and into service.
"There's plenty of work to go around and there's this mix in industry of competition and collaboration, but there's no reason why we can't do both," he stated.
This article first appeared in the August 2016 edition of ADM.