Over 500 US Marines and Australian soldiers landed at Freshwater Beach yesterday during amphibious assault landings conducted as part of Exercise Talisman Saber 2017.
A multitude of landing craft and vertical airlift launched from amphibious ships of the Bonhomme Richard Expeditionary Strike Group to deliver forces from Battalion Landing Team, 3rd Battalion, 5th Marines of the 31st Marine Expeditionary Unit (MEU) and Australia's 2nd Battalion.
"Exercise Talisman Saber gives Australian and US forces the opportunity for familiarization of each other's processes and equipment that are essential building blocks of our long standing alliance," Australian Army Brigadier Mick Ryan, Exercise Director for Exercise Talisman Saber 17 said.
"Working with our allies and partners has been extremely rewarding. Talisman Saber offers a unique opportunity to increase our interoperability with the Australians," US Marine Corps Colonel Tye R. Wallace, Commanding Officer of the 31st MEU said.
"It is exercises like Talisman Saber that enable the 31st MEU to be ready to respond to contingencies throughout the Pacific. We will remain forward, flexible, and ready to face any crisis throughout the region, and are grateful for the opportunity to work with our close allies."
"Embarking together on ships in blue water and sharing air and landing craft to go ashore increases our interoperability and enhances our readiness to respond to contingencies throughout the Pacific. Expeditionary US forces value the opportunity to integrate our continually evolving concepts and capabilities with our Australian partners."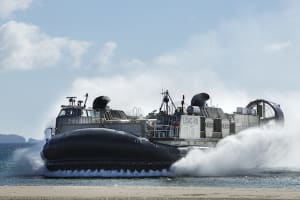 Landing craft used in the assault included combat rubber raid craft, a Landing Craft Air Cushion (LCAC) hovercraft, a landing craft utility, and amphibious assault vehicles (AAV) . Airlift included MV-22 Ospreys with Marine Medium Tiltrotor Squadron 265 (Reinforced).
The Bonhomme Richard Expeditionary Strike Group is partnered with Australia frigates as part of combined strike group for Talisman Saber. Ships involved in the assault included flagship USS Bonhomme Richard (LHD 6), USS Green Bay (LPD 20), and USS Ashland (LSD 48).