Siemens and the University of South Australia (UniSA) have signed a partnership that will transfer industrial software to train students for work in advanced manufacturing, including naval shipbuilding.
The announcement was made this week by Siemens Australia chairman and CEO Jeff Connolly at the UniSA's Museum of Discovery in Adelaide, supported by Premier Steven Marshall, Defence Minister Christopher Pyne and Professor David Lloyd, Vice Chancellor and president of UniSA.
It is the largest software grant in Australia, and is linked to the recommendations and work of the Prime Minister's Industry 4.0 Taskforce – an industry led group established to support improved bilateral relations between Australia and Germany.
The $450 million grant will see Siemens share its industrial Product Lifecycle Management (PLM) software systems with the University, ensuring students have access to advanced software, processes and best practices that are used to develop sophisticated global products and systems in industries including automotive, aerospace, shipbuilding and high-tech electronics.
"It's exciting to think that our students will soon have access to the same software used to design and develop everything from Space X, the Mars Curiosity Rover, Maserati Ghibli and other world leading innovations such as the digital shipyard for Newport News (US) where aircraft carriers are built," Professor Lloyd said.
According to Minister Pyne, the grant will provide young South Australians with training in advanced shipbuilding design and production software.
"Ensuring young Australians are trained and ready to take up roles in the shipyards that will build the Future Frigates, the Future Submarines and the Offshore Patrol Vessels is a vital task," Minister Pyne said.
This grant is part of Siemens' commitment of over $1 billion in advanced PLM software grants to universities nationally.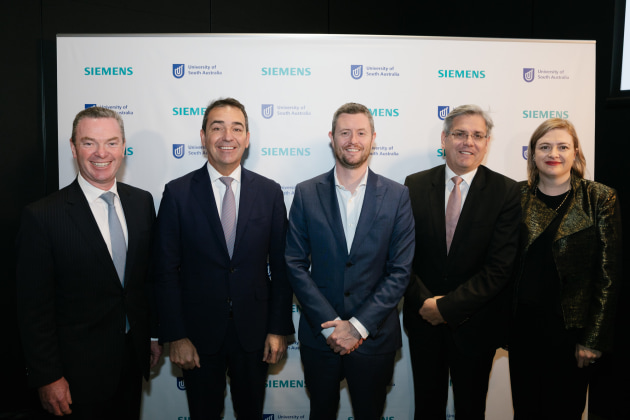 "This announcement is a direct outcome of the Prime Minister's Industry 4.0 Taskforce and the third series of high-tech Siemens PLM grants by Siemens, who have already committed $135 million to Swinburne University of Technology and $447 million to the University of Western Australia," Minister Pyne said.
Premier of South Australia Steven Marshall welcomed the partnership and said that the venture is a fantastic way of engaging young students in advanced technologies and up skilling them for jobs of the future.
"This investment in shipbuilding technology will act as a catalyst for South Australian skills development in advanced manufacturing, as well as having broader applications, in particular for our growing space sector," Premier Marshall said.
"The defence and space industries will create future jobs for young South Australians, and it's exciting that students will now have access to state-of-the-art software and when they finish study there will be jobs for them here in their home state.
"Growing a highly skilled workforce to take advantage of the Turnbull Coalition Government's investment in naval shipbuilding is a key priority for South Australia and we are committed to taking a proactive role in developing a local workforce to meet the future demands of the defence industry."