Air Affairs Australia is teaming with Italy's Leonardo Helicopters to offer a Maritime Tactical Unmanned Air System (MTUAS) for the RAN's future Offshore Patrol Vessel (OPV) fleet.
The company has a static display of its AWHERO contender at its Nowra facility, and has been briefing a wide range of senior Defence, Border Force and Royal New Zealand Navy personnel.

A Request for Information (RFI) for Project Sea 129 Phase 5 Stage 1 closed in July 2017, reportedly with 28 submissions. This stated the MTUAS will provide the OPV with an embedded, off-board Intelligence, Surveillance and Reconnaissance (ISR) platform that will enhance its ability to perform its primary and secondary missions.
An additional RFI is expected later this year, possibly to produce a shortlist from which a tender winner would be selected late in 2019.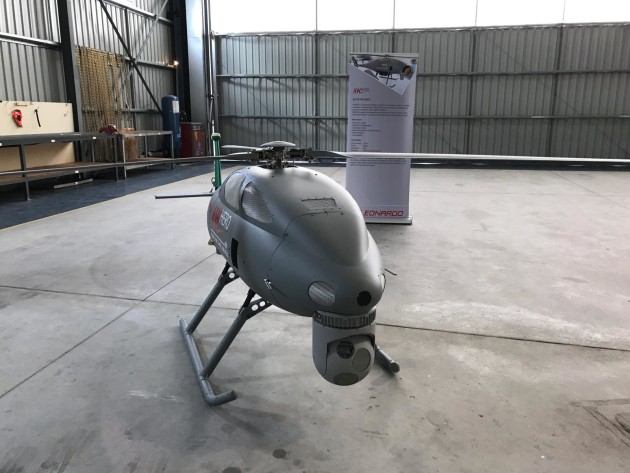 Defence Minister Marise Payne will be briefed on the AWHERO (the AW stands for Agusta/Westland) on 23 March as part of a tour of HMAS Creswell and the Nowra Aviation Technology Park, after which the static display will be exhibited at the annual Police Technology Forum in Canberra next week. This reflects the strong interest also being shown in the aircraft by state and NZ police, Air Affairs business development manager Dennis Hinds told ADM.
With a maximum gross weight of 205 kilograms, a maximum speed of 90 knots, six hours endurance and a useful load of 85 kilograms, the AWHERO can host a range of nose, underbelly or sidemounted sensors. These include a 10" OE/IR turret, AESA radar, LIDAR, ESM, and advanced communications systems – all developed by Leonardo. Its modular architecture means the system cab be readily interfaced with existing end-user networks to provide live stream video, radar images, identified objects, ships, vehicles and persons, and georeferenced objects.
The system is fully marinised, and the aircraft features specially-developed automatic and semi-automatic deck takeoff and landing modes, a deck lock system, and a foldable three-blade rotor. Operational limits are seven degrees roll and three degrees pitch.
As the selected Luerssen OPV design has no hangar, the AWHERO would operate on the ships via two standard ISO 20 foot containers, one containing the ground control station, tools and spares; the other, up to two aircraft whose 1.05 metre width mean they could be worked on within the confines of a 2.4 metre wide container. Alternatively, the ruggedised ground control station can easily be integrated into the host ship's operations room, which could if required pass control of the aircraft while in flight to another ship via a wide band real-time data link system.
Leonardo says the AWHERO is progressing towards certification in early 2019, when the system will be used for capability demonstrations of fast boat and cargo vessel interdiction within the framework of the European Defence Agency's OCEAN 2020 program.
Air Affairs' CEO Chris Sievers noted that his company's aviation operations and engineering facilities adjoining HMAS Albatross at Nowra – mandated as the MTUAS support and training base – meant Air Affairs had been approached by several Sea 129 contenders.
His decision to prime with the Leonardo had been driven by the Italian company's experience and the integrity of the AWHERO design.