This year's Top 40 Defence Contractors survey has revealed some predictable business trends, with a slight dip in the total revenue of the Top 40 ($10.197 billion) compared with $10.384 billion in 2016, a 1.8 per cent change.
This result points to the fact that while there may be some major defence projects in the pipeline, this spending is not yet reflected in the revenue figures of Australia's top defence contractors. The buoyant sector of Australia's defence industry would appear to be the infrastructure and related providers who are reaping the benefits of increased investment in the defence estate after a long period of neglect.
Survey respondents this year did not uniformly report Australian industry content, R&D spend and exports. In the interests of readers, we have reported these results as raw data but we have not in any way factored the responses into the ranking of companies in the Top 40, which continues to be based solely on turnover in Defence-related business in Australia and NZ.A word about the methodology for this year's survey: there were moves last year to have ADM ask a more complex set of questions in our annual survey and to assess companies by a range of criteria not solely dependent upon turnover to achieve ranking in the survey.
We will however continue to collect this data in future years to help build a more comprehensive picture of Defence industry.
A new No.1
The most notable outcome of this year's survey is that the no.1 position, long occupied by BAE Systems Australia, is now taken by Raytheon Australia with turnover of $964 million.
However, it is worth putting on record BAE Systems Australia's commitment to the local defence industry. It is one of the longest established international companies in Australia, with a 60-year history of supporting the ADF. It maintains 25 operational sites across Australia and has a supply chain of 1,600 Australian companies with which it spends $360 million annually.
In a surprise for many, BAE Systems Australia has slipped to third, with Lendlease, the top infrastructure company, ranking second, with turnover of $923 million. For Lendlease, the result represents an outstanding performance year on year: $450 million in 2016 compared with $923 million in 2017.
Matthew Theoharous, Lendlease Australia's executive general manager, Defence, told ADM he is grateful for the opportunity to deliver key Defence capability. "We have established a dedicated Defence business due to the specialist nature of the works," he said. "In the past 12 months, we have achieved completion of critical facilities for the NACC Williamtown for the JSF, Air 7000, HATS, Land 121, Growler and Chinook projects."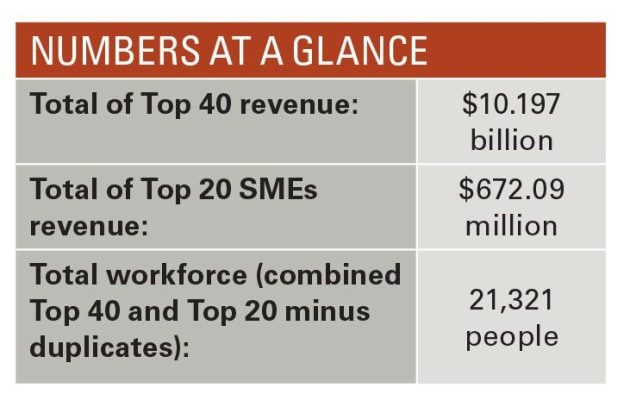 Theoharous said the company, which is publicly-listed on the ASX, is proud to be working with the Department of Defence to deliver infrastructure that not only supports Australia's Defence capability but also creates meaningful opportunities for the communities in which it operates.
"Our national presence and portfolio of Defence work allows us to invest in building positive legacies such as employment and training, supporting gender diversity in the construction industry and generating sustainable economic outcomes for Aboriginal and Torres Strait Islander people. This has been a strong focus for us and will continue to be, well into the future," he told ADM.
Australian shipbuilder Austal took a dip in revenue in 2017 despite reaching numerous milestones on key programs. Lower revenue this year is due to the completion of the 10-vessel Cape Class Program and the commencement of the Pacific Patrol Boat Replacement contract. Austal's defence revenue base has expanded, however, with the addition of the Armidale Class Patrol Boat Remediation program in FY2017.
Newcomers and improvers
Naval shipbuilding, as has been often discussed in these pages, is subject to the peaks and troughs of the project pipeline despite the impressive headline figures. We see similar impacts on ASC's turnover this year.
Australian owned and operated Nova Systems continues to be a quiet achiever recording increases in Defence business year after year. The company exited the SME ranks in the 2013 survey.
There are two companies in this year's Top 40 that have not previously appeared in the survey: Downer EDI Limited (turnover $200 million, no.14) and Manpower Group (turnover $92.5 million, no.24).
A third company entering the survey for the first time, BMD, is ranked at no.42, just outside the Top 40.
Apart from Lendlease, mentioned earlier, one of the big improvers in the survey is Australian SME NIOA, appearing among the elite group of Australian defence contractors for the first time at no.34 with a turnover of $63 million. That is a remarkable increase from the 2016 turnover figure of $25.72 million.
In commenting on the strong performance, Robert Nioa, managing director NIOA, said: "We are very pleased with the strong growth of our government business over the past two years.
"During this period, we have successfully delivered the acquisition phase of the Land 40-2 Lightweight Automatic Grenade Launcher program and have been delivering against contracts to refurbish several major Defence weapon systems.
"We have also recently signed the Major Munitions Contract (MMC) for supply of more than 30 ammunition natures to the Commonwealth and have several other opportunities nearing fruition. Together, these programs will all deliver continued strong growth for NIOA," he told ADM.
Another stellar performance worth noting is DXC Technology whose turnover at $150 million has more than doubled from the 2016 figure of $72 million. DXC was previously known as CSC. The company merged with Enterprise Services, part of HPE, in April last year.
Missing in action
ADM's Top 40 survey is entirely voluntary and relies on the cooperation of the companies complete the survey each year.
These are the companies that would have made a material impact on the survey but who declined to participate:
A word about IBM Australia: in what can only be described as an astounding about face, the company declined to participate in this year's survey, citing a corporate policy not to disclose revenues, after more than 20 years of participation. In fact IBM featured in the very first ADM Top 40, ranking no.8, among companies that only readers with a long history in the defence industry sector would recognise. ADM was puzzled by this new corporate policy.
GE is a company that flies below the radar in Australia and, like IBM, decided not to participate at the eleventh hour citing a corporate policy not to disclose local revenue.
Other companies you won't find this year but that may return to the survey next year are GHD, Volvo Group Governmental Sales and Ultra with the latter two companies currently undergoing internal restructuring.
For the record
In assembling the ADM Top 40/Top 20 SME surveys, each year there are relevant takeovers, mergers and joint ventures to take account of:
UGL Defence figures include Naval Ship Management, which is a joint venture between Babcock and UGL.
Sikorksy Helitech, no. 29 in 2016, has been taken over by Lockheed Martin
Lockheed Martin no longer includes the Leidos business, their former IS&GS business 
L3 Technologies is a combination of three L3 businesses: L3 Micreo, L3 Australia and L3 Oceania. L3 also provides a number of FMS programs such as C27J to the ADF but these are not included in this submission as they are not contracted through the L3 Australian entities
For three years, Cubic Australia and Cubic New Zealand had separate entries (2014, 2015, 2016) but they are now combined for the first time. With the combining of the Cubic entities, the company has graduated from the SME ranks.
For comparisons with previous years' results please check our archive in the Top 40 section under the Industry tab on the homepage. The Top 20 SME's analysis can be viewed here.
DISCLAIMER
While every effort has been made to ensure the accuracy of the information published in ADM's Top 40 Defence Contractors/Top 20 Defence SMEs surveys, the publishers accept no responsibility for any errors or omissions that may have occurred. Companies wishing to participate in future surveys should contact the managing editor Katherine Ziesing or the associate publisher Kylie Leonard. The survey is published for the interest of ADM readers and defence industry analysts. Participation is free.
Copyright notice
The information contained in ADM's Top 40 Defence Contractors/Top 20 Defence SMEs surveys is copyright and may not be republished without the permission of the copyright holder, Yaffa Media Pty Ltd. All enquiries: Katherine Ziesing, Managing Editor, e. katherineziesing@yaffa.com.au t. 02 6203 9535
Any person or organisation quoting information from these surveys must acknowledge Australian Defence Magazine, December 2017/January 2018 Top 40 Defence Contractors/Top 20 Defence SMEs surveys.