Electro Optics Systems (EOS) is nudging at being Australia largest exporter with the announcement of a new $600 million contract for 30mm remote weapons stations (RWS) to an unnamed customer.
Coming only a day after the Government released its highly anticipated Export Strategy, EOS took the opportunity to open its new production facility in Canberra and announce the contract.
The 30mm RWS features an Orbital ATK cannon and has been under development for four years, having been tested in seven countries over that period, EOS' CEO Ben Green said in his remarks this morning.
"This innovative technology allows 30 mm cannon systems to be deployed on light vehicles for the first time with unprecedented accuracy, significantly enhancing lethality and protection without compromising mobility, and at low cost. It meets and over-matches current threats," Greene said.
"All $600 million of new contracts are deliverable in monthly shipments from 2018-2022 and follow-on awards for additional equipment, spare parts, servicing and support are expected. EOS is also negotiating contracts with other customers who have completed their tendering process and already selected EOS. Further awards are likely."
Greene said the production run sees the new facility at full capacity for the next four years. And as Greene mentioned, this does not include the follow on contracts for sustainment efforts, which he expects to be in the order of "1.5 times the original contract value", ie another $900 million.
The Hume facility in the south of Canberra was developed during 2017 to meet the high demand for EOS' products and will employ around 180 staff by late 2018. It was developed in cooperation with the ACT Government.
Export success
EOS's RWS contracts over the life of the company are around the $500 million mark with exports to the US, South Korea, Netherlands as well as Australia as their home market (235 Bushmasters are equipped with EOS with 85 having been upgraded).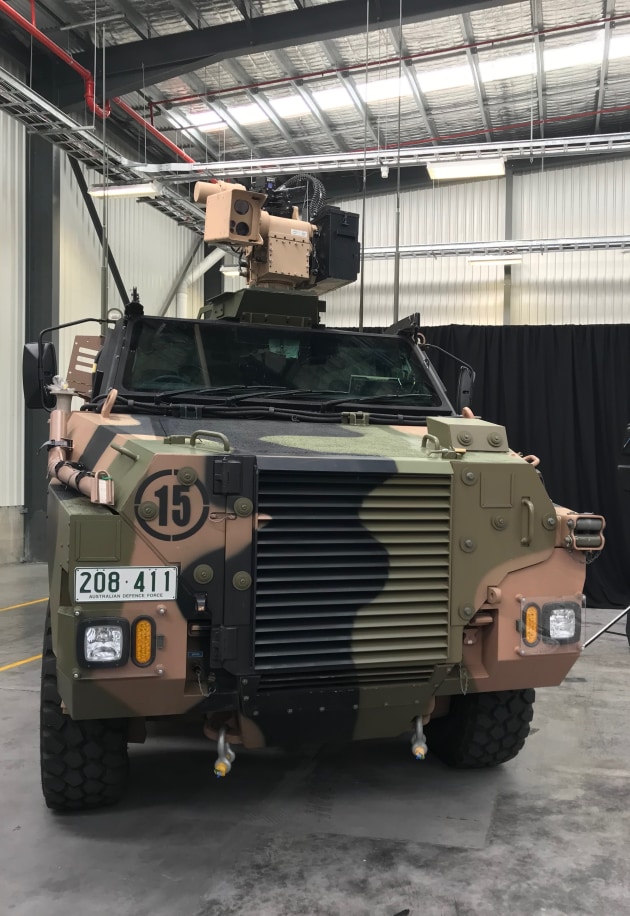 This new contract means that EOS RWSs have overtaken Nulka as Australia's most successful export story, with Greene estimating that another $400 million worth of new RWS contracts are in the offing for 2018.
Greene also took the opportunity to thank Australia's export credit agency, Efic, which provided assistance to EOS for the major expansion of defence industry capability via a working capital facility and finance guarantee. Efic has had its mandate expanded under the new Defence Export Strategy to assist more companies in their export pushes.
In officially opening the new facility, Minister for Defence Industry Christopher Pyne praised the export efforts of EOS.
"Australia is not just a great international customer, but is also a great producer which will be further supported by our new export strategy," Minister Pyne said.