Boeing Defence Australia showcased the latest iteration of battlefield communications capability it is delivering to Defence under Project Currawong (Land 2072 Phase 2B) on May 17.
Project Currawong is a scalable distributed battlespace communications system which is developing a single converged IP network between strategic and deployed systems, from headquarters down to the commander on the move on the battlefield.
The demonstration was held at HMAS Moreton on the banks of the Brisbane River, as part of the latest in a series of Mission System Integration Test Events it has held since being awarded the $650 million acquisition contract in 2015. Visitors to the VIP event on May 17 included Myra Sefton, Director General Communications for CASG.
The capability is being rolled out through two major releases of capability, but uses agile development methodology to design, field, test and if necessary improve the capability through a series of iterations.
"Agile development methodology applied to system engineering and hardware and software development is all about short, fast iterations, where you build the prototype product, get it in front of the customer and validate functionality early," BDA's director of product development Lee Davis explained.
This latest test event, held at HMAS Moreton over a two week period, is the 14th in the series and the first major test of Release 2 capability, which achieved Initial Materiel Release (IMR) in December 2017.
The site was set up to represent a battlefield headquarters (Brigade Main) and deployed forces, which included two Bushmaster protected mobility vehicles configured as mobile headquarters (Commander on the Move) units. The two vehicles are the prototypes of an eventual 18 Bushmasters to be delivered under Project Currawong and are the Electronic Warfare variant being delivered under Project Land 500, but modified with battlefield communications equipment, including a roof-mounted satellite dish and the BDA-developed Currawong Network Access Module (NAM).
Other equipment being developed under Release 2 includes the installation of a 2.4-metre SATCOM antenna and system on the standard trailer now being acquired by the ADF under Project Land 121.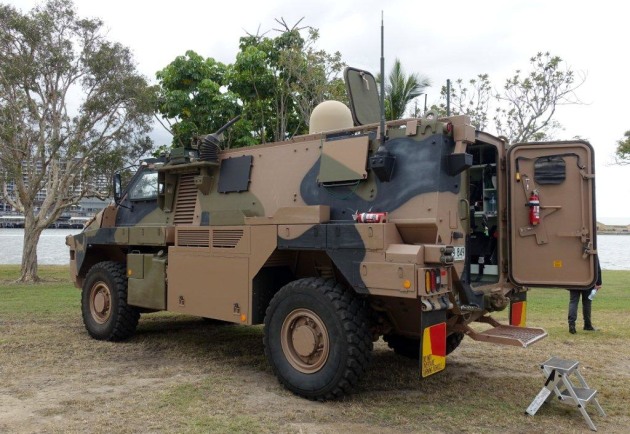 "There is a really strong focus on achieving the smallest possible footprint for the key communications elements of the program," Davis said. "The technology and the architecture can be fitted in the Bushmaster and handle anywhere between five and 25 users. It can also go into a vehicle enclosure and support a joint task force headquarters of 500-plus users."
The latest equipment has now been rolled out to several ADF communications units, including Army's 7 Combat Signal Regiment (7 CSR) and 1 Signal Regiment (1 SR) and the RAAF's 1 Combat Communications Squadron (1 CCS). Most recently it has been delivered to Army's 145 Signals Squadron and 136 Signals Squadron (TACINT) and Davis says the feedback to date from all users has been very positive.
"With the agile development methodology you progressively build customer 'buy-in' and the units are very capable and comfortable with the product now, because they have had a lot of engagement," he said. "Comments from Defence are that it's one of the best they've ever seen, because of that high end-user engagement. The feedback is that what has been achieved is exceptional."