Accenture has opened an innovation hub in Canberra to provide Defence and national security organisations in Australia and NZ with access to technology innovations and digital solutions.
Designed with a human-centric focus, the hub is intended to be a collaborative environment that encourages co-creation and breakthrough thinking between employees, Defence and security agencies, and other digital innovators. 
"The Government welcomes Accenture's investment in building a local ICT capability, which will help foster ongoing innovation and allow projects to transition into business operations quickly and seamlessly," Minister for Defence Christopher Pyne said.
"Defence is proud to have a long-standing partnership with Accenture, having collaborated on the update and support of Defence human resource and air safety systems, as well as the delivery of ICT infrastructure modernisation projects.
"Accenture is responsible for delivery of the core technology upgrade that will lay the foundation for future enhancements to Defence's Digital Identity capability. The upgrade will integrate into Defence's complex and secure information technology environment." 
The hub will focus on technologies including blockchain, artificial intelligence, internet of things, cyber, robotics and advanced analytics.
"Defence organisations need to increase their resilience to emerging threats and require secure, innovative and flexible delivery capabilities, often on tight turnaround," Matt Gollings, Accenture's defence and national security lead in Australia and NZ, said.
Gollings told ADM that the Hub is intended to address this need. It is a secure, trustworthy environment in which clients can view and interact with rapidly-built, customisable prototypes.
"The Hub allows us to work with our clients face-to-face in a secure location. That physical security is critical," Gollings said. "It allows for user buy-in. They can come here, touch the prototype, feel it."
"Depending on the specific need, we can get a prototype ready in days, even overnight," Gollings added. "That allows us to work with clients using local capability.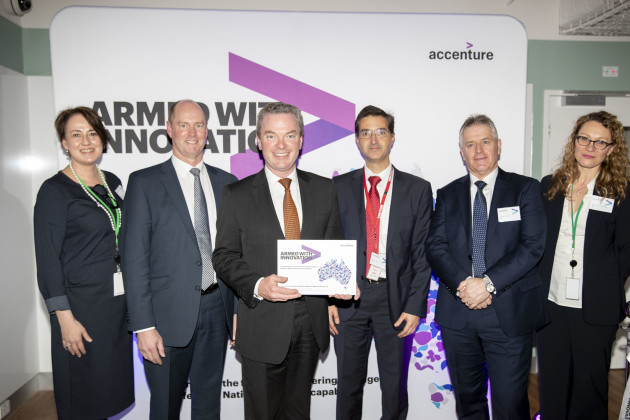 "One of our priorities is having that human-centric focus. We're collaborating and co-designing the future alongside our clients."
Gollings used the example of Accenture's alliance with RIPJAR, a digital analytics software to illustrate how the company is seeking to reduce the analytical burden on decision-makers.
The software uses an algorithm, designed alongside the client, to trawl streams of intelligence and filter out actionable data for the decision-maker. 
"Ultimately, we're looking to service the needs of the defence sector from end-to-end," Gollings said. "Across the whole defence spectrum, our focus is on driving efficiency and effectiveness."
The new space will also serve as a hub for Accenture's local defence and national security-related corporate citizenship initiatives, such as the Prime Minister's Veteran's Employment Program.