During the Airbus Trade Media Briefing in Manching, Germany, the company took the opportunity to talk about their classified LOUT (low observable UAV testbed) program for the first time.
Beginning in 2007 and in earnest in 2010 with German MoD funding, the program has been running as a Skunk Works type program in both Bremen and Manching, working on low observable technologies in terms of designs, coatings and antennae.
The flying wing design, a diamond shape of 12 metres by 12 metres, has undergone an extensive program of iterative design and testing at the site. Perched on a plinth inside a massive anechoic chamber, the biggest in Europe at 60m by 16m by 14m, the aircraft has not flown, according to program lead Mario Hertzog.
With echoes of F-22 and F-35 alongside the flying wing designs synonymous with Northrop Grumman, the German program boasts an impressive history of live and simulated testing of the concept. With antennas integrated into the structure, an integrated flat nozzle design around the engine with twin air intakes on the top of the structure to minimise radar cross section, the design screams ultra-modern technology from every angle.
The program team has taken a holistic approach to stealth, with elements at every stage addressing electronic counter measures, signature reduction and electromagnetic emission control.
The system employs jamming, deception and signature augmentation strategies alongside a suite of datalinks across the spectrum and new sensors that focus on low detectability. On the design front, the engine inlet alone is worthy of note. Made from radar absorbing structures, the design is not visible from the bottom of the aircraft at all.
The diverterless inlet has provisions to suppress IR radiation with all the apertures seamlessly integrated into the wider structure. The air breathing engine has been extensively tested in both simulated environments and in the real-life demonstrator.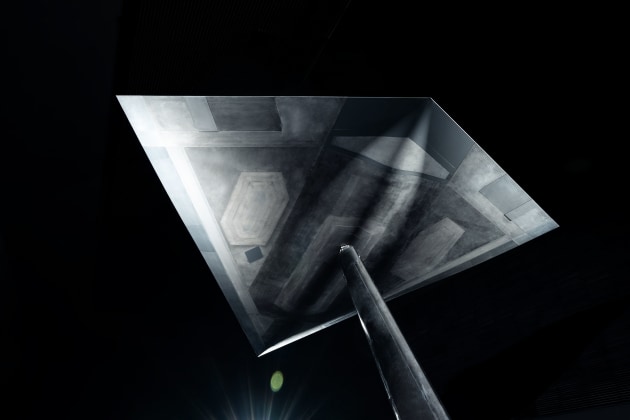 The surface is virtually free of steps and gaps with 'surface wave attenuation to decouple mutually spaced scattering effects', ie making it really hard to find with pretty much any sensor. A blend of transparencies and shielding technologies are supported by LO coatings for specific areas of the wing.
With links into future fighter programs in Germany, such as FCAS (future combat air system that will see the replacement of the Eurofighter and Typhoon fleets in due course), the program has been working behind the scenes for well over a decade in this space.
It is understood that the current program of funding has ended but there is scope for further development at this time. Given the classified nature of the program, many questions from the international media pack were met with coy smiles.