The Aviation Combat Element (ACE) of the Marine Air-Ground Task Force (MAGTF) within the Marine Rotational Force – Darwin (MRF-D) is participating in exercise Diamond Storm 2022, providing critical support to the ADF's Combat Control Instructors course.
Although it's not the first time the rotational US force has supported a Diamond Storm exercise, it is the first time it has directly played a role in the qualification of Combat Control Instructors.
The Air Warfare Instructors Course 22 (AWIC 22), which culminates in Diamond Storm, is the first in which the course has been conducted and is qualifying Joint Terminal Attack Controller (JTAC) instructors within 4 Sqn RAAF.
The Marine ACE is also juggling its regular organic exercise commitments – such as Exercise Darrandarra – a neo-Embassy reinforcement exercise centred on Nhulunbuy – with its Diamond Storm participation, but it is also deriving great training benefits from its support to the latter.
The Marines ACE this year is led by Marine Medium Tiltrotor Squadron 268 (VMM-268) 'Red Dragons' based at Kaneohe Bay in Hawaii and flying the Bell-Boeing MV-22B Osprey. The ACE also combines elements of other Hawaiian and continental US-based units, including Marine Wing Support Squadron 172 (MWSS-172), Marine Aviation Logistics Squadron 24 (MALS-24) and Marine Air Control Group 38 (MACG-38).
"As far as operational employment goes within Diamond Storm, our main role is providing assault transport for combat troops and supplies," explains Captain Zachary Brown, Pilot Training Officer for VMM-268.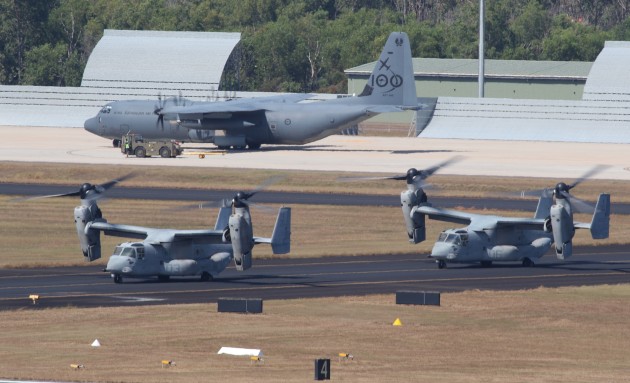 "We are one of two assault platforms that they're utilising in the exercise, the other being (two) Royal Australian Air Force C-130J-30 Hercules. We're providing all of the combat assault transport vertical lift from here (Darwin) down into our training area in Bradshaw."
But the ACE is also deriving a lot of training and experience out of its support for the ADF as well.
"The training areas out here are absolutely fantastic, I was lucky enough to be out here in 2018 and the value and availability of training out here is far and above what we have home in Hawaii," CAPT Brown adds.
"Hawaii does have some challenges – operating on an island chain, there's pretty dynamic weather and terrain – but just the sheer volume of range space that's available here is amazing. Even the Mt Bundy Training Area, which is fairly small (by Northern Territory standards), is larger than we have in Hawaii, and then another 30 minutes south I have a training area that's larger than several US states.
"So, there's absolutely phenomenal training value out here: the terrain is austere, it's rough and it allows us to do a lot of low-altitude tactics training, which is our bread and butter as assault support pilots – manoeuvring low to the terrain – and we get phenomenal training."
Operations Officer for the ACE, Major Chris Montgomery adds that the complexity of air operations during Diamond Storm, which includes RAAF F/A-18F Super Hornets, EA-18G Growlers and F-35A Lightings, also add a training element valuable to the Osprey crews operating within the Bradshaw Training Area.
"There's a very complex air combat element happening in the sky and we have to learn to work effectively beneath that," he says.