Another Air Force making its debut at Australia's Pitch Black air combat exercise this year was the Republic of Korea Air Force (ROKAF), which deployed six upgraded KF-16 Fighting Falcon fighter jets and a single Airbus KC-330 Cygnus tanker. 
The fighters, two single-seat KF-16Cs and four two-seat KF-16Ds, were based in Darwin for the duration of Pitch Black and the KC-330 flew daily missions from Amberley in support of the ROKAF effort.
The KF-16s were drawn from the 111th Fighter Squadron of the 38th Fighter Group at Kunsan Air Base; the 19th Fighter Wing at Chungju/Jungwon, and the 20th Fighter Wing at Seosan/Haemi Air Base. The KC-330 was from the 261st Air Tanker Squadron of the 5th Tactical Air Transport Wing, based at Gimhae Air Base.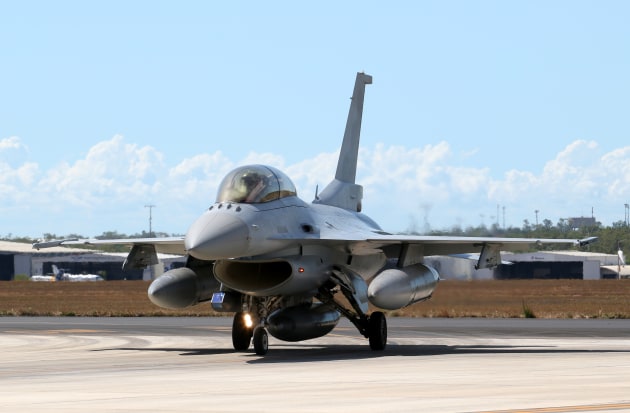 While ADM understands that the KF-16s deployed to Pitch Black have recently undergone a significant upgrade to F-16V standard, including the installation of an Active Electronically Scanned Array (AESA) fire control radar, ROKAF officials were reluctant to confirm this during the exercise.
However, Education Officer for the ROKAF detachment and KF-16 pilot Major Lee described the benefits the force was deriving from Pitch Black to ADM between sorties.
"The weather is very nice. In Korea now there's heavy rain, strong winds and thick clouds and sometimes many flights are cancelled due to these conditions, but here it's great and we've had no cancellations due to weather," Major Lee explained.
"Also, it's the magnitude of the airspace. This is a very large airspace compared to what is available in South Korea. We can fly more than 60 aircraft simultaneously and it's a big challenge to us to manage a large process in the air the same time, so we can learn a lot of things here." 
Although the ROKAF KC-330 tanker is similar to the RAAF's KC-30A - and the MRTTs operated by France, NATO, Singapore and the UK during the exercise - Major Lee said that the KF-16s had only received clearance to refuel from the Korean tanker. Therefore, the KC-330 flew day and night missions from Amberley due to the limited parking space in Darwin.