The headline figure for this year is $44.62 billion in funding for Defence and the Australian Signals Directorate (ASD), a 15 per cent jump from last year's $38.7 billion. This puts Defence spending at 2.1 per cent of GDP.
The October Budget saw an estimated spend of $16.806 billion in 2021/2022 but the portfolio budget statement from this year has $15.766 billion on the cards, meaning Defence has not been able to get that last billion out the door.
But the estimated total acquisition program saw $70.45 billion to be spent over the coming four years; this budget sees that number jump to $85.91 billion over the same period. Some big programs are going to be hitting some significant milestones to get that amount of money moving.
Table 1: Capability Acquisition program | total spend across four year forward estimates
| | |
| --- | --- |
| Type | Total ($B) |
| Military equipment | 63.16 |
| Enterprise Estate and Infrastructure program | 17.52 |
| ICT acquisition program | 4.31 |
| Minor program | .92 |
| Total | 85.91 |
(P16 Defence Portfolio Budget Statements)
Sustainment tells a similar tale; $53.31 billion in sustainment over four years in the October 2020 estimate up to $71.24 billion in May 2021 Budget. As ASPI's Marcus Hellyer highlighted at the ADM Congress in February this year, a huge proportion of future spending is going to be tied up in supporting a handful of large complex platforms.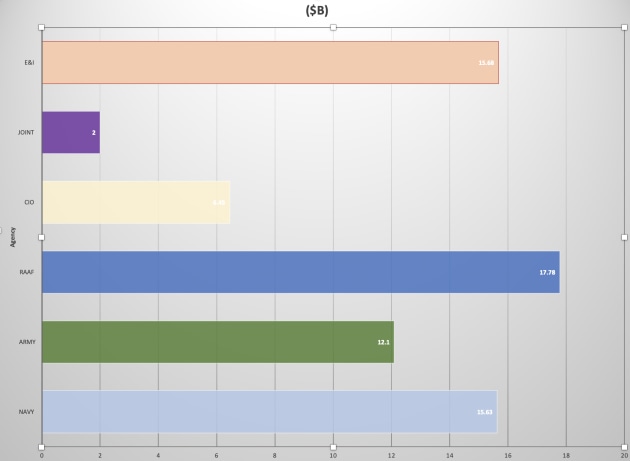 Many of the big ticket Defence items ($747 million on training/ranges in the NT, $1 billion Sovereign Guided Weapons Enterprise and Apache/Chinook purchases) leaked out earlier this year, meaning the biggest Budget headline relates to the scale of the draw down of operations.
In line with direction from government, funding for operations has taken a massive hit. The budget papers from October last year saw $4.9 billion for operations over the forward estimates period. This budget sees that number fall to barely $1 billion over that same period.
Operation Okra in Afghanistan make up the bulk of that downward trending figure, but all overseas operations have taken a hit in line with the government pivot to efforts closer to home.
Stay tuned for Defence Week on Thursday for an in-depth break down of the Budget.