Australia's first commercial space capable rocket has reached the edge of space, followed by a second rocket within two hours. 
At 10:09:47 am on 19 September, Southern Launch ignited Australia's first commercial space-capable rocket at the Koonibba Test Range northwest of Ceduna in SA.
And in a second first for Australia, only an hour and and forty minutes later at 11:49:47 am a second space capable launch was safely completed.
A recovery effort is currently underway to locate the DEWC-SP1 payloads and DART rocket stages.
The rocket launch forms part of Air Force's Plan Jericho advanced sensing program to detect and track challenging targets. The program also includes high altitude balloon launches.
"We as Australians have achieved something incredible today, because today at Koonibba, Australia took its first small step towards once again being a proud space capable nation," CEO Lloyd Damp said. "Today Southern Launch demonstrated our ability to launch our first space capable rocket, and within two hours, launch another rocket. This demonstrates our ability to provide a future responsive space access to DEWC Systems and our broader customer base."
"DEWC Systems is proud to collaborate on this project with Southern Launch and I am grateful for the support given by the Koonibba community and the use of their country," CEO Ian Spencer said. "We have learned a lot from our mission which will be used to bolster Defence capability."
"The payload, carried on a DART rocket, provides a stepping stone for Air Force to explore how advanced rapidly deployable networked sensors can be employed to provide information across Defence networks," Minister for Defence Linda Reynolds said.
"Air Force's Plan Jericho has sponsored this prototype, developed by DEWC Systems, and marks an exciting future for Australia's space capability."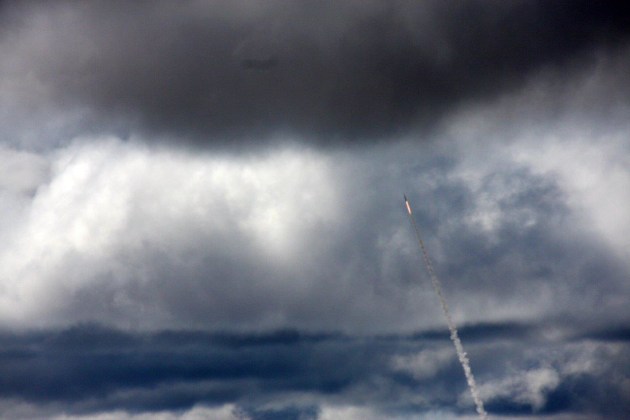 This successful launch makes a great start for the DART vehicle with rocket manufacturer T-Minus Engineering keen on getting more rockets off the ground in Australia and around the world.
"We congratulate the team at Southern Launch and DEWC Systems for this momentous achievement and establishing a commercial rocket launch site in SA," Roel Eerkens, T-Minus Engineering Co-Founder said. "New exciting capabilities were tested such as DEWC Systems excellent work and flight validation of their payload. This is only the start for all three of us."
RAAF Air Warfare Centre Director Integration and Innovation Group Captain Tobyn Bearman said Air Force's High-Altitude Program is exploring the delivery and employment of game-changing capabilities in the upper atmosphere.
"This launch will assess the design requirements of low cost, expendable sensors necessary to survive and operate effectively in harsh temperature, gravity and vibration environments," GPCPT Bearman said. "This innovative project will enable Air Force, and Australian industry partners, to enhance sovereign technical design and development skills, as well as deepen the collective understanding of advanced sensor performance in high altitude environments. 
"This rocket launch event has put Koonibba on the map. Now, people all over Australia have heard about us and the Koonibba community," Corey McLennan, Koonibba Community Aboriginal Council Chairman said.
"Our children now dream of being astronauts, rocket scientists and helicopter pilots. The helicopter rides that DEWC Systems organised for the children and adults is something that they would never have experienced or dream of doing were it not for this launch.
"It has brought so much hope to the Koonibba and the surrounding communities."
"So many things had to come together to make this work," Senator Rex Patrick said, having witnessed the launch. "There is so much potential going forward in this growth sector and it's great to see two South Australian companies leading the charge. It is onwards and upwards from here. It been a huge team effort with industry, government and the community collaborating to achieve success."