Once again, judges in ADM's Women in Defence Awards were spoilt for choice when it came to narrowing down the field in each of the nine categories. With a new category this year on R&D/Academia in the mix, almost 200 women from around the nation threw their hats in the ring.
"Every year we have the toughest and best job of deciding between amazing, awesome and inspiring women from so many different parts of the Defence community," ADM Managing Editor Katherine Ziesing said. "Finding daylight between these entries is the best problem to have."
Winners in each category along with the Hall of Fame inductee for lifetime achievement will be announced on Friday July 30 at a gala dinner at the National Arboretum in Canberra. Tickets are available here.
And the finalists are:
Communications
Melanie de Git from The Boeing Company
Shey Dimon from Penten
Sharon Mascall-Dare from Babcock
Sarah Vesey from The Decisive Point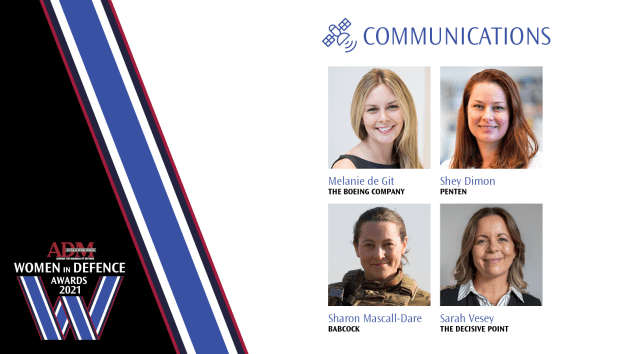 Engineering
Louise Burr from Royal Australian Air Force
Sarah Cannard from Nova Systems
Emily Carrie from Royal Australian Air Force
Jennifer Del Mastro from Nova Systems
Natalie Stafford from Royal Australian Navy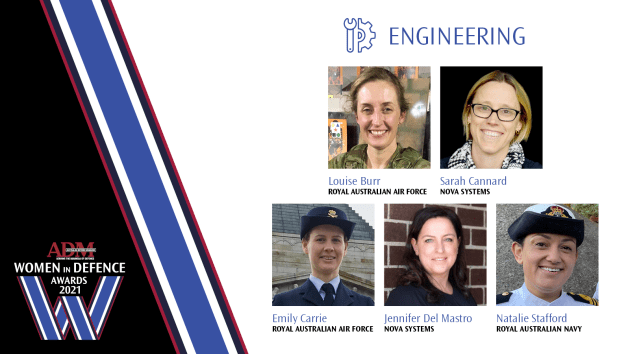 Operations
Andrea Argirides from Headquarters Joint Operations Command
Kristie Connell from Australian Army
Karla Duroy from BGIS
Cathy Sergi from Serco ADF Health Services
Ci-anna Smith from Royal Australian Navy
Michelle Volkers from Royal Australian Air Force
People and Culture
Amelia De Angelis from Kinexus
Natalie Ekonomopoulos from Royal Australian Air Force
Lyndsay Freeman & Shamsa Lea from Australian Defence Force
Rebecca Jackson from Providence Consulting
Beck Rayner from Military Wife Life
Project Management
Deb Herberz from Noetic
Claire Milton from AeroPM
Maddy Rentmeester from CASG
Catherine Roberts from Royal Australian Air Force
Naomi Smith from Boeing Defence Australia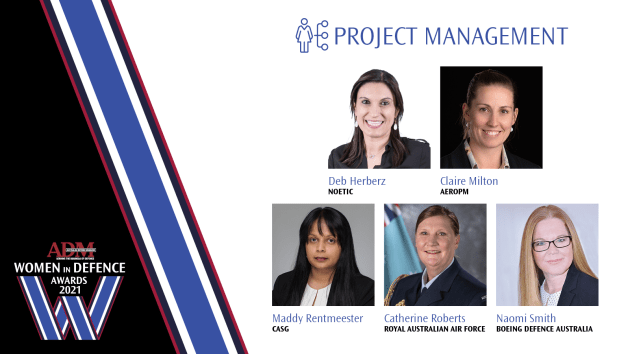 Technical Trade
Jenny Gigliotti from Ventia (formerly Broadspectrum)
Jodie Matters from Royal Australian Navy
Suzie Peterson from Royal Australian Navy
Belynda Pettit from Royal Australian Air Force
Alicia Pollock from Serco Asia Pacific
R&D/Academia
Professor Siobhan Banks from University of South Australia
Dr Cate Carter from Australian Army
Dr Samantha Crompvoets from Rapid Context
Dr Felicia Pradera from DMTC Limited
Dr Yan Yang from Boeing Phantom Works International
Legal and Contracting
Kaylene Askew from Luminact Pty Ltd
Carla Balanco from DroneShield Limited
Elizabeth Cooke from Royal Australian Navy
Melinda Halliday from Coras Solutions
Alison Whittaker from BAE Systems Australia
Rising Star (under 30)
Rebecca Avila from Royal Australian Navy
Olivia Blight from Rheinmetall Defence Australia
Madeline Bonfini from RD Consulting
Victoria Waid from Australian Army
Bilin Zhou from Boeing Defence Australia
Thank you to our sponsors SYPAQ, Penten, Airbus, Boeing, Ventia, BGIS, and Precision Public Affairs for helping us to make this program happen.