Gas protection technology hasn't changed much since World War 1 when soldiers were issued the first primitive gasmasks, eventually using absorbent material such as activated carbon to filter out toxic gases.
That certainly works and it remains in use but it has limitations. Even modern respirators provide only minutes of protection against some chemical agents before the operator must swap out the absorbent canister.
Now Australian industry has been awarded a $8.6 million Defence Industry Hub contract to further develop and commercialise CSIRO-developed technology which promises to do this much better through use of advanced porous materials for the filter.
Trials have shown this is extremely effective at filtering toxic materials including chemical agents, delivering substantially longer protection against a wide range of chemicals.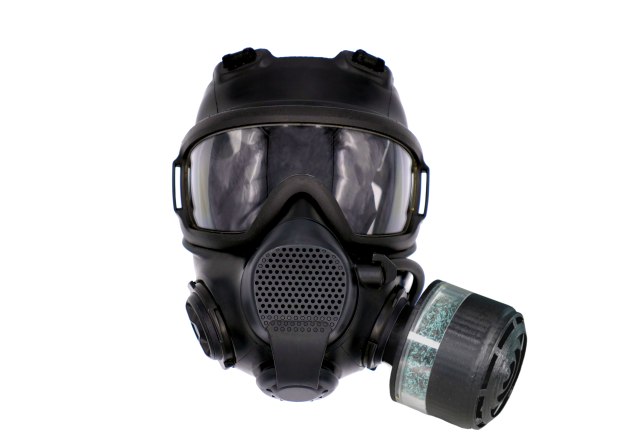 This is the largest ever Defence Innovation Hub contract – an indication of the promise of this technology and the seriousness with which Defence views upping protection against existing and emerging threats.
Through this contract, CSIRO will work with Monash University, Boron Molecular, a Melbourne-based manufacturer of chemicals and porous materials, and Brisbane veteran-owned company EPE which supplies protective systems to the Australian Defence Force. EPE will manage the project.
Professor Matthew Hill, senior CSIRO researcher on this project, told ADM traditional activated carbon filters could soak up chemicals but were quite limited in capacity.
"Depending on the threat, it can be a couple of hours but for some of the emerging threats and toxic industrial chemicals, it might only be a few minutes. That's a real issue that we need to address," he said.
"This project is based on a nano-material we have been working on in our lab for a number of years known as a metal organic framework, or MOF for short. These materials are like a specialised sponge."
Professor Hill said these could absorb large quantities of a wide range of chemicals.
"What this project is really about is making what has been a laboratory-based discovery practical and translating out to Australian industry who can then provide it to our defence force."
It's not just Defence. Police, firefighters and emergency services all need to use respirators.
There would also appear to be vast export potential to, among others, the US, UK and Europe. All use respirators with NATO-standard 40mm thread size for cannisters.
In proof of concept tests, CSIRO researchers tried out the filter materials against a range of toxic industrial chemicals and some chemical weapon agents, including sarin and mustard gas. Those trials were led by the Defence Science and Technology Group (DST).
"We saw really exciting results and that's what has inspired us to take this all the way through to market," he said.
"DST has been there right with us the whole way through this – critical partners in this technology."
Respirators used by Australian forces have steadily evolved, from British-pattern Mark III, IV and V General Pattern Respirators, manufactured in Australia during World War 2, to the Australian Light Anti-Gas (ALAG) respirator derived from a similar UK model.
ALAG remained in service through to the Vietnam war when Australia adopted the US M17 which remained in service to the 1990s when the ADF adopted the British S10. That was modified to better suit the Australian climate as the ADF-10.
In 2018, that in turn made way for the US Airboss Low Burden Mask, selected in the Project LAND 2110 refresh of ADF CBRN protective ensemble. This is a light weight, easy-to-use respirator, regarded as the very best available.
Project manager for EPE David Rye, former Commanding Officer of the Army's School of Military Engineering  said the aim was to take this technology from lab to a viable commercial product.
"At the end of this project we want a TRL-9 (technical readiness level 9) commercial product, ready to come off a mass production line," he said.
"Instead of manufacturing the few hundred that we have to do for the project, we want to be ready to go for when someone says 'this is an amazing product and we want 50,000'."
The primary market is the ADF, along with Australian first responders. But he says there's no reason why it couldn't be marketed to Five-Eyes countries and beyond.
The project is set to conclude in January 2024, with canisters ready for production.
To verify that production canisters work as claimed, Netherlands firm Proqares will be commissioned to conduct a range of trials.
Proqares is a specialist independent lab with expertise in testing of protective equipment and access to a full range of toxic chemicals and chemical warfare agents.
Currently gasmask canisters are made in the US and Europe. Local manufacture will create a sovereign capability, with a number of firms manufacturing components. EPE itself may do final assembly.
So what's a canister worth? Imported activated carbon canisters cost around $100 each and EPE is aiming for a comparable price.