The first three of 20 Bushmaster Protected Mobility Vehicles (PMVs) departed RAAF Amberley aboard an RAAF C-17A Globemaster on 8 April enroute to their ultimate destination in Ukraine.
The loading of the three vehicles was carried out during a media opportunity at the base, attended by Defence Minister Peter Dutton and Ukraine's Ambassador to Australia Vasyl Myroshnychenko.
The three vehicles are part of an initial batch of four Bushmasters prepared at short notice by defence industry for their impending transfer to Ukraine. Two of the four are configured for troop carrying operations and two as field ambulances.
Thales Australia performed preparation of the four Bushmasters, after which they were painted from their overall white colours scheme to an olive-green scheme – complete with Ukrainian flag. 
"Thales Australia is proud to support the donation of Australian Bushmasters to Ukraine. Built by Thales in Bendigo, our team in Brisbane has worked around the clock to have them ready for airlift to Ukraine today," the company commented on social media on 8 April.
Two of the four Bushmasters were painted over a 24-hour period by north Queensland-based small to medium enterprise RGM Maintenance under contract to Thales Australia.
"RGM is privileged to support ADF and Thales Australia Bushmaster here in Australia and as required by the Australian Government," RGM Director Russell Newman commented.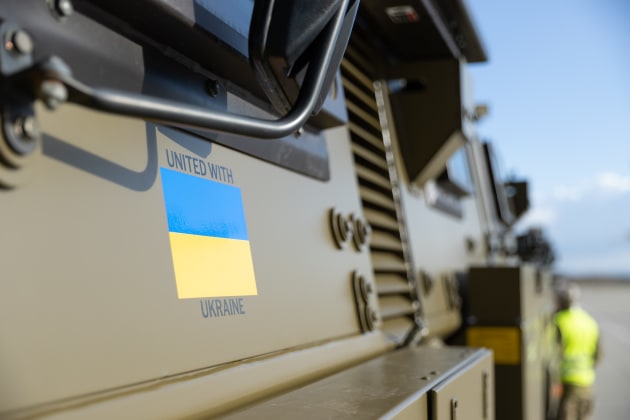 The 20 Bushmasters have been gifted to Kyiv in response to a personal request from Ukraine's Prime Minister Volodymyr Zelenskyy in a televised address to Parliament on 31 March. In a statement released on 8 April, Prime Minister Scott Morrison said Australia had already committed Defence aid valued at $116 million to Ukraine and the Bushmaster vehicles will increase this figure to $165 million.
"In addition, Australia is delivering 70,000 tonnes of coal to power Ukraine's resistance, on top of $65 million in humanitarian assistance for the people of Ukraine, with a focus on protecting women, children and the elderly, including for food, shelter and emergency medical supplies," Morrison said.
ADM understands the next batch of six vehicles are currently being prepared for delivery to Ukraine in the near future, however in his statement to the media the PM said "The Government will not disclose further specific details of [Bushmaster] delivery arrangements at the direct request of the Ukrainian officials and our other partners."