Updated 27/7/23, 1548
Hanwha Defense Australia has secured the contract to build 129 Redback infantry fighting vehicles for the Commonwealth under Land 400 Phase 3.
"The Albanese Government has selected Hanwha Defense Australia as the preferred tenderer to deliver 129 infantry fighting vehicles to the Australian Army, as part of a major transformation of the Army in response to Australia's changing strategic environment," Minister for Defence Industry Pat Conroy said.
​
"The Government has also decided that the new vehicles will be built in Australia at Hanwha's facilities in the Geelong region." ADM understands two prototype vehicles will be built in South Korea, with the balance to be built in Geelong.
The decision comes nearly five years since Defence issued its Land 400 Phase 3 (Mounted Combat Capability) Request for Tender.
It also comes just four months after the number of Infantry Fighting Vehicles (IFVs) expected by Army to replace its long-obsolete M113AS4 armoured personnel carriers was slashed from 450 to 129 in April's Defence Strategic Review (DSR).
"Significantly, the infantry fighting vehicles will be delivered at around the same time as the new HIMARS missile systems and Army Landing Craft – reflecting the Defence Strategic Review's call for Army to be transformed for littoral manoeuvre operations from Australia," Minister Conroy said.
​
"The acquisition also reflects the Defence Strategic Review's assessment that 129 infantry fighting vehicles is the appropriate number for Australia's future strategic environment."
With this number inclusive of training, repair and attrition stock, the IFVs will equip a single mechanised battalion, in particular for littoral manoeuvre, as part of a single armoured combined-arms brigade "able to meet the most demanding land challenges in our region". 
The Government says it is accelerating this acquisition so that the first vehicle will be delivered in early 2027, two years earlier than the former government had planned. The final vehicle will be delivered by late 2028.
"The Land 400 Phase 3 project will have a value of between $5 billion and $7 billion, making it one of the largest capability acquisition projects in the history of the Army," Minister Conroy said. This includes all vehicles, project costs, spares, ammunition, training, and simulation systems.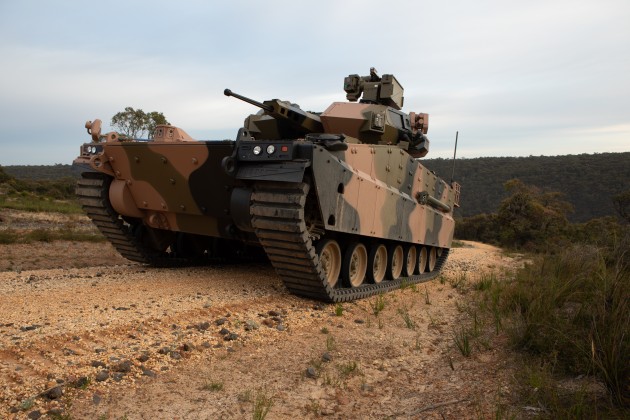 Initially set in 2015 at $10-15 billion, the budget for Land 400 Phase 3 soared by an extraordinary 80 per cent to $18-27 billion in the 2020 Force Structure Plan.
According to Defence the "additional investment" included an increased initial procurement of spares and a larger stockholding of munitions to support greater operational awareness, together with increased investment in supporting infrastructure and training ranges specific to the IFV capability.
"A longer, more feasible and sustainable vehicle build schedule in Australia also impacts the out-turned cost of the project," a spokesperson added without further explanation.
The scope of the program came under pressure after the surprise allocation in the March 2022 defence budget of nearly $10 billion over the next decade to boost the cypher and intelligence capabilities of the Australian Signals Directorate.
In mid-June 2022 both Rheinmetall Defence Australia and Hanwha Defence Australia were asked to submit quotes before the end of July for 300 IFVs, amended from the pricing models in the final proposals submitted by both companies in late 2021 after two years of vehicle risk mitigation activities.
The broad scope of testing included vehicle weapon systems; protection against mine and ballistic threats; vehicle performance and mobility; electronic system interference; maturity of sub-system integration; and human factors and tactical employment of the vehicles in the IFV role. 
Amid an increasing strategic focus on long-range power projection and submarines, the companies were also asked to submit bridging budgets enabling the Commonwealth to consider boosting a 300-vehicle order in 50-vehicle increments.
Post-DSR, both contenders were left scrambling to complete radically-revised quotes to meet an undisclosed but what is understood to have been an end-of-June deadline.
Unsurprisingly given the reduced requirement, the quotes required options for manufacture both in Australia and overseas – in Rheinmetall's case at its MILVEHCOE facility in Ipswich and in Germany; in Hanwha's case at its under-construction Armoured Vehicle Centre of Excellence at Avalon, and in South Korea.
For its part, the Hanwha Redback was specifically designed for the current operating environment whilst drawing on the lessons and technology associated with the company's KF21 IFV that has been in service with the Republic of Korea Army since 2009.
The Redback, however, is larger, heavier, more survivable and more lethal in order to combat recent advances in Russian armoured vehicles.
"We are excited for the next phase of this program that will see HDA and Australian industry deliver a world class IFV to the Australian Army," Richard Cho, Managing Director of HDA said.
"I would like to thank our industry partners who supported us through the Risk Mitigation Activity during the challenging times that COVID presented to us and since then as we prepared our winning response to the Commonwealth."
"The selection of the Redback for the Australian Army is an exciting milestone not just for soldiers, who will have an IFV that was specifically designed and built for them, as it also cements the closer ties between Australia and the Republic of Korea."
"Hanwha's selection as preferred tenderer for the Land 400 Phase 3 project has major implications for Korea-Australia defence and economic cooperation," Son Jaeil, President and CEO of Hanwha Aerospace, parent company of HDA said.
"Production of the world's first fifth generation IFV is a game changer for Australian Defence capability. We're looking forward to being a true partner to Australia for this program alongside Land 8116 Phase 1."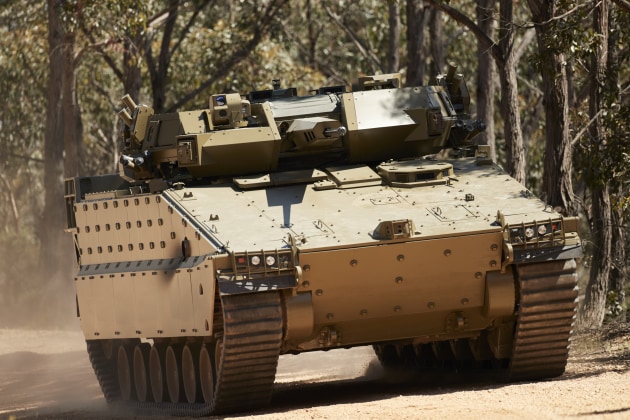 The platform weighs 42 tons, can reach speeds of up to 65 km/h on its one-piece low vibration rubber tracks, features a maximum range of 520 km, a crew of three, and can carry up to eight dismounts in mine-resistant seating.
The running gear comprises seven road wheels and an advanced in-arm independent suspension system (ISU) that allows individual control of each bogey on the track and dispenses with torsion bars, providing more space for effective blast mitigation and  removing dependence on suspended footrests and other design constraints.
Powered by a 1,000 hp MTU eight cylinder diesel similar to that equipping the Boxer Combat Reconnaissance Vehicle being acquired under Land 400 Phase 2, the Redback also uses the same Alison automatic transmission as Army's M1AI Abrams main battle tank.
The platform features the Redback turret, based on Elbit's in-production MT30 Mk 2 turret, and has been tailored to meet Land 400's requirements, specifically in the areas of systems integration, situational awareness and on-board training.
The Redback turret combines the structure and electric drive hardware of the MT30, integrated with the fire control system, electro-optics and common user interface from the company's R400S Mk 2 remote weapon station.
The turret mounts the Northrop Grumman Mk44S Bushmaster II 30 mm cannon -  a scaled-up version of the M242 25 mm cannon fitted to Army's ASLAVs and capable of firing all natures of the 30mm x 173mm ammunition in service with the US and 18 other nations – together with a MAG58 7.62 mm coaxial machine gun that is fully accessible and reloadable from under armour.
It also includes an integrated, shock-isolated retractable launcher on the right of the turret for two Spike LR2 antitank guided missiles, and the Elbit Iron Fist light decoupled active protection system, both of which were fundamental design inputs to ensure optimum performance over bolted-on solutions.  
The EOS R400S Mk2 RWS mounted on the roof in front of the gunner's hatch can be fitted with a range of weapons and provides the commander's sight, utilising a medium-wave infrared cooled thermal camera with a detection range of at least 12 km at night, recognition at 5.1 km, and identification at 4 km.
Designed as an IFV turret from the outset, the Redback turret also incorporates the Elbit Iron Vision system which furnishes the vehicle's commander (and others if required) with a heads-up external view from a turret-mounted camera array while remaining safely under armour.
Iron Vision also provides access to all sights and the ability to shoot from the commander's helmet-mounted display or to cue the main gun for the gunner. Additionally the system incorporates overlays from the battle management system that allows the commander to maintain situational awareness while still supervising the gunner. 
Turret and hull protection is provided entirely by Australian-manufactured Bisalloy armour steel.
"The Redback is a highly advanced infantry fighting vehicle and is one of the safest and most lethal platform soldiers can use," Cho said. "The Iron Vision system that allows the Redback's crew to effectively look through the hull of the vehicle as though it isn't there is an absolute game changer when it comes to operating heavy armoured vehicles in close company with dismounted troops."