Whether planning a mission, directing operations or acquiring new capability, the protection of ADF personnel and assets is front of mind for its commanders. In this article, Rob Napier examines some of the ways Capability Managers are approaching land force protection.
Wherever Australian forces are deployed around the world, there are unavoidable risks to the men and women who serve in uniform. Minimising those risks begins with an effective intelligence capability and significant investment in secure technology, training and tactics.
How does a military force protect itself? While the conventional answer is to field the superior force, this is not a complete answer. When two near-peer powers meet on a battlefield, large numbers of casualties can be expected – demonstrating that force alone is not enough to protect the combatants. Experienced commanders and capability managers know that force protection is not a matter of chance. It takes planning, commitment and attention to detail. 
An era of rapid specialisation
The ADF has moved towards a 'total force' comprising uniformed combat forces supported by civilian contractors and specialists. It now employs a core team of specialists, supported by contractors who perform non-core roles, and is believed to be a more cost effective and more capable military organisation.
This shift brings the protection of its forces into sharper focus as specialisation presents new challenges to planners and commanders: Large numbers of casualties are not only unacceptable in modern society, strategically a significant loss in capability can be fatal for a small force. When  soldiers become casualties, the skills of essential and sometimes highly specialised personnel cannot be easily replaced. To address this, versatility and the ability to respond effectively in unfamiliar situations are characteristics of the Australian Army today.
It relies on the ability to leverage greater mobility, flexibility and firepower, the support of its allies, more effective intelligence, and superior technical resources.
Clear and present danger
The ADF has been forced to adapt to an ever-changing array of new threats including Improvised Explosive Devices (IED), insider attacks and cyber warfare. It has shown a commitment to innovate as a way of overcoming some of the disadvantages the Australian Army faces as a smaller military force.
This view is supported by comments from Brigadier Ian Langford, Director General Future Land Warfare, who said, "Our commanders have directed that we accelerate the adoption of new technology as a capability enabler – to pull the future into the present. We will be increasingly asked to do tasks and solve problems that are not part of our traditional mission set, as we understand them."
Rapid response from Army and the Defence Science and Technology Group to threats from IEDs is one example where Australia has taken prompt and innovative action to develop new tactics and technology. This work has not only advantaged Australian forces, but also our allies. For example, L3Harris Micreo and other industry partners have produced more than 200,000 award winning Redwing IED detection devices for the Afghanistan National Defense and Security Forces.
Australia's Cyber investment
Cyber is now regarded as the greatest and most immediate threat to all Australians, whether in uniform, or not. While bank fraud and other attacks against individuals and corporations are deeply disturbing, threats to the ADF's supply lines, sensors and effectors are potentially catastrophic. The Royal Australian Corps of Signals, the Australian Signals Directorate, other service branches and intelligence organisations, as well as Federal and State police forces all contribute to Australia's response to cyberattack.
Early detection of intent, as well as the ability to constantly determine the location, direction and speed of enemy threats are the gold standard for force protection. As a member of the Five Eyes nations, Australia's intelligence agencies contribute to and benefit from international agreements with their coalition partners.
All branches of the ADF and civilian intelligence agencies have been well funded to perform their signals intelligence (SIGINT) roles. The Federal Government has increased funding in cyber and information warfare capabilities to around $15 billion over the next decade, as announced in Defence's 2020 Force Structure Plan.
All branches of the ADF benefit from Army, Navy, Air Force and Joint programs through closer force integration. Additionally, there are a number of programs within the intelligence community that are vital to protecting service personnel – with counter cyber having the highest profile.
Seeing but not being seen
The need to see without being seen is an ongoing challenge for troops in the field. Transmissions from active sensors such as radar carry tell-tale signatures that can be detected by opposing forces. Passive radar is different: It employs background radio transmissions to provide ground forces with an effective defensive radar capability that doesn't disclose its position.
Australia's passive radar development has its roots at Defence Science & Technology Group – a world leader in signal processing. Both Silentium Defence and Daronmont Technologies have continued to refine and commercialise this technology under various programs and Defence Innovation Hub contracts.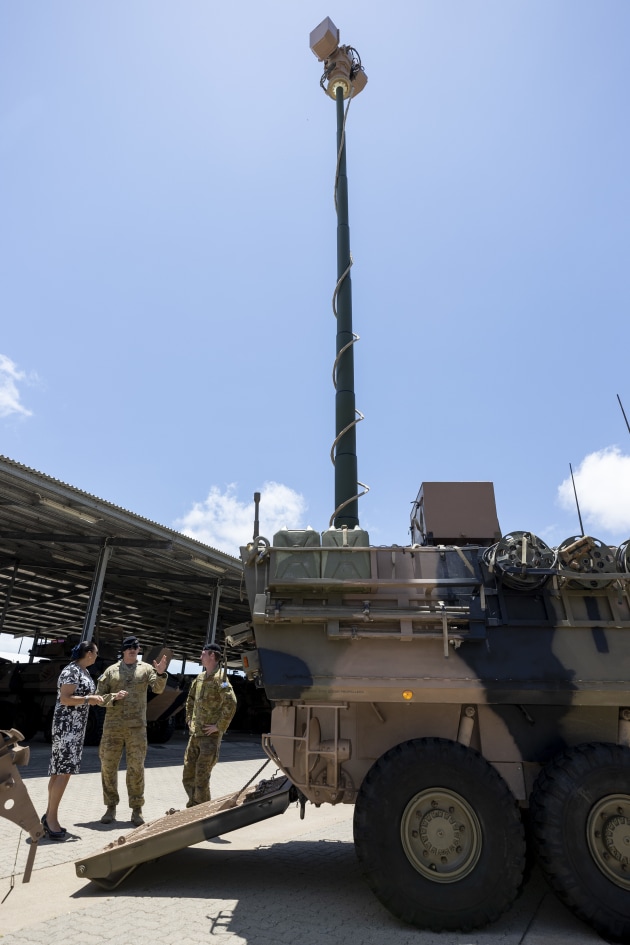 Silentium Defence develops passive radar for the land, air and space domains. CEO and co-founder, Dr James Palmer, is enthusiastic about the value to our forces of using the environment to advantage.
"Passive radar transmits no radio signals and has a virtually undetectable visual footprint," Dr Palmer said. "It is ideal for local area defence. It is light, portable and quick to deploy.
"It's unclear how far other nations have advanced with passive radar development, but it seems that no other country has the ability to field a system as light and portable as our Maverick M8 radar. This technology shows what is possible when Australia supports local industry." 
Camouflage and concealment
Avoiding detection in the visual and near-infrared window is difficult to achieve – particularly for vehicles on the move. The Mobile Camouflage System (MCS) from Saab Barracuda AB successfully protects Australia's Supacat Special Operations Vehicles. Saab claims that MCS has reduced detection by up to 90 per cent against a broad range of currently available sensors, including night vision devices, thermal cameras, UV sensors and radar systems.
Under Land 400 Phase 2, Boxer Combat Reconnaissance Vehicles will also be fitted with MCS. Saab has appointed Global Defence Solutions (GDS) to provide ongoing manufacturing and support facilities in Australia.
"Saab's partnership with GDS will bring world-class capability into Australian industry with the transfer of our technical knowledge and expertise of camouflage," Andy Keough, Managing Director of Saab Australia said.
"Australian industrial involvement is critical to the success of our sovereign defence industry and together with GDS, our partnership is another example of creating local capability and new opportunities for Australian industry," Keogh said.
Another threat to our land forces is presented by red-force laser targeting, which seriously limits freedom of movement for armoured vehicles. Saab's LEDS-50 Laser Warning Sensor (LWS) is also integrated into Boxer Combat Reconnaissance Vehicles to warn crews of illumination by laser range finders, dazzlers, designators and beam-rider missiles.
The LEDS-50 improves survivability by providing Boxer commanders with the information needed to make better tactical decisions. Saab is demonstrating its commitment to this technology by setting up a new LWS production line and support facility in Melbourne.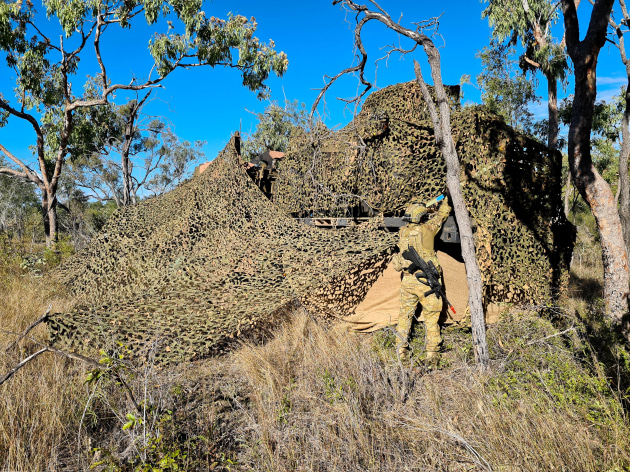 CBRN Defence
Chemical, Biological, Radiological and Nuclear (CBRN) attacks and exposure to Toxic Industrial Hazards (TIH) present growing threats to our ground forces, and could also threaten the wider community. The Government is investing more than $188 million in an enhanced capability to protect ADF personnel against exposure to weaponised CBRN and TIH Materials.
The first phase of Land 2110 Phase 1B to be delivered will provide enhanced CBRN force protection to deployed ADF and assigned coalition personnel, both offshore and within Australia. Future phases are yet to be scoped.
Equipment to be delivered by Land 2110 Ph1B includes systems that enable:
detection, identification and monitoring
warning and reporting
physical protection
hazard management, and
medical support.
The Commonwealth has selected Leidos as the Prime Contractor for the delivery of equipment systems being acquired under Phase 1B. A Special Forces CBRNE capability is also being delivered by Babcock under Land 3025.
Enhanced communications
Secure and effective communications – as well as systems that are resistant to detection and jamming by enemy forces – are vital to support operations, protect the force and ensure freedom of movement. Army employs a range of voice, data and telemetry systems in the HF, VHF and UHF bands. Whether point-to-point, mesh or satellite, the aim is always to achieve:
Low Probability of Intercept (LPI) – the result of measures taken to resist attempts by adversaries to determine if a transmission is a signal of interest
Low Probability of Detection (LPD) – the result of measures taken to hide or disguise electromagnetic transmissions.
Army relies on its Multi-Tactical Data Link Network (MTN) to pass information and data automatically and rapidly between platforms and systems within joint and coalition task groups. It is critical for building a common operating picture that can assist battlefield coordination.
JP9347 Joint Data Networks will upgrade Link 16, Link 22 and advanced Common Data Link functionality across several platforms to enhance ADF operations and to ensure critical systems integration within joint and multinational task groups.
The various phases of JP2008 Defence Satellite Communications aim to ensure more reliable and effective communications for Australia's ground forces. This long-running project promises a significant increase in Defence's satellite communications (SATCOM) capabilities, including a networked monitor and control system that supports deployed headquarters.
Projects that involve satellites add many layers of complexity and risk. Full compatibility with the US Wideband Global SATCOM (WGS) standards was an essential requirement for JP2008. Considering that the starting point was so well defined, it's surprising that the project came so close to going completely off the rails. Yet while the investment and risk have been high, the value of reliable communications for our forces is inestimable.
JP2008 Phase 5B1 Tranche 2 Combined Communications Gateway Geraldton (C2G2) will embed Australian-owned SATCOM equipment into a US facility to be constructed at the Australian Defence SATCOM Station near Geraldton, WA. This new facility will increase Australia's SATCOM anchoring capability.
The successor to these programs under JP 9102 (ADF satcoms) and JP799 (space awareness) will also deliver a huge leap in capability for the space based services that the ADF is increasingly relying on to fight and protect itself.
While satellite communications has dominated RF investment, there remains a need for conventional High Frequency (HF) radio. Joint Project JP2043 Phase 3A High Frequency Modernisation will provide an enhanced HF capability for long-range communications. The network includes four HF base stations in the Riverina, Townsville, Darwin and North West Cape areas, together with primary and backup Network Management Facilities in Canberra.
Identification Friend or Foe (IFF) is well established technology that has protected our forces and Australian airspace for generations. JNT90PH1/AIR90 is upgrading military systems to Mode 5 IFF and the civilian system to Mode Select (Mode S). The new complementary technology, Automatic Dependent Surveillance – Broadcast (ABS-B), will also be implemented. This upgrade is due to become operational by 2022.
Controlling the battlespace
Integrated air and missile defence and battlespace management systems address the rapidly rising pace of modern conflicts. Artificial intelligence systems may become the only practical option for future commanders if they are to respond to threats in time; though as yet there seems to be a reluctance to remove the human from the loop.
Project Land 200 Battlefield Command System is delivering a software Battlefield Management System (BMS) and a mobile secure tactical radio communications network for Land Forces. A digitised Battlefield Command System is key to conducting operations on the modern battlefield, where paper-based and voice radio systems are no longer adequate.
While it's essential to know where enemy forces are located, it's equally important for commanders to know the exact positions of their own troops. Land 200 will implement a mobile, data-capable communications system, able to exchange combat information with other Land and Joint BMS. It will form the basis of a land combat identification (Blue Force Tracking) system by providing commanders with a 'real-time' display of friendly force locations.
Integrated Air and Missile Defence
Controlling the airspace is of continued concern for Joint Force commanders as technology evolves. The challenge is becoming ever-more complex. Even non-state actors now have the ability to deliver swarms of cheap and expendable reconnaissance or explosive-laden drones onto the battlefield. Defence is examining options to repel these threats.
Conventional threats from fixed and rotary wing aircraft, as well as large drones, are also being addressed through development of the Integrated Air and Missile Defence (IAMD) program.
Project Land 19 Phase 7B Short Range Ground Based Air Defence  is the vanguard for the wider IAMD Program. It will provide the land force a mobile, short range capability that forms the inner tier of the IAMD system. This capability is currently in acquisition and will deliver the enhanced National Advanced Surface to Air Missile System (eNASAMS) to Army from 2023. It incorporates Australian designed and manufactured CEA radar with a modern Air Defence system.
Designed to provide greater protection of deployed ADF forces from air and missile threats, along with greater interoperability with our coalition partners, Project AIR6500 Phase 1 Joint Air Battle Management System will deliver the core of the future IAMD capability.
In addition, AIR6502 Phase 2 Medium Range Ground Based Air Defence is currently a pre-Gate 1 project. It is intended to deliver a system that can operate independently, and also as a component of the Joint IAMD capability. Key systems under consideration include command & control, radar and missile launchers.
Deployed Military Healthcare
Defence has identified deficiencies in the delivery of health clinical care for deployed military, humanitarian and disaster relief operations. JP2060 Phase 3 Deployable Health Capability aims to provide Australia's Defence personnel with world-class medical facilities and resources.
The ADF's access to quality healthcare will receive a significant boost with Defence signing a $337 million contract with Saab Australia as the lead industry partner under Joint Project JP2060 Phase 3. The Saab led team will deliver and support the most comprehensive deployable health transformation in the ADF's history, and will align the ADF deployable health capabilities with cutting-edge international military health capabilities. Saab has partnered with multiple healthcare leaders to deliver more than 500 deployable medical modules, along with critical support infrastructure that includes shelters, internal power and waste disposal.
Conclusion
The ability to anticipate the intentions and capabilities of adversaries, to operate undetected, and to respond quickly and effectively to immediate threats are driving current Defence tactics, as well as investment in materiel and training. Despite the cost, complexity and effort required, force protection is an ongoing challenge that must be met.
The current state of world affairs influences Defence investment, which is vital if we are to protect Australia and its interests for future generations. The Australian Army's current focus still reflects the position of its former head (now Chief of the Defence Force), General Angus Campbell, who said, "In planning for the future through our modernisation efforts we seek to protect, empower and support our Diggers to achieve their mission for Australia."
It is no coincidence that 'protect' appears first in his list. The Australian community expects, and Government directs, that minimising harm to serving personnel is a cornerstone of Defence policy – both in peacetime and in conflict situations.
Asymmetric warfare has defined Australia's involvement in armed conflict since the Vietnam era, and will likely be a dominant part of its future. As such, it will continue to attract a large share of Army's planning and investment. However Defence must also address the possibility of a large-scale conflict with a peer (or superior) adversary. This mixed risk profile continues to test the investment strategies of Australia and its coalition partners.
This review examined some of the ways Defence is focusing investment to ensure our forces are given the best possible protection in the service of our nation.