Andrew Davies' recent post provides a useful springboard to shift the discussion on Australia's armour capability from the tactical to the strategic. He raises three principles concerning capability acquisition and provides a capability calculus for Defence.
At face value these appear sensible approaches. However, his dismissal of previous discussion as 'unsophisticated' and assumption that Defence capability planning is based on 'gut feelings', oversimplifies the complex reality of capability acquisition.
Defence capability acquisition is not conducted in a vacuum solely based on cost-effectiveness. Nor is it the domain of a cluster of luddites entrenched in dogmatic navel gazing. The Capability Life Cycle, while imperfect, is informed by policy, risk assessments, scenario modelling, military strategy and concepts which all provide context for planning. It has a significant number of checks and balances, contested by both internal and external agencies.
Importantly, capability decisions are subject to the politics of the day, available technology, the industrial base, workforce, economics and public opinion, among other factors. Thus, this dynamic and complex problem cannot be resolved by calculus alone, particularly if its variables are skewed.
Context is important
While the capability calculus itself makes sense, the ability to accurately estimate the variables within it is inherently difficult. Choosing the correct context or scenarios to measure the benefits of capability is important.
Too narrow a focus may eliminate a number of plausible scenarios leading to unbalanced forces unable to respond to more than one given threat. Equally too wide a net may encompass an unachievable suite of scenarios which even a balanced force may respond to inadequately.
Further, assigning value to a capability in a particular scenario is subjective and that value may change between scenarios. Thus, context is important to measure a given capabilities utility in future war scenarios. Consequently, the mathematical approach is only effective if the data is accurate and provided within relevant context.
The author narrows the context for the utility of armour to a future where Australia only has to worry about two possible scenarios: another Afghanistan-like mission or a Pacific war between major powers which it is drawn into. He then deduces that:
'…the $2.9 billion price tag for the new generation tanks would probably pay for 20 additional F-35s or additional force multipliers such as air-to-air refuellers, P-8s or Wedgetails, all of which would be much more efficacious than armour in a Pacific war.'
I see two flaws with this approach. The first is, given its national interests Australia has to worry about more than these two scenarios. As the 2020 Strategic Update states, defence planning focusses on scenarios ranging from the north-eastern Indian Ocean, through maritime and mainland South East Asia to Papua New Guinea and the South West Pacific. Defence must also focus on military contributions outside of this region where national interests are sufficiently engaged, including the Middle East and North Asia.
Given this guidance, Defence acquires, retains and upgrades capabilities for joint forces to deploy, fight and win in this context. To understand the magnitude of this, I have developed this graphic illustrating the area which the Australian Defence Force (ADF) was directed to operate in.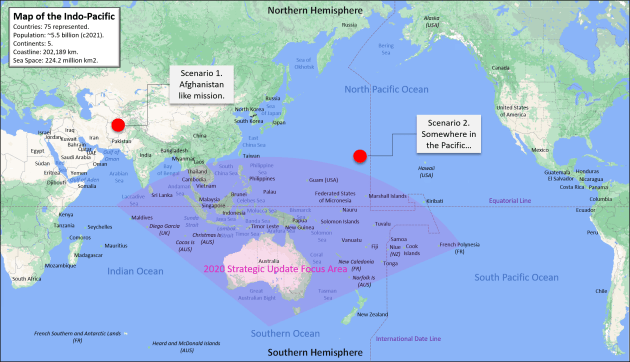 The Indo-Pacific region encompasses vastly more than the Pacific Ocean. There are 75 countries, or territories of countries, within the region which include about 5.5 billion of the planet's 7.6 billion people. The most recent Foreign Affairs White Paper illustrates that this population is increasingly concentrated in cities along the coastlines of the Indo-Pacific.
Why is this important? Because analysis indicates that the environment which future land warfare is likely to occur is the urban littoral. This scenario poses significant challenges as identified by Dayton McCarthy, including the potential for prolonged close combat in cities in the urban littoral. Recent analysis of the Battle of Marawi indicates armour remains important in the urban littoral. Consequently, Defence does not have the luxury to ignore the multitude of possibilities that may occur in the Indo-Pacific, including combat in the urban littoral.
The second flaw is the supposition that armour is less efficacious in the proposed context. Pundits of this Pacific war 'prophecy' are adamant that its battles will be fought by air and naval forces. In most versions land forces have little or no part to play. In particular the Army's combined-arms capabilities were singled out, as it is a 'fact' that these are not the solution to the problems they foresee.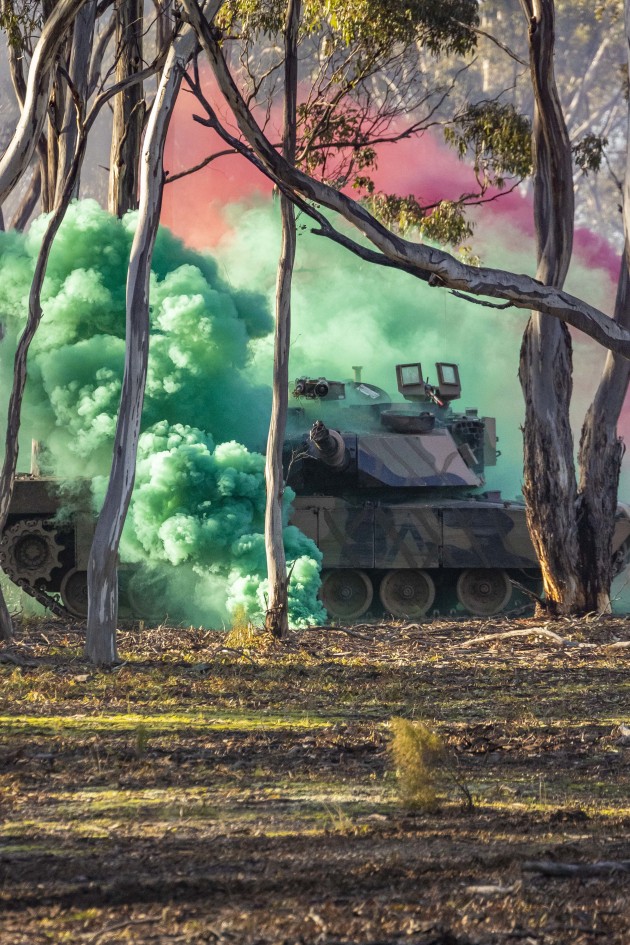 However, there is little to no explanation of the broader context of this Pacific war or these problems. This is hardly surprising since a vague scenario limited to an air and naval battle is a perfect way to situate the appreciation and arrive at the answer sought. Based on the statement that more aircraft is the answer, I am left to infer the logic behind this prophecy:
There is the potential for future conflict in the Pacific between major powers which Australia may be drawn into.
Future conflict in the Pacific will be fought at sea because it is an ocean.
Future conflict fought at sea will be fought by naval and air forces, with little role for land forces, such as armour.
Land forces, such as armour, are not efficacious in the Pacific.
Australia should buy more of the capabilities deemed efficacious in the Pacific e.g., aircraft. 
In this air-naval battle scenario, armour is clearly not the most efficacious capability to sink a ship, refuel other aircraft or detect submarines. I'd go as far as saying they are pretty much worthless in these roles. Given tanks were never designed to perform these functions this is neither revelatory or relevant. By constructing such a narrow scenario in an environment and against a threat which it cannot fight, the efficacy of armour becomes an easy target. 
However, even if this narrow vision of future war was applied, what would a major battle between air and naval forces somewhere in the Pacific achieve? What would happen in its aftermath, would these major powers see the error of their ways, declare the war over and steam home without further contest? 
While history is no template, it would be foolish to dismiss its lessons. A cursory analysis of the Pacific campaigns during the Second World War illustrates that air-naval battles are linked to greater outcomes than simply attriting combat power. The Midway, Gilbert and Marshall Islands, Philippines and Okinawan campaigns, were all conducted in the North Pacific. The Madagascar, New Guinea, Guadalcanal, Solomon Islands and Borneo campaigns were conducted in the Indian and South West Pacific Oceans, across Papua New Guinea and through mainland South East Asia.
A recurrent theme is that these campaigns combined the joint power of sea, air and land forces to hold or capture terrain – including cities in the littoral – to enable subsequent objectives including the bombing of Japan and its occupation.  To end the war required the combination of sea, air and land power. While a Pacific air-naval battle could occur in a future war, to me this would be only one of the possible situations within the broad array of scenarios and would not occur in isolation.
Therefore, land forces including armour may be required in the battles and campaigns of a future Indo-Pacific war, should the air-naval battle scenario offered not prove decisive. 
I think Andrew Davies calculus approach is a useful tool to aid strategic planning and capability acquisition. However, it is only as useful as its variables. The scenarios used to measure the cost-benefits must reflect the character of a future war, not simply one battle of it. The value of capabilities across the sum of the battles and campaigns of this conflict can then be measured.
This is a difficult task, as the ADF has a wide geographic area and large number of possible scenarios to plan for. While some of these scenarios may not be suitable for armour, this hardly justifies abandoning the capability given its utility to other scenarios. As he stated, armour is useful in circumstances in which armour is useful. Given the fleet age, usage, the available technology and emergent threats; without upgrading the tank, the ADF would be left with an obsolete and increasingly maintenance intensive platform (e.g., the Leopard tank) which would be irrelevant to the scenarios that it is useful to.
Subsequent analysis may show that we need a different or larger ADF and more of certain capabilities within it. This will inevitably pose challenges to Australia and how it manages the finite resources of Defence. However, robbing Peter's army to pay Paul's air force is not the answer to this problem.