Rheinmetall Defence's KF41 Lynx Infantry Fighting Vehicle (IFV) and Hanwha Defense's AS21 Redback IFV have been shortlisted to compete against each other for the opportunity to provide Army with up to 450 tracked IFVs and 17 manoeuvre support vehicles.
Announcing the shortlist for Land 400 Phase 3 earlier this week, Defence Minister Linda Reynolds said the $10-15 billion project would provide Army with world-class levels of protection, firepower, mobility and enhanced communications.
"When fully developed the Land 400 program will allow Army to successfully sustain mounted close combat operations against emerging and future threats as part of an integrated ADF," she said.
The IFVs will replace obsolescent M113AS4 Armoured Personnel Carriers (APCs) that were upgraded in recent years but date from the mid-1960s.
The German and South Korean contenders defeated proposals by General Dynamics Land Systems, which pitched its AJAX armoured fighting vehicle, and BAE Systems Hägglunds, which proposed its CV90 IFV, in a Request for Tender (RfT) that closed in March.
AJAX is entering service with the British Army while the CV90 is in service with seven user nations, four of them NATO members.
According to informed sources, the AJAX was regarded as not fit for purpose, and the BAE Systems-Hagglunds CV90 was assessed as too expensive.
The Phase 3 RfT listed only three essential requirements. These were the ability to carry six dismounts, the ability to be strategically deployed by the RAN's two Canberra-class Landing Helicopter Dock (LHD) amphibious ships, and the ability to be carried by RAAF C-17A Globemaster III strategic airlifters.
Minister for Defence Industry Melissa Price commented in a statement that Rheinmetall and Hanwha had been assessed as offering vehicles that were best able to meet Army requirements while offering value for money.
A key part of potential cost efficiency could be commonality with Project Land 400 Phase 2, under which Rheinmetall was contracted in August 2018 to supply Army with 211 8x8 Boxer combat reconnaissance vehicles (CRVs), the RfT stated.
Although the Lynx has yet to enter service, it deploys the same Lance 30mm digital turret as the Boxer. All but 25 CRVs will be manufactured at the Military Centre of Excellence being constructed by Rheinmetall at Ipswich as will the full production run of Lynx, should the type be selected.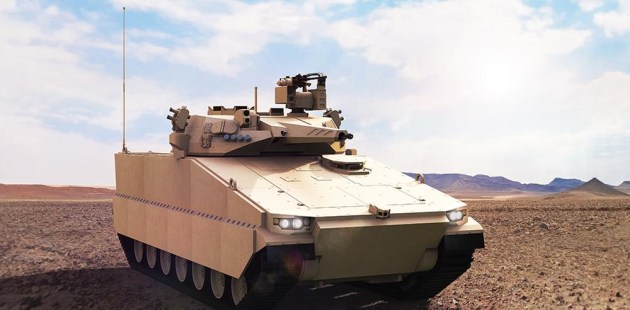 Hanwha's AS21 Redback is a heavily-upgraded version of the KT21 IFV that has been in service with the South Korean army since 2009. The platform is being offered with a new two-man T2000 30mm turret developed by Canberra company Electro-Optic Systems, and will benefit from close collaboration with Israel's Elbit Systems on C4I systems integration.
Hanwha has undertaken to establish a self-reliant manufacturing base at Geelong for the Redback. This facility would also be used to manufacture the company's K9 155mm self-propelled howitzer (SPH) that is believed to be under consideration for a sole-source acquisition of 30 SPH for the recently-revived and renamed Land 8116 Protected Mobility Fires Requirement.
In welcoming the Lynx' shortlisting, Rheinmetall stressed the type's significant commonality with Boxer and the vehicles' modularity, allowing the reconfiguration of both fleets for emergent operational needs.
For its part, Hanwha emphasised the Redback's integrated active protection systems, comfortable space for eight dismounts, and the origin of its technologies "from countries where capabilities are needed to defeat constant real-world threats."
Other companies involved have also made statements emphasising their potential contributions.
"EOS Defence Systems is exhilarated by this announcement and the opportunity it provides to demonstrate to our home customer the advanced technology and skills that Australian industry can deliver," Grant Sanderson, EOS' CEO of Defence Systems, said.
Meanwhile the vehicle mobilisation element of a Risk Mitigation Activity (RMA) that will begin later this year had been extended from six to 12 months, Defence stated.  This would provide the shortlisted tenderers with a more reasonable timeline in which to manufacture and prepare test vehicles to the configuration required.
Each contender will be funded to provide three platforms for the RMA. One of each will be tested to destruction to assess survivability.
"Concurrent activities and workshops will also be undertaken in order to clarify and refine the offers to mitigate risk to the Commonwealth (and) Stage 2 is anticipated to conclude around the end of 2021," Defence said.
Submission of best and final offers would be followed by final evaluation, with a full contract award expected in 2022.
Initial operating capability is anticipated in 2024-25 and final operating capability is planned for 2030-31.