BAE Systems has undocked HMAS Arunta at its Henderson facility, the first Anzac class frigate to receive a full Anzac Mid Life Capability Assurance Program (AMCAP) upgrade.
The upgrade has been undertaken collaboratively with participants of the Warship Asset Management Agreement (WAMA), which is an alliance between BAE Systems, SAAB Australia, Naval Ship Management (NSM) and the Commonwealth that provides in service support to the Anzac class frigates.
Since arriving at Henderson in September 2017, around 300,000 hours of work have been invested in the ship.
Included in the AMCAP upgrade is the replacement of the ageing Air Search Radar capability with the new CEAFAR L-band long-range air search radar. This new CEA Technologies radar will also be part of the combat system on board the Hunter Class Frigates which will replace the Anzac class frigates.
Other major work on Arunta included upgraded ventilation systems, new sewage systems, improvements to the Control and Monitoring System, engine modifications to improve power and efficiency, and a new communications suite (SEA1442).
HMAS Arunta will now undergo extensive testing of these new systems prior to undertaking sea trials, ahead of a planned return to service in 2019.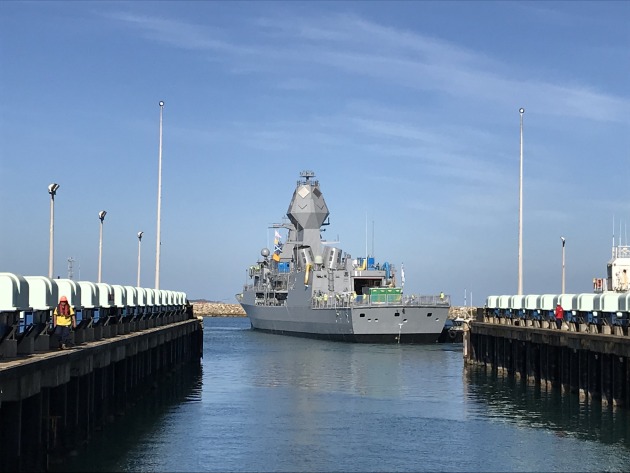 "This is a project that demonstrates how industry can collaborate to deliver the support the RAN requires for the upgrade, sustainment and maintenance of the surface fleet,"  BAE Systems Australia Director Maritime Darren Kirkby said.
"Our Williamstown team undertook the AMCAP design and the Henderson team undertook the installation on HMAS Arunta, these teams continue to provide significant sustainment, design and upgrade support to the Australian Navy."
The entire fleet of eight Anzac Class ships will be upgraded to ensure they remain capable of achieving the operational objectives of the RAN until the new Hunter Class frigates enter service.