NUSHIP Supply, the lead ship for the RAN's new Supply class Auxiliary Oiler Replenishment (AOR) ships, successfully completed its Sea Acceptance Trials in Ferrol, Spain last week.
The sea trials lasted three days and two nights and included testing of the RHIB davit and a Dry-hookup with the Spanish Navy's AOR, SPS Cantabria. The vessel sailed with a crew of 135 on-board comprised of a mix of Navantia and RAN personnel.
Navantia Australia's Managing Director, Alfonso García-Valdés, said the achievement of this milestone particularly given the challenges of COVID-19, is most welcomed and is an example of Spanish – Australian collaboration to advance Australia's sovereign naval shipbuilding and sustainment industry.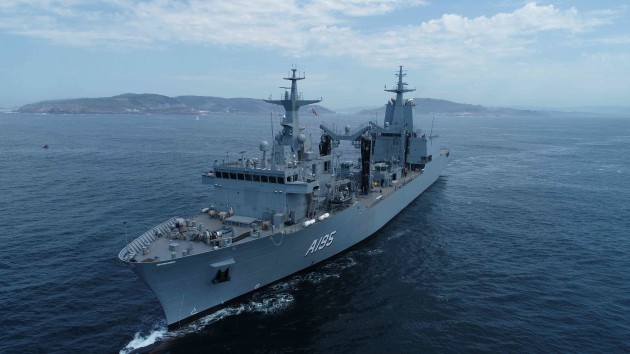 "Whilst constructed by Navantia in Spain, Australian industry is playing a key role in the build of the AORs," said García-Valdés. "There is a high level of Australian Industry Capability involved comprised of Australian products, skills and expertise and represents an investment of over $120 million."
"Australian companies such as Scientific Management Associates (SMA), Baker and Provan, Taylor Bros, Saab Australia and Raytheon Australia have all participated in the build. 4,500 tonnes of steel used in the construction of the vessels has been sourced from BlueScope."
The arrival of the AOR Supply also marks the commencement of a five-year sustainment contract, primed by Navantia Australia.