The latest round of Senate Estimates into Defence proved interesting reading. There was a large focus on the workforce surrounding the National Shipbuilding Program and how its constituent arms are progressing.
Future Submarine
Senators Rex Patrick and Penny Wong were relentless in their drive to clarify workforce, shipyard planning and schedule details.
Senator Patrick is concerned that Naval Group have been led to believe that Full Cycle Dockings will be moving to WA, allowing them to plan their new yard for the Attack class accordingly. Both Minister for Defence Senator Linda Reynolds and head of submarines Rear Admiral Greg Sammut contend that the company needed to plan around something, confirming that no government decision has yet been made on the issue, which is due to be made by the end of the year.
"They didn't predicate that full-cycle dockings would be relocated from Adelaide, but it was necessary to start design work on the submarine construction yard," RADM Sammut said. "That has enabled us to be in a position today whereby we can commence construction of the combat system physical integration facility by the end of this year and construction of the propulsion land based test site, and whereby we also will have done the initial planning for the whole construction hall, because they are the first three facilities we will need."
Senator Patrick also highlighted the fact that the latest round of project milestones are running about six months behind schedule for the latest round of reviews, despite protestations from RADM Sammut to the contrary.
"It's pretty plain, Minister, that you end up with a milestone and you either achieve it or you don't. By the evidence I just heard from the admiral, you are six months late," Senator Patrick said.
Senator Patrick's questions on notice and FOI requests also make up about a third of the workload generated by the committee, according to Minister Reynolds who chided him that perhaps Defence officials also have their day jobs to perform while also answering his long and repetitive questions.
Despite comments from Naval Group executives over the intervening years that the detailed design would be carried out in Australia, RADM Sammut said that only elements of the work would be done in country. The bulk of the work would be done in Australia by 2025, RADM Sammut confirmed.
Workforce
The finer details around the workforce as it relates to shipbuilding matters has been an ongoing issue for many hearings now. Different numbers at different points have been the bane of the senators with the length of the piece of string changing in each hearing.
RADM Sammut was able to deliver a detailed baseline that will be referred to from this point going forward.
"In relation to the average of 1,100 direct jobs and how we developed them; I have our workforce projections out to 2023 in terms of direct jobs.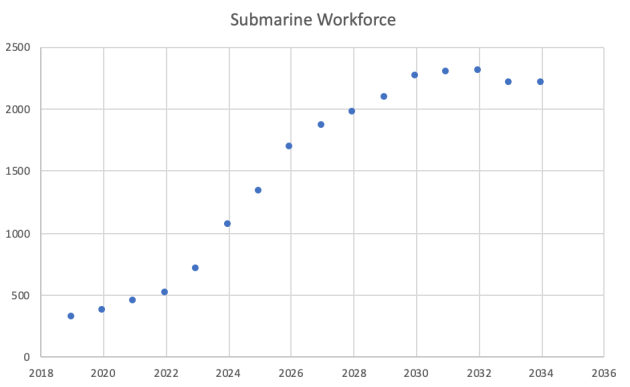 "They are based on our interactions with our prime contractors, Naval Group Australia and Lockheed Martin Australia, and will comprise the companies, of course, that have all the direct employment for delivery of the Attack class submarines. They are projections at this stage."
ERP conflict of interest
Chief Information Officer Steve Pearson also came under intense questioning about the largest program in the Group's book: ERP. While the program has not publicly announced any delays, a series of internal reviews have been undertaken over the past 12 months to address a number of emerging issues.
One such independent audit was undertaken by a company called Sinapse under a limited tender, where the CIOG's son worked in a part time capacity. The possibility of a conflict of interest did not occur to the CIO.
"So basically no-one who is giving you advice knew that your son worked for the proposed contractor?" Senator Penny Wong asked.
"No. They would not have. I raised that subsequently on reflection," Pearson said.
"And it didn't occur to you to raise it previously?"
"If I had my time again, I would have," Pearson said.
CIO Group was also under pressure for the misfire of a new entitlements management system that saw the Commonwealth spend ~$10 million on a program that will produce 'learnings' for ERP after it was cancelled after three years. An expensive lesson it seems.