ADM is proud to announce the finalists for the 2021 Essington Lewis awards.
The Essington Lewis Awards are designed to recognise excellence in industry and the Department of Defence collaboration, working together to overcome challenges or problems – ensuring that the ADF has or will have the materiel it needs, when it needs it, and at a cost that represents value for money.
"The judges were once again blown away by the quality evident in the nominations," ADM Managing Editor Katherine Ziesing said. "It's great to see defence industry going from strength to strength as a fundamental input to capability."
This perpetual trophy is named in honour of Mr. Essington Lewis, the WWII industrialist credited with cementing Defence Industry as a key economic and capability force.
Trophies and certificates will be awarded at a gala dinner, with more details to follow.
 The finalists in the five categories are:
Major Acquisition - Over $50 million
Pacific Patrol Boat Replacement (PPB-R) Project from the SEA3036-1 team and Austal
F-35 Regional Engine Maintenance, Repair, Overhaul and Upgrade Program JSF Office and TAE Aerospace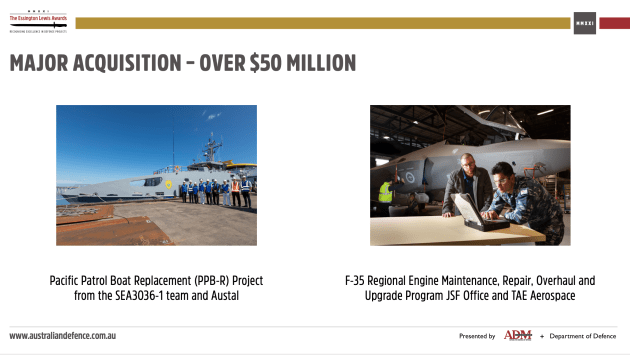 Minor Acquisition - Under $50 million
SmartBase Maintenance Scheduling from Navy's Missile Maintenance team and Ocean Software
Seaworthiness Management and Assurance Reporting Tool (SMART) Project from 12th Level and Navy's Seaworthiness team
Major Sustainment Activity - Over $20 million/year
Satellite Services contract from PR1272 Satellite Services team and Inmarsat Australia
First of class upgrade to HMAS Canberra as part of the LHD 5-year Maintenance Program from ACS SPO and NSM Australia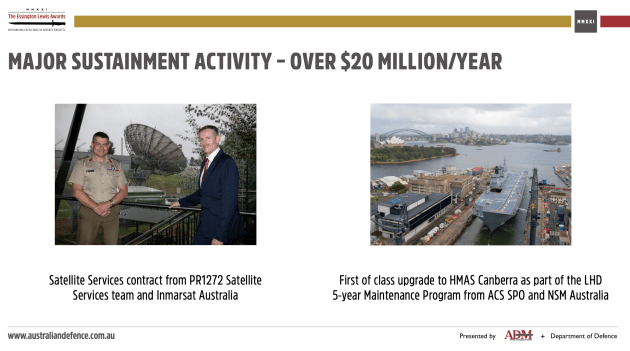 Minor Sustainment Activity - Under $20 million/year
Mini Typhoon, Typhoon and Toplite sustainment from Maritime Cross Platform Systems Program Office and Serco
Shadow Tactical UAS Support from Australian Army's Unmanned Aerial Systems Management Unit (UASMU) and Textron Systems Australia
Support/Services
AI-Powered Leader-Follower Convoy of Autonomous Vehicles with Obstacle Avoidance from Army Headquarters Robotic & Autonomous Systems Implementation & Coordination Office, Future Land Warfare Branch and Deakin University
RAAF Jericho Dawn 18-8 Seeing Machines from Defence's Innovation Hub and Air Warfare Centre and Seeing Machines