Coincident with the Chief of Army Symposium, held in Brisbane's Convention and Exhibition Centre on April 19 & 20, the Army Innovation Day (AID) 2021, Army Robotics Exposition (ARX) 2021 and Quantum Technology Challenge (QTC) 2021 provided an insight into emerging technologies the service is seeking in support of its Army in Motion and Accelerated Warfare vision of the future.
The focus of AID 2021 was 'energy and environmental resilience', with enhanced energy generation, transfer and storage, and alternative waste management systems, as its sub-themes. A total of 22 companies had stands in the exhibition hall, with a range of emerging technologies on display.
These technologies included a deployable, vehicle-based system designed to store large amounts of solar energy in a small form factor, a concept being developed by Western Australian SME Space Industries to potentially replace or complement Army's current 40kVA diesel generators.
An example of a waste management system used to produce power was demonstrated by Cubic Defence which, in partnership with the Townsville campus of John Curtin University (JCU), is developing a Microwave-Assisted Pyrolysis System which can be deployed into the field inside three 20ft (6.1 metre) ISO shipping containers. A working prototype was developed at JCU by Professor Mohan Jacob and is able to process five kilograms of organic waste into gas, oil and char, all of which can be re-used with a 2x energy yield.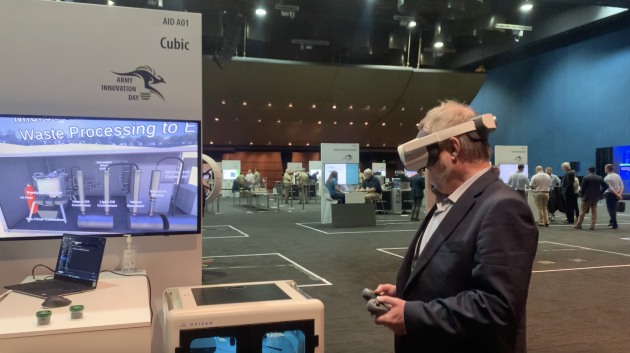 Held on day two of the event, ARX 2021 provided visitors with the opportunity to observe a large number of robotics and autonomous systems (RAS) technologies. Around 55 companies and organisations were on hand to display their wares, ranging from large defence industry primes such as Boeing Defence Australia, to small start-ups, which developed their prototypes inside home garages. Hardware on show ranged in size from hand-held nano-drones to an autonomously-driven Army truck, which was seen obediently following its escort vehicle around a large roped-off course.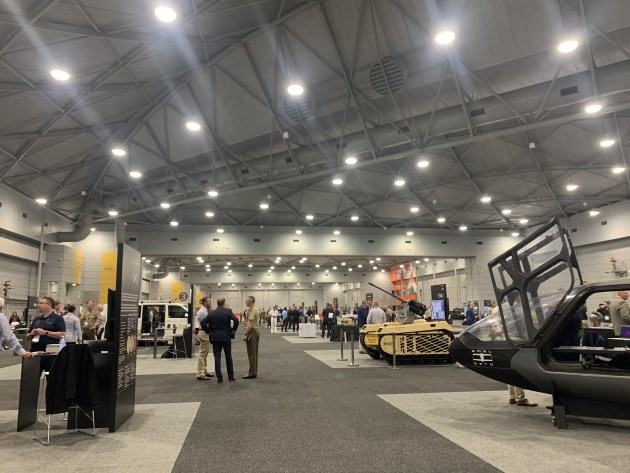 Occupying one end of the double exhibition hall on day two of the event, QTC 2021 featured presentations from companies and teams responding to Army's first three challenges for the application of quantum technology: Making the ground transparent – the use of quantum sensors to detect subterranean structures and track the movement of humans or material through tunnels and sewers; Denying the enemy secure communications – the ability to disrupt the space-based communications of adversaries; and Resupplying troops in battle quickly, safely and efficiently – the use of quantum computing solutions to optimise the ability of Army's logistics chain to resupply soldiers in battle by future autonomous systems.
The inaugural event saw presentations on the importance of maintaining a leading role in the development of quantum technologies by Australia's Chief Scientist Dr Cathy Foley and Chief Defence Scientist Professor Tanya Monro, and the launch of Army's Quantum Technology Roadmap by Head Land Capability Major General Simon Stuart.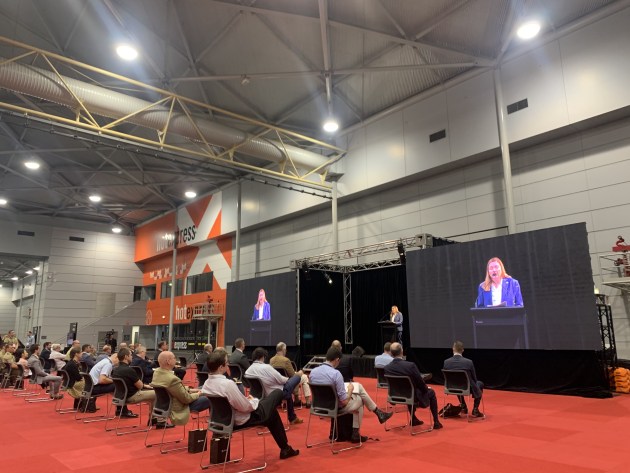 "Quantum technologies are part of an emerging group of emerging disruptive technologies that have the potential to drive significant change in the character of warfare," MAJGEN Stuart told the audience, noting that quantum technologies are diverse, complex and generally early in their technical readiness, in terms of their application. "Right now, as we start to formulate our thinking, and to learn by doing, we expect quantum technologies to impact various areas in the Land domain.
"Therefore, our challenge is to adapt, understand, co-develop and exploit the opportunities that quantum technologies offer."
A comprehensive review of AID, ARX and QTC 2021 will appear in ADM's Land Forces June edition.