Minister for Defence Christopher Pyne and Assistant Minister for Defence David Fawcett met their Indonesian and Malaysian counterparts respectively over the weekend in an effort to boost defence cooperation and enhance bilateral ties.
Minister Pyne co-chaired a meeting with Indonesia's Minister for Defence, Ryamizard Ryacudu, and said they discussed common interests in the Indo-Pacific region, enhancing maritime security and cyber cooperation, and identifying further areas of regional collaboration including through Our Eyes and tri-lateral patrols.
The pledge to enhance maritime security comes soon after an Lowy Institute report highlighted the need for a shared maritime vision between the two states.
The ministers also agreed to establish an officials-level Joint Working Group to identify mutual areas of co-operation to combat counter terrorism and the return of foreign fighters. 
"As our nations enter an era of Comprehensive Strategic Partnership and our defence cooperation enters its sixth decade, Australia and Indonesia are committed to promoting security, stability and the rule of law in the Indo-Pacific," Minister Pyne said. 
"Australia's defence relationship with Indonesia is based on practical cooperation to support our mutual interests in the region such as maritime security, counter terrorism and humanitarian assistance and disaster relief."
Minister Pyne extended to Minister Ryamizard the Australian Government's condolences for lives lost and suffering caused by the earthquake and tsunami in Sulawesi.
Meanwhile, Assistant Minister for Defence Senator David Fawcett hosted Malaysia's Deputy Defence Minister, Senator Liew Chin Tong, to discuss Australia-Malaysia defence relations.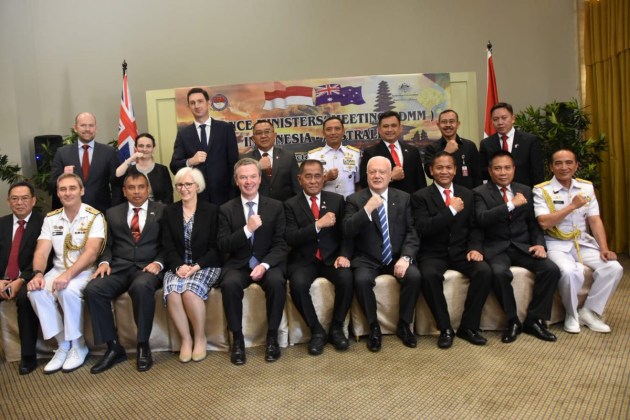 The Defence Cooperation Program with Malaysia is Australia's oldest in South East Asia, and encompasses a wide range of engagement activities including training, attachments, senior visits, exercises and strategic dialogue.
The Malaysia-Australia defence relationship is underpinned by the Five Power Defence Arrangements between Malaysia, Australia, Singapore, New Zealand and United Kingdom, which have been in place since 1971.
Minister Fawcett said the meeting with Minister Chin Tong, on his first official visit to Australia, covered the priorities of Malaysia's new government for defence and international engagement, as well as the strategic importance of a continuing close partnership between both nations.
"I was delighted to meet with Minister Chin Tong to reinforce the strength of our relationship," Minister Fawcett said.
"Malaysia is a highly valued security partner, with our mutual engagement including counter-terrorism and maritime security efforts."
"The Australia-Malaysia connection is long-standing, based on extensive people-to-people links, shared values, and mutual regional interests."