Hanwha Defense Australia is well-known across Defence and industry, largely through its Redback and Huntsman Armoured Fighting Vehicle programs, but many may not be aware the Hanwha Group has annual revenues in excess of $70 billion and is the fourth-largest importer of Australian goods into Korea. As the company grows its Australian footprint, ADM Group Editor Ewen Levick spoke recently with HDA Managing Director Richard Cho.
ADM: Do you feel there is sufficient understanding of Hanwha's overall corporate involvement in Australia to help underpin the Land 400 Phase 3 bid?
Cho: If you had asked me that question 12 months ago, I may have said no, but we are moving rapidly to build capability and capacity and align with what Australia as a nation needs to do to become more secure; and we are doing this from a very strong support base. The Hanwha group has revenues of over $70 billion annually, has produced more than 7,000 fighting vehicles and has been in the frontline supporting the Republic of Korea defence forces since the Korean War. Hanwha is also the fourth largest importer of Australian goods into Korea, a fact not well known.  But there is an even greater depth to this. 
Both the Defence Strategic Update 2020 and the Force Structure Plan 2020 provide guidance on what the Commonwealth is seeking from defence industry and prospective strategic partnerships. Both documents make it clear the increasingly uncertain security environment requires significant change in the way military capability is procured and sustained. The Commonwealth has summarised this as wanting to achieve an independent, sovereign industrial capability which is robust, resilient and internationally competitive.
Our value to the customer will depend on how well we support the Commonwealth in the achievement of this aim. I would summarise this by saying the unique proposition that Hanwha brings is in the strategic alignment between what Korea needs to do to enhance their security and what Australia wants to do in the development of a resilient and sovereign defence capability. 
As a relatively new company in Australia's defence industry, Hanwha is perhaps not generally as well-known as some of the longer-term participants in this market. However, we are making sure the people involved in assessing our various offerings are well appraised of Hanwha's rapid progress in Australia and the quality of the solutions and support we are offering. We have come a long way in a short time and plan to go much further.
Hanwha's initial focus in Australia has been on land systems but that will broaden over time as we become more established and as further opportunities present themselves. We plan a presence in sea and air domains as well and are working to bring the full benefit of the Hanwha Corporation to Australia. We have already signed agreements with Deakin University to collaborate on longer term research and have entered into an exploration of future manufacturing techniques involving welding processes with K-TIG. 
ADM: Is there potential linkage between Redback and the US Bradley replacement program?
Cho: Hanwha Defense USA has teamed with Oshkosh to bid for the Optionally Manned Fighting Vehicle program and was recently down-selected to compete in the design phase. The expertise of the Hanwha group in the production of more than 7,000 fighting vehicles will be focussed on the program, just as it is for our Australian opportunities. While the US requirement is different in some elements, particularly whether or not there will be crew in the turret, almost all the technology and ongoing development of the Redback is applicable to the Bradley replacement program. The lessons we have learned to date on the development of the Redback and our participation in ongoing programs will be of direct benefit to any work we do on future variants of the vehicle. 
The hull itself, with its very high levels of protection and world-leading independent suspension system that does away with torsion bars, will be directly relevant, as will its rubber tracks that radically decrease noise and vibration. We will also bring to the OMFV program the immense expertise we have developed in the localisation of our K9 vehicle into more than six nations; the benefit of this should not be underestimated in terms of the understanding it brings with respect to the complexity of local content, manufacture, design and IP transfer.
The Bradley replacement will be a tough competition but Hanwha Defense USA will bring plenty to the table along with Oshkosh and the rest of the team, and all the achievements made in the development of Redback, to strengthen their bid.
I believe the technology improvement undertaken with Australian industry will be part of the OMFV solution. HDA and some of the Australian companies involved with Redback development will likely have the opportunity to part take in the OMFV design phase as part of a collective approach with Hanwha Defense USA.
You should also note that The RoK Defense Department has asked that Hanwha Defense Australia should deliver, by April of next year, the current variant of the Redback vehicle to Korea to undergo a performance evaluation to inform the Korean future Infantry Fighting Vehicle program. This is of immense importance to both Australia and Korea. Firstly, it shows that Korea has confidence in the Redback as a contender for their future IFV and secondly, offers a possible joint pathway forward between Korea and Australia for future vehicle programs. This collaboration on vehicles may also occur, if down-selected, with the K9 and K10 fleets as well. So, to be frank, there are many opportunities for future collaboration between Australia and Korea to develop supply chains and products to not only support Australia but allies as well. 
ADM: Is there any specific element or elements in Redback design and capabilities that favour Australia's new Indo-Pacific focus?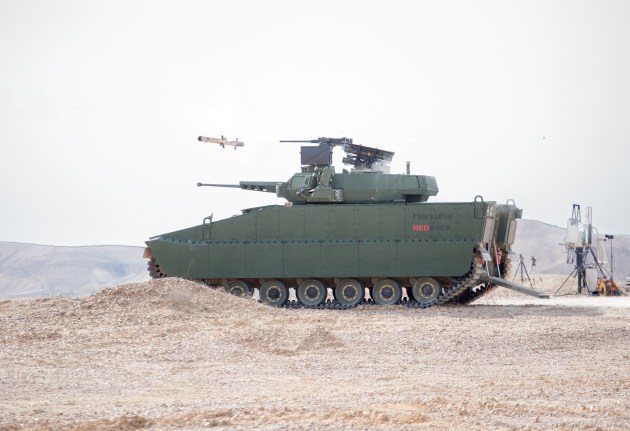 Cho: Yes, but not because of the reasons many will think. We believe the vehicle is the best in class from a protection, mobility and lethality perspective. It comes already integrated with the systems the ADF wants, such as an Anti-Tank Guided Missile and a sophisticated Active Protection System, but also those emerging and important things like embedded training systems and the remarkable situational awareness brought by the Iron Vision system. These are just the obvious elements. As an integrated package the Redback offers versatility and capability that has broad applications.
Most importantly, the Redback design philosophy and the Hanwha Defense Australia approach brings a reliable and relatively simple to operate vehicle with impressive interoperability with our major allies. The main armament is the same as that used in many US and regional platforms, as is the ammunition. The powerpack and transmission are widely available regionally and are present on several of the ADF's current platforms; and the embedded training system will allow individual crews to train using the digital maps of the areas they will deploy to. 
Networked Interoperability amongst allied nations in the Indo Pacific region is sadly lacking. Hanwha is seeking to improve on this through commonality of parts and common logistic support capabilities within the region amongst allied nations.
Supply chains and fast and efficient access to operationally urgent parts and spares will be critical in any regional security situation, which is why Hanwha is determined to create a self-sufficient and reliable local support mechanism. Waiting weeks or months for something to be shipped from a single supplier thousands of miles away may not provide the ADF with the responsiveness it needs.
ADM: What is the split of manufacturing between South Korea and Australia on Redback and Huntsman?
Cho: Hanwha will do as much work in Australia as is possible. Some vehicles will be manufactured in Korea in order to facilitate training of the workforce, transfer of IP and the opportunity for both Korean and Australian companies to work through any issues as they emerge. The exact number of vehicles this will involve has yet to be finalised with the Commonwealth. This is, however, only one way of looking at the manufacturing story. We intend for Australian companies to also export components to Korea as part of any future work. For instance, HIFraser, an Australian company, will produce the Automated Fire Suppression Systems for our Huntsman vehicle, supplying a portion of the system components back to Korea for fitment into other Hanwha vehicles. We are working hard to do this with other members of our emerging Australian supply chain. 
ADM: Will the defence programs in Australia offer opportunities for Australian SMEs in Hanwha's civil portfolio?
Cho: Initially, opportunities for SMEs with Hanwha in Australia will centre on defence, just as Hanwha's early focus is on defence programs. There will be opportunities for SMEs in Hanwha's Australian supply chain, opportunities to enter Hanwha's Korean supply chain, as we have already seen with HI Fraser, and opportunities to enter Hanwha's international supply chain via both those paths.
Longer term it is our intention to expand the operations of Hanwha Corporation in Australia, and that will mean a much greater presence in mining, renewable energy and the other products the larger Hanwha group produces. That will open up opportunities to many businesses in Australia including the SMEs already in our various defence supply chains.
As I have already stated, we have entered into a research framework with Deakin University, but what is not as well known is that this also covers a whole range of civil
opportunities, including batteries, hydrogen technology and the emerging Urban Air Mobility market. The size, scope and scale of Hanwha allows us to do this. The outcome will be a whole lot more than just a new defence prime in Australia.
Our defence programs will allow us to establish ourselves in Australia, create a modern manufacturing hub in Victoria and ensure that this hub will do far more than just support the current defence programs we are pursuing. This is our long-term aspiration. 
ADM: How will the updated MoU on defence industry cooperation between South Korea and Australia benefit Hanwha?
Cho: It is difficult to say as the updated Defence agreement is still under negotiation. We do know that the new agreement will pave the way for deeper defence-industrial engagement between the two countries. The clearest indication we have is the Australian Department of Defence's public statement that the updated MOU on defence industry cooperation would modernise existing arrangements to facilitate enhanced industry and material collaboration. We understand Korea wants to finalise the updated agreement to coincide with the 60th Anniversary of Australian-South Korean diplomatic ties in late October 2021. 
If I was going to hazard a guess, I would say it will become much easier to transfer defence-related IP, collaborate on research programs and, hopefully, align future capability and development priorities between our respective countries. I see this as essential in our emerging regional defence climate. Korea and Australia share common concerns; we are bound by our geography and our shared regional partners and competitors.
Also contributing to tighter collaboration is the strong and emerging partnership between the USA and Korea. The Hanwha Corporation signed a Cooperative Research and Development Agreement with the US last December. The CRADA is the first of its kind between a Korean company and the US Department of Defense. It is a major agreement with the US military for collaborative R&D of defence technologies and is specifically with the Army Combat Capabilities Development Command Armaments Centre (DEVCOM AC). 
ADM: Can you provide an overview of Australian companies that you've engaged with across your portfolio, and what is the policy for engagement with Australian industry?
Cho: Hanwha has engaged extensively across Australian industry and continues to do so.  At last count, the team had engaged with almost 700 Australian companies since the start of 2020; companies that offer a huge variety of product and services to support our vehicle programs, the construction of our new manufacturing facility and our continued business mobilisation.
Looking specifically at Redback program, we are proud to say 12 companies have been 'in the tent' for more than two years as part of the Risk Mitigation Activity, with an additional 40 or so having been down-selected for future work packages. These companies span Australia and New Zealand and are contributing capabilities from machining and fabrication, through to specialist engineering services such as software development and human factors engineering and manufacturers of vehicle sub-systems. Many of these companies recently completed the first step in our vendor onboarding process which was a fantastic opportunity for representatives from our parent company to meet the people and get a better appreciation of Australian industry.
Our policy for engagement with Australian industry is simple – listen and provide honest, transparent and constructive advice. To achieve our long-term objectives in Australia we need to support the industry to grow and develop in specific areas of interest, so this communication is absolutely vital. Examples of this are the proposal debriefs we offer to every company who has bid for work with us – constructive feedback on what was received and where there are opportunities to improve and this has been extremely well received by Australian industry.
As a Prime Systems Integrator, we have willingly taken on responsibility for supporting partners and suppliers who are based overseas with their Australian industry strategies and engagement activities. In some cases, our team has facilitated introductions with a handpicked group of Australian companies around a particular capability, in other cases, we've established technology transfer agreements that enable Hanwha to localise on an OEMs behalf. 
There are a few success stories emerging from this initiative, including plans to undertake manufacture of componentry for the suspension and Composite Rubber Track systems, assembly and test of electronic systems and sub-systems, and production of the protection system. Relationships between Australian businesses and overseas OEMs continue to grow to deliver Hanwha's programs, despite the challenges of COVID19.
ADM: Are you able to shed any further light on the proposed manufacturing facility in Geelong?
Cho: Planning for Hanwha's advanced manufacturing facility in the Greater Geelong area is well advanced. We have conducted feasibility studies on several sites and shortlisted those that will best suit our purpose. Negotiations to acquire our most preferred site have been going on for a while now and we will be in a position to make a formal announcement soon.
In the meantime, planning for the facility has been proceeding quickly. We have mapped the user requirements and progressed the design as far as we can without having quite finalised which site it will occupy. But I can confirm it will be in the Geelong area. The design encompasses room for expansion and for extensive co-location of other members of our supply chain where that would make sense to do so. We are also planning to establish a number of capabilities there that will be of broader use across defence and possibly other industries. We see our facility as an enabler for Australian industry whereby we will have the requisite infrastructure to support future sovereign capability, such as the Commonwealth's Guided Weapons and Explosive Ordnance initiative. We are constantly thinking about the future. Hanwha will be ready to commence production at our new facility in time to meet any and all of our contractual obligations. 
ADM: Do you see any applicability in Australia for Hanwha's unmanned ground vehicle range?
Cho: We displayed one of our UGS products at the recent Land Forces conference and our portfolio of unmanned ground vehicles is large, diverse and sophisticated. I think the technology and capabilities involved will be applicable in different ways in many defence forces around the world. It is also important to understand that Hanwha is central to much of the Korean defence modernisation that is currently underway. We are watching closely as Australia develops its requirements in this area and we will certainly be offering unmanned solutions to the Commonwealth when their requirements are fully developed. Yet we are working to move beyond the current thinking in terms of the application of unmanned technology to land forces. Hanwha is a leader in the emerging Urban Air Mobility set of technologies and we see this technology being applied to such things as battlefield re-supply and evacuation. This is where we want to work with the Commonwealth to make these things a reality.