Once again ADM has gone out to industry to get a snapshot of what we look like in terms of turnover, workforce, AIC, R&D, exports. We now include new details such as female workforce participation and Indigenous engagement policies.
The Top 20 SME list has seen significant growth with last year's total turnover figure of $642 (a significant drop from 2016's $800 million), up to $826.5 million in 2018, a healthy 29 per cent growth margin. The cut-off figure for making the Top 20 SME list rose to $13.5 million, up from $9.5 million in 2017.
And for the first time, a record breaking 15 ANZ-owned SMEs took part.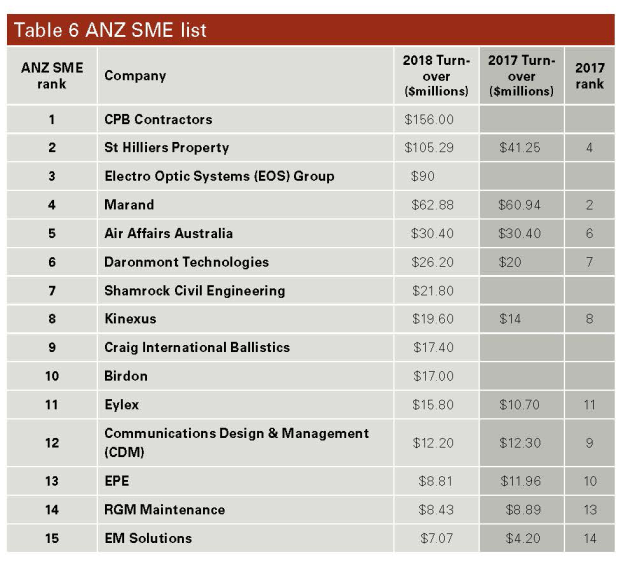 "The increase in revenue is attributed to supporting the vehicle programs with the supply of headsets and antennas," Ross Stevens General Manager at Eylex told ADM.
"In addition our focus on improving our AIC offering in order to become more valuable to the prime contractors has resulted in increased business. This includes cable design and manufacturing, equipment maintenance facilities and the design and manufacture of man portable and dismounted communications systems."
Workforce
The workforce side of the ledger is also fascinating reading this year. ADM introduced two new questions to the survey; percentage of female participation and whether companies had a Reconciliation Action Plan (RAP) or similar policy. ADM went out to almost 100 companies to take part in the 2018 survey, with 66 responding. Of those 66, 25 (16.5 per cent) operating a RAP with another three companies operating an informal Indigenous support policies.
When it comes to gender diversity, the numbers did not quite confirm the long-held suspicion that female participation industry is woeful. The average company has about 24 per cent female workforce, which is much higher than expected but leaves plenty of room for improvement. There are of course outliers (as seen in table 3 in the image gallery) but active policies in many companies to attract and retain their female workers are having an effect.
The total headcount for the Top 40 and Top 20 SMEs combined (excluding duplicates) was 35,577, with another ~2,000 people sitting outside those lists that responded to the survey. 
Growth areas
Defence infrastructure programs are an excellent example of growth in the defence community. Whilst their export prospects are not great (exporting bricks and mortar vs exporting a design) as a whole, their Australian Industry Capability (AIC) figures are excellent.
"The investment in the Defence Estate reflects its renewed priority and recognises that it is a fundamental enabler of capability," David Barnes, Global Client Director – Defence and National Security at Aurecon said to ADM. "While it is great to see this investment, the collective challenge for industry and Defence is to how we drive change and deliver the investment to meet the Government's expectations. Building an improved capacity to deliver and manage such a significant investment program is a big challenge for both sides and it will require a continued focus on collaborative, integrated behaviours from all parties.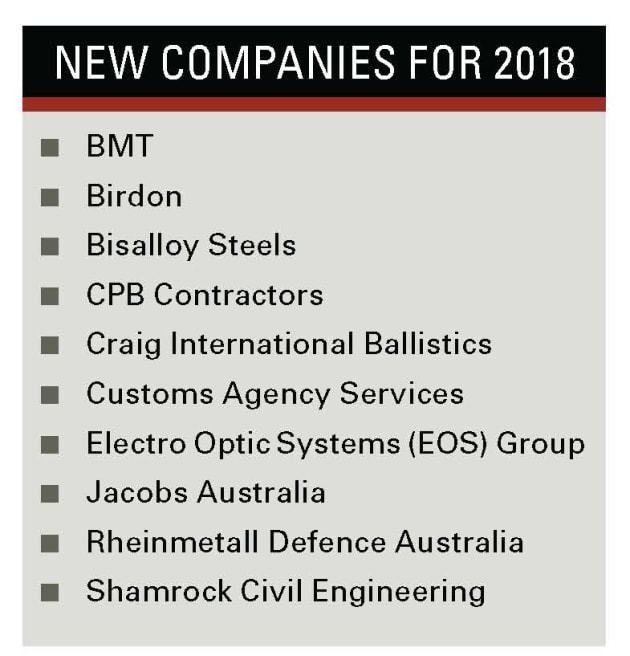 "All whilst effectively harnessing the opportunities the digital revolution is bringing. Aurecon is excited about how the future and what it looks like for Defence, particularly in how best practice in other sectors adds real value to Defence."  
Another growth area has been contracting under the new Major Service Provider (MSP) arrangement.
"The MSP arrangements are transforming the way Capability Acquisition and Sustainment Group (CASG) engages with industry to support the branches, projects, systems program offices and centres of expertise," Steven Robinson, Chief Executive Nova Systems Australia and NZ said to ADM.  "Once fully implemented, MSP will deliver shared benefits and value to CASG, the MSPs and the wider industry supply chain, particularly small to medium enterprises and small businesses on the Defence Support Services Panel.
"The long term focus on value for money, strategic programs of work and less transactional supplier relationships will help CASG deliver the Integrated Investment Plan. Major business changes like this do take time to roll out across such a large organisation as CASG, but we are confident that industry and Defence will see growing benefits now and as we move into 2019."
A change in policy that has seen an emphasis on AIC, exports, R&D is filtering through to the performance numbers seen in Top 20 SMEs.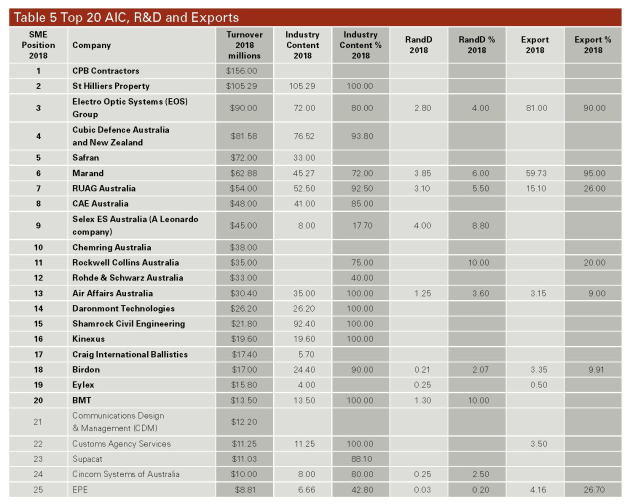 "The industry is also seeing the emergence of world-class Australian defence products that are in demand by allied forces. This will be the engine that drives defence exports at a scale we haven't seen before," Boeing Defence Australia vice president and managing director Darren Edwards told ADM.
Exports
The drive to become an international Top 10 defence-exporting nation within a decade is also on track. The numbers in tables 4 and 5 all point in the right direction to support the push by Defence Minister Christopher Pyne (see our From the Source interview this month on P108 for more).
"It has been amazing and humbling to watch the Australian team overcome the many challenges to achieve these fantastic results," EOS' Sanderson said to ADM. "Winning the ACT Exporter of the year Award and preferred remote weapon station provider on Land 400 Phase 2 have been very fair recognition of the team's dedication and performance.
"Also in 2018 EOS Defence has added two new manufacturing and support facilities in the UAE and Huntsville, Alabama as well as securing additional new orders that will see revenues growing further in 2019 to exceed $200 million."
DISCLAIMER
While every effort has been made to ensure the accuracy of the information published in ADM's Top 40 Defence Contractors/Top 20 Defence SMEs surveys, the publishers accept no responsibility for any errors or omissions that may have occurred. Companies wishing to participate in future surveys should contact the managing editor Katherine Ziesing or the associate publisher Kylie Leonard. The survey is published for the interest of ADM readers and defence industry analysts. Participation is free.
Copyright notice
The information contained in ADM's Top 40 Defence Contractors/Top 20 Defence SMEs surveys is copyright and may not be republished without the permission of the copyright holder, Yaffa Media Pty Ltd. All enquiries: Katherine Ziesing, Managing Editor, e. katherineziesing@yaffa.com.au t. 02 6203 9535 
Any person or organisation quoting information from these surveys must acknowledge Australian Defence Magazine, December 2017/January 2018 Top 40 Defence Contractors/Top 20 Defence SMEs surveys.