The sprawling beast that is JP2008 in all its phases is complicated to say the least. One phase is being managed as a Project of Concern, some are being delivered or have been delivered and bids have gone into the box for another.
Katherine Ziesing | Canberra
Consider this quote from an article by ADM's Tom Muir and Fred Haddock in early 2008.
"JP 2008 is one of the critical building blocks in the ADF's future C3I architecture – one of the things it is designed to provide is bandwidth, which is now an increasingly sought-after military resource.
"The development of the ADF's military satellite communications capability – vested in Joint Project 2008 (MILSATCOM) – is an activity with virtually no endpoint."
And it still holds true now. This article will seek to clarify the various phases, what they mean for the ADF and where they currently stand.
The key to the whole system is access to the Wideband Global Satellite System (WGS) under Phase 4 of JP2008. 
The other phases essentially look at how the ADF access satcoms on the ground, in the air and at sea. This is done through phases 3F, 3H, 5B.1, and 5B.2.
Phase 3F
The project was originally approved in 2009 to deliver an enhanced Australian Defence Satellite Communications (SATCOM) capability through the delivery of a satellite ground station in Western Australia and an upgrade to the existing Optus C1 Ground Station at HMAS Harman (SGS-H). This phase of JP2008 was awarded to BAE Systems in 2009 after the tender closed mid 2007. Work was due to be completed by mid 2013 but it was added to the Projects of Concern list in September 2014. A bridging solution was put in place so that all the funds spent on WGS were not for naught. This has been covered by elements of Parakeet for Army and MASTIS for Navy.
Getting details on this phase of the program has proven difficult given the Project of Concern status. BAE Systems would not comment on the program directly, referring all questions to the program office.
"Both parties are currently in negotiations and for this reason Defence is unable to comment at this time," according to a statement from Defence when ADM asked to speak with the program office.
ADM understands that the current round of negotiations are due to be complete at the end of the month.
From what ADM can gather from indirect sources, the relationship broke down in many ways for many reasons. These include but are not limited to BAE Systems stepping way what was originally a very strong engineering approach, and failure by the customer to understand exactly what they were asking for. This might be due to the fact that WGS terminals operate under US defined standards and specifications, leaving little flexibility for either party.
This led to stop payments, liquidated damages and a general stoppage of work. The Projects of Concern framework came into play, meaning that government acted as a mediator going forward on the program phase that at one time looked very close to cancellation.
One source close to the program remarked that there were more lawyers than engineers involved at this stage of JP2008.
Phase 3H – Wideband terrestrial terminals
In March 2013, then Minister for Defence Materiel, Dr Mike Kelly, said that Defence had signed two multi-million dollar contracts with the L-3 Oceania following an open tender process for a military-off-the-shelf solution that was certified for use on the Wideband Global Satellite System.
"The JP 2008 Phase 3H Acquisition Contract will acquire 51 terminals, 30 deployment kits, spares and test equipment at a value of nearly $32 million," he said.
"A separate performance based in-service support contract will provide integrated logistics support, engineering services, supply support services, maintenance services and training at a value of around seven million dollars over three years."
In a statement released by DMO at the time, "this project is part of a broader program to integrate Wideband Global Satellite communications capabilities. The capability being acquired under JP 2008 Phase 3H is expected to be delivered in 2014, and will provide the ADF with earlier access to enhanced satellite communications services in Australia and also in key operational areas where commercial satellite resources are limited."
Since that time, all terminals and deployment kits have been delivered to ADF units.
Phase 5B1 – Wideband terrestrial infrastructure
JP2008 Phase 5B1 aims to enhance the Defence SATCOM capability through the delivery of a "family" of Transportable Land Terminals and associated equipment. The "family" consists of Small, Medium and Large Transportable Terminals as well as Tactical and Strategic Hubs.
---
"The terminals will give ADF troops on the ground access to increased data rates and a higher level of network performance."
---
Prime contractor Raytheon Australia engaged L-3 Communications to provide 236 Hawkeye and Panther satellite communications terminals.
The $125.6 million contract includes the Very Small Aperture Terminals (VSATs), additional support equipment and training and options for more terminals.
L-3 expects to complete delivery to Raytheon by the end of 2015 and progressively to the ADF during 2016.
The terminals will give ADF troops on the ground access to increased data rates and a higher level of network performance for voice, internet and video transmission.
The Panther is a lightweight man-portable terminal that can be packed in a rucksack or suitcase and is small enough to be checked in as airline luggage, according to industry.
The medium and large "flyaway" Hawkeye are quick-deploying systems that automatically acquire a satellite when powered up.
The ADF previously acquired 54 L-3 Hawkeye III Lite terminals in a $35 million Joint Project 2008 Phase 3H contract awarded in 2013."The L-3 GCS SATCOM terminals are attractive to the Australian military for a number of reasons, including their certification for use on the WGS and their reputation within the US Department of Defense for quality, performance and reliability," Bob Jacobson, president of L-3 GCS and L-3's Tactical SATCOM sector said in May of this year.
Phase 5B2
According to the 2012 DCP, Phase 5B.2 will deliver a second satellite ground station in the east of Australia and an integrated wideband SATCOM network management system to improve robustness, capacity and efficiency of the Australian Defence SATCOM capability. The Satellite Ground Station is planned to anchor three satellites simultaneously in X and Ka Band. Initial materiel release includes the delivery of the fixed WGS anchor station on the east coast of Australia and a support system. IOC will consist of introduction of Satellite Ground Station – East into ADF operations. This is expected to require WGS certification, demonstrated integration into the Defence Wide Area Communications Network and one month of successful use.
The expected LOT for the terminals is anticipated to be 25+ years. A capability mid-life technology update or refresh is anticipated.
FOC will be achieved with the introduction of an integrated network management system and associated support system that is validated and accepted by the Capability Manager.
A Request For Tender (RFT) was issued in January of this year with responses going into the box in May. ADM understands that four bids were received. These were
Boeing and Harris
Raytheon
Selex
Northrop Grumman with Optus and Viasat
At the time of writing, both Raytheon and Selex declined to comment on their bids citing commercial-in-confidence reasons.
Boeing provided the following statement:
"Due to commercial-in-confidence reasons, and out of respect for ASDEFCON stipulations, Boeing declines to comment specifically on JP2008.
"But on the general question of Boeing's capabilities in space and communications:
Boeing is proud of its significant capability to provide advanced network communications systems to customers, including the ADF. Two examples are the Wideband Global SATCOM program and the Land 2072 Phase 2B system.
"With experience dating back to the dawn of the space age, Boeing has built seven of ten Wideband Global SATCOM (WGS) satellites. WGS is designed to provide increased and enhanced broadband communications capability for military missions and humanitarian relief efforts. As part of a cooperative agreement between the US and Australian governments, WGS-6 was funded by the Commonwealth. Boeing's satellite experience extends to developing and fielding network and satellite control stations.
"The Land 2072 Phase 2B system will provide Australian deployed forces with secure wideband voice, data and video services over wireless and wired infrastructure. The Boeing solution is designed to be interoperable, scalable and able to evolve and grow with the needs of Australia's modern army. This broader connectivity, which includes Satellite on the Move capability, has been made possible because of the investment Boeing has made in local capability. Boeing is able to execute on programs like Land 2072 Phase 2B in conjunction with local SMEs."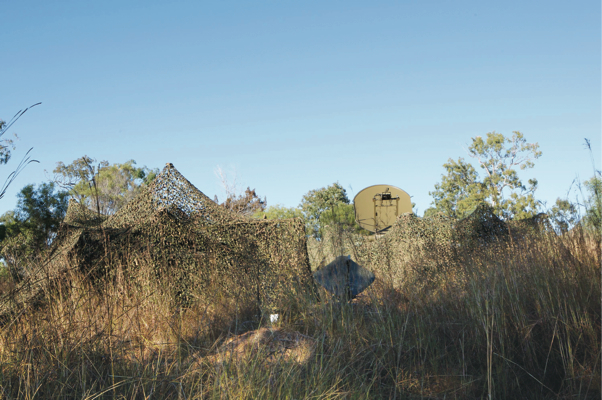 Camouflaged Communications, a 139 Signals Squadron Satellite Transmission Assembly (STA) provides communications for the 7th Brigade Headquarters at Shoal Water Bay Training Area (SWBTA), Rockhampton. Credit: Defence
The final team led by Northrop Grumman was more forthcoming on their offering. The EBEM FDMA modem mandated by the customer for this phase is made by Viasat and much of the hardware will be coming from the same production line in Duluth Georgia that has already delivered 10 similar ground stations for the National Broadband Network (NBN). These stations have been in place for roughly 12 months but are not operational as the NBN satellites are only now becoming operational. Before being shipped, each terminal will be tested live to make sure it works with WGS – an important point because this will de-risk the challenges of integration and certification onsite that have plagued phase 3F.
Optus operates the backup satellites for the system and will be providing the training and 'helpdesk' functions.
Northrop Grumman will be leveraging the work they've done in the US with the WGS program and encryption/security aspects with local arm M5 Networks. The Network Management System (NMS) that the team has put forward will allow what is currently a row of operator stations for the four main SATCOM tasks (user, planner, manager and controller) into a single console. An iteration of this system is in use with commercial customers in the US and combination of this and other systems is being used by the US military. But there are no ITAR restricted elements in their offering.
Known as SCOPE (Satellite Communications Operations and Planning Engine), the system brings together a long list of feeds into a single easy to use interface that models, plans and schedules satcoms and ground stations. The COTS web based tool also offers 'what of' planning tools to allow the ADF to effectively manage available satellite bandwidths. A significant proportion of the SCOPE software is devoted to managing the workflow, presenting the user with only the relevant information from the vast data feeds.
---
"All bids must be able to deliver a solution that can be certified against the strict WGS standards set forth by the US ARSTRAT."
---
Northrop Grumman is hoping that the $100 million investment that the US had already made in SCOPE and related systems can be leveraged in Australia under this phase. These background priority and planning systems allow the SATCOM terminals to use WGS as then dip into Inmarsat and Optus satellites as needed by Defence. All these avenues are costed in real time and Defence is able to choose which path they want based on a matrix of priority versus cost with the 'what if' function.
And like previous phases of the program, all bids must be able to deliver a solution that can be certified against the strict WGS standards set forth by the US ARSTRAT.
Contenders are working on the assumptions of a second pass approval somewhere in the mid to late 2016 timeframe with a down-select in either late 2015 or early 2016. This would then lead into a contract signature hopefully in January 2017, followed by a 12-month design review period, before breaking ground for the required infrastructure. This will be located at Kapooka near Wagga Wagga, NSW, to avoid bandwidth clashes that would have occurred at Canberra's HMAS Harman with FOC due in December 2019.