The Boxer Combat Reconnaissance Vehicle is a joint development from Rheinmetall Defence, Rheinmetall MAN Military Vehicles (RMMV) and Krauss-Maffei Wegmann (KMW).
R
heinmetall Defence is acting as the prime for Land 400 Phase 2, with partners Supacat and Northrop Grumman. Supacat will participate as a specialist vehicle systems integrator. Northrop Grumman will provide a 5th generation open architecture C4ISR system intended to connect the Boxer CRV seamlessly with joint and coalition environments.
Boxer is already in service with Germany and Netherlands, primarily as an Armoured Personnel Carrier. It has recently been ordered by Lithuania in an Infantry Fighting Vehicle (IFV) configuration ahead of ten other competing designs. Some 38 Boxers from the German Army were on active service in Afghanistan from 2011 to 2014.
The Boxer CRV is effectively the integration of two military-off-the-shelf systems; the Boxer wheeled armoured vehicle and the Lance two-man 30mm turret.
Rheinmetall Defence is in the unique position of being able to offer the complete mission system – vehicle, turret, integrated logistic support, simulation and ammunition.
The Boxer is constructed from armoured steel with composite applique armour. Mine protection is enhanced with a decoupled floor.
Unlike most wheeled armoured vehicles which are left hand drive, the Boxer is right hand drive. The engine is mounted at 90 degrees to the transmission in an L-shape in front and to the left of the driver, providing an additional layer of protection against penetrating projectiles.
The vehicle can accept a variety of external armour packages depending on the protection level required. Rheinmetall's hard-kill Active Defence System (See P64 for more on this system) has been offered as an option.
Boxer is also fitted with Rheinmetall's own Rapid Obscuring System (ROSY); one bank on each side of the turret roof. The system launches 40mm grenades that generate an almost instantaneous smoke screen that conceals the vehicle from line-of-sight and infrared guided weapons.
Different mission modules, attached to the drive module by just eight bolts and featuring a common wiring loom connection and standard interfaces, can be exchanged by two maintenance personnel and a crane in less than half an hour, the company says.
The two-man Lance digital turret mounts a stabilised Mauser 30mm Mk 30-2 cannon programmable for airburst ammunition and a 7.62mm coaxial machine gun. The Mk 30-2 has a double belt ammunition feed system, meaning that the next round fired is the next round selected rather than the next round fired being the last round selected.
The main armament is mounted external to the crew survivability cell although the breach can be accessed internally by either the gunner or commander in order to clear stoppages. Ammunition is stored outside the crew compartment, further enhancing survivability.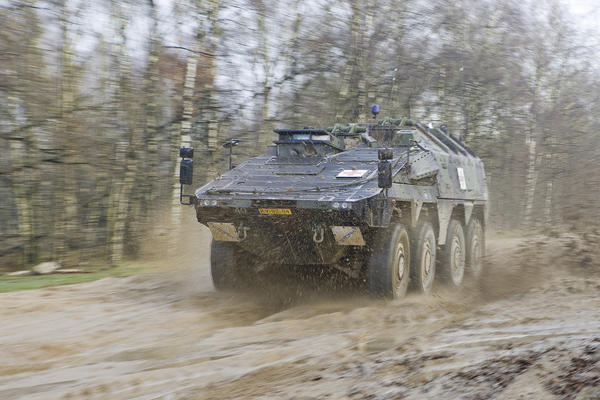 The Boxer has served the German Bundeswehr well thus far. Credit: Rheinmetall
The Lance turret features automatic target recognition and target tracking. These systems substantially decrease crew workload and engagement times. A digital fire control system enables moving targets to be engaged with a high first-round hit probability. The gunner and commander have independent stabilised day/night sights with eye-safe laser rangefinders.
Targets can be engaged with precision out to 3,000m, with the two independent sights enabling killer-killer capability – the ability of the commander and gunner to engage targets from their crew positions. The 30mm Lance turret is in service with the Spanish Marines, where it is installed on the Piranha III 8x8 vehicle.
An upgrade to a 35mm cannon was one of the options included in the tender, together with dual Spike LR or Javelin anti-tank guided missiles that would be launched from an armoured and dampened pod on the left side of the turret in which the missiles can be stored indefinitely, ready for action.
A move to 35mm would involve modification of the weapon itself and its feed mechanism, but would not require replacing the turret. The greater length of the 35mm projectile would reduce the ready ammunition load from 125 to 60 rounds in each of two trays, but this would be offset by the greater lethality of the 35mm round.
The original design brief for Boxer decreed that the vehicle must be able to follow a Leopard 2 main battle tank cross-country, a requirement Rheinmetall says has been qualified under the most extreme environmental conditions and at the Boxer's maximum combat weight. This has not been disclosed, but is thought to be about 37 tonnes.
Boxer is powered by an MTU 8V199 TE200 530kW (720hp) V8 multi-fuel engine coupled to a seven-speed Allison HD4070 automatic transmission. This produces a top speed of 103 km/h and a range of up to 1000 km, while providing a significant power reserve to handle future vehicle growth.
The driveline features independent suspension for all wheels and permanent 8x8 drive with four axle differentials and two inter-axle differentials.
All steering mechanisms above the wheels are located in protected positions and the 27" run-flat tyres are connected to a central tyre inflation system that enhances mobility in different terrains.
Phase 3
Rheinmetall Defence has confirmed it will also be offering Boxer for the Phase 3 Infantry Fighting Vehicle requirement.
This vehicle will be in what the company describes as the standard Land 400 configuration (i.e. the same as proposed for Phase 2) but with a mission module capable of accommodating up to eight dismounts.