Ground based air defence (GBAD) for the Army has been a long time in the making under the various phases of Land 19. ADM examines what we currently have in play and where the program is likely to go in terms of technology and concepts under later phases.
When looking at GBAD as a whole it can be good to keep the three key elements of the system in the back of your mind:
sensors (usually some kind of radar);

command, control, communication and computers and intelligence[C4I] (what you do once you get the information); and effectors (what you do in response to your information eg hit the ground or fire something back).
The Army over the last decade has seen massive technology change in this space, mainly thanks to experience in Afghanistan. While Land 19 has been running in various phases for almost 15 years, it was truly in 2009 under then Defence Minister John Faulkner's Force Protection package that things really got moving. New equipment came on deck to complement existing capabilities provided by the Saab RBS-70 (pictured left) and Lockheed Martin P-STAR radars, which were supported by the TACCS C4I system.
In this case, new sensors and C4I arrangements came into play under Land 19 Phase 7A. Phase 7 was split to meet urgent operational requirements of the day with Phase 7A providing three new Giraffe radars from Saab and 31 light counter mortar radars (LCMRs) from US-based company SRCTec and the WAVES (Wireless Audio Visual Emergency System) sense and warn system.
These constituted a C-RAM system that allowed the Tarin Kot base to be in a position to be provided with early warning of rocket strikes. The various C4I programs sitting between the radars and WAVES included AMDWS (air and missile defence workstation) and FAAD C2 (Forward Area Air Defence Command and Control), which were acquired via Northrop Grumman under the FMS route.
At that time, the base was seeing only sporadic rocket attacks not huge in numbers compared to some theatres but still a significant risk to the troops and equipment at Tarin Kot. The new system allowed ADF members to receive warning of an incoming threat and literally kiss the ground.
The WAVES siren gave the base 10-20 seconds to lie flat on the ground in case of attack. Hitting the ground could literally have meant the difference between life and death for soldiers. Generally, you are much more likely to survive a rocket blast from the prone position than standing, so the small siren window allowed soldiers to increase their survivability substantially.
The $250 million investment in 2009/2010 saw extensive use in Afghanistan and proved that the concept and technology saved lives.
Given that the various system elements were acquired under an urgent operational requirement, they were not required to integrate with existing or future Army technologies such as communications under JP 2072, the ADF wide use of tactical datalinks such as Link 16 or the Land 75 battle management system (BMS).

Members from 16 Air Defence Regiment provide air defence at Tindal. Gunner Scott Clarke (rear left) maintains watch at an RBS-70 Ground Based Air Defence  missile battery manned by GNR Murray Keogh (obscured) and Bombardier Nicholas Selzer (right). Credit: Defence
The system was also not optimised for the final element of the GBAD trifecta: the effector. In this case, the relevant effector would have been the RBS-70.
The threat the system was to answer was that of rockets that were being set off by the Taliban, either by radio or a long fuse that allowed them to be set and the insurgent to get a safe distance away before launch. In this case, the triangulation of the source of the threat was interesting (and possible) but not a target per se. What was the use in bombing a piece of empty countryside?
Phase 7B
Estimated to be worth between $800 million and $1 billion, Phase 7B seeks to either upgrade or replace the GBAD sensors, C4I and effector technologies. Defence issued an RFI last year that saw roughly 20 partial and full responses, ADM understands. The indicative date for release of an RFT, subject to approval is last quarter 2016.
Perhaps the most important point to recognise from the documentation thus far is "The GBAD sensor and effectors will be managed by a C4I system that will be capable of operating autonomously and/or within a joint/coalition air and missile defence network. This capability will provide greater fidelity in joint and coalition airspace and contribute to Australian Defence Organisation (ADO) airspace management and air/land integration."
This means that the sensor to shooter links will shorten the kill chain, answering threats from UASs and RPGs through to cruise missiles from land based assets. While the Air Force and Navy have been in this space for time, the high technology nature of the doctrine needed to answer this threat set is relatively new for Army. ADM understands that this ROE and doctrine space has been actively under research and development for the better part of a decade now.
There are a number of technologies on the market that can answer the call. Likely primes in this space include Saab, Raytheon, and Rafael with support from the likes of Lockheed Martin, Northrop Grumman, IAI and Rheinmetall in the mix with supporting industry and technology elements.
Requirement
The requirement for the trifecta would see two levels of coverage; one for a base and one on the move that could be established at a smaller forward operating base in a more tactical role. It would need to be able to operate independently away from air and naval support. It also needs to provide coverage with a high level of persistence.
There is scope to upgrade existing pieces of kit such as the Giraffe radar that are only being used in a limited way by the ADF compared to other nations employing the technology. The RBS-70 also has scope for upgrades in terms of hardware, software and munitions (such as the Bolide missile already in the ADF inventory). This may be an avenue of exploration for the program office if the budget, politics and timing of the program change thanks to factors beyond their control. Such an approach would allow for the splitting of Phase 7B to look at the C4I elements with in-service products, procuring sensors and effectors further down the line, or to look at introducing the different tiers of effectors and associated kill-chains required in Land 19 Phase 7B in sequence rather than as a big bang.
Contenders
As mentioned earlier, the field of contenders is rich. Saab has obvious form given their in-service offering based on the Giraffe radar and RBS-70 system. It is believed that Saab will adopt a layered defence system approach including sensors, missiles systems and a C4I architecture that will be drawn from both within its own portfolio and from other teaming partners. Saab has a history of collaborating with companies such as Diehl, MBDA, Lockheed Martin and Rheinmetall in global GBAD programs, so a strong showing from the Saab led team is expected.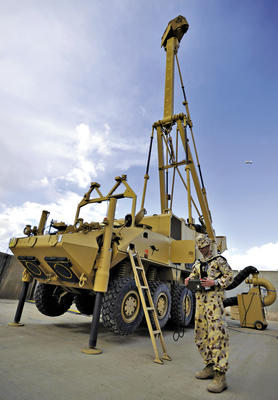 Their role in providing the legacy capabilities in this space are also to be kept in mind. ADM understands that the Giraffe radar alone is not being used to its full capacity under current arrangements and there is a clear upgrade path for the RBS-70 and associated products.
Raytheon Australia confirmed to ADM that they are offering a version of their NASAMS 2 (National Advanced Surface to Air Missile System), which was developed with Kongsberg.
"In addition to its in-service US C4I interoperability, the Raytheon system uses a common launch rail and makes effective use of weapons from existing ADF inventory, including the complementary and 'dual use' AIM-120 AMRAAM and AIM-9X missiles," according to a statement from the company. "The system delivers excellent tactical mobility and transportability options. All facets of the system have a defined and funded technology growth path. Examples include the recent upgrade to the proven Fire Distribution Centre, and additional weapon options such as the AMRAAM-ER (Extended Range) that are currently under development." 
Right: The Giraffe system used at Tarin Kot in Afghanistan. Credit: Defence
The system would seek to use missiles already in the ADF inventory, or soon to be, such as AIM-120 AMRAAM, a decision that has both obvious pros and cons. An extended range version of the missile is also under development by Raytheon with testing underway for a projected production date of 2019 if successful.
The NASAMS has been exported to Spain and is in use in the US, with the NASAMS 2 upgrade having been exported to Finland, the Netherlands, Oman, and Chile. Several NASAMS were used to guard air space over Washington, D.C. during the 2005 US presidential inauguration, and are used to protect air space around the White House.
A complete NASAMS 2 battery consists of 12 missile launchers (LCHR) (each one carrying six AIM-120 AMRAAM missiles), eight radars (AN/MPQ-64 F1 Improved Sentinel X band 3D radar), one fire control centre (CTOC), one electro-optical camera vehicle (MSP500) and one Tactical Control Cell (TCC) vehicle.
The upgrades consists of:
New radars, which can be mounted on a variety of vehicles. The radars have their own power supply and can process and distribute the data independently. The vehicles can be connected via radio links, cable, through Multi Rolle Radio, or through TADKOM.
The radars have a broader frequency spectrum and variable rotation speeds, and also an increased capacity to spot and follow targets.
Each module can automatically determine its position with its northfinder and GPS instruments.
The control centre modules can be mounted on a large variety of vehicles.
The electro-optical MSP500 sensor is equipped with a laser rangefinder and a TV-camera, as well as an upgraded thermographic camera. These can be used to fire the missiles passively, which has been successfully tested.
The control system can detach itself from the sensors, in order to become less visible.
Seeing as the standard AMRAAM missile is usually launched from an aircraft going at considerable speed and altitude, an associated ground based launch system for Land 19 would have to be considered, and any sacrifices in performance would need to be understood. Other nations, such as Spain, have opted for a vehicle-launched battery on an angle. The various AMRAAM missiles, with a range of different warheads, sensors and guidance mechanisms would also be considered.
Rafael would likely offer their combat proven Iron Dome system, developed by Rafael Advanced Defense Systems and Israel Aircraft Industries (IAI). The system is designed to intercept and destroy short-range rockets and artillery shells fired from distances of four kilometres to 70 kilometres away and whose trajectory would take them to a populated area.
Iron Dome has three central components:
Detection & Tracking Radar: the radar system is built by Elta, a subsidiary of IAI, and by the IDF.
Battle Management & Weapon Control (BMC): the control centre is built for Rafael by mPrest Systems, an Israeli software company.
Missile Firing Unit: the unit launches the Tamir interceptor missile, equipped with electro-optic sensors and several steering fins for high manoeuvrability. The missile is built by Rafael.
The system's radar is referred to as EL/M-2084. It detects the rocket's launch and tracks its trajectory. The BMC calculates the impact point according to the reported data, and uses this information to determine whether the target constitutes a threat to a designated area. Only when that threat is determined, is an interceptor missile fired to destroy the incoming rocket before it reaches the predicted impact area
On April 7, 2011, several days after the system was made operational by Israel, it intercepted a Grad rocket fired from Gaza. Since then, the system has displayed an interception rate of roughly 85 per cent, destroying or diverting the incoming projectiles.
During last summer's war in and around Gaza, Hamas and other terror organizations fired 4,594 rockets at Israel. Of those, the system chose to intercept 799 projectiles – it is designed to focus only on missiles deemed threatening to populated areas – hitting 735 and missing 64, according to local news reports.
Israel is also developing the larger version of Iron Dome system under the David's Sling program, which would increase the protective and reactive/offensive range of the GBAD system.
Comment
Given the scale, cost and complexity of the program, ADM asks if the ADF really needs Phase 7 in its current configuration. The requirement literally does reach for the sky, giving Army the capability to take out anything from UAV to ostensibly a cruise missile, away from both air and naval support. And indeed, Army operates away from both these elements as needed. But how often will this capability really be needed given future conflict scenarios that are more than likely to occur in an ADF task group and/or coalition context?
Perhaps a better use of time and money would be to refine the system already in place, with a focus on enhancing the C4I links and optimising the operation of legacy capabilities.
The fiscal constraint that all the services will be under during the coming years does not bode well for programs that are highly complex and expensive; Land 19 Phase 7 is both. Army will need to make the case that this capability is a core priority going forward.
With the RFT due out this calendar year, ADM will be keeping an eye on this program.