Often described as the ADF's largest airpower exercise, the biennial Pitch Black exercise was again held in the Top End in July and August.
Nigel Pittway | Darwin
Like its predecessors, Pitch Black 2016 (PB16) was a three-week multi-lateral exercise, this year held between July 29 and August 19, and again the statistics were impressive: 10 countries participating, three (Canada, Germany and the Netherlands) for the first time; more than 2,800 personnel and around 100 aircraft involved and an estimated $25 million injected into the NT economy.
However PB16 differed from its predecessors in that there was a much greater focus on Air-Land integration and the introduction of many of the principles heralded by the Air Force's Plan Jericho.
"We used a lot more sensors, where we integrate with ground forces; for example we used our Heron (Remotely Piloted Aircraft) capability to run scenarios with Joint Terminal Attack Controllers (JTACs) on the ground in Delamere, feeding through a control and reporting centre, and those sorts of Air-Land integration initiatives, on top of all our normal Offensive Counter Air (OCA) and air interdiction missions," explained Air Commodore Rick Owen, Air Command's representative during the exercise.
---
"Two Heron air vehicles and a Ground Mission Station were deployed to Tindal for PB16, marking the first ever use of an unmanned aerial system in the exercise."
---
"One of the initiatives of Plan Jericho is to work out how we can network all of that information together so, at any particular point in time, people know what's going on out there and you have all the information to make the right decisions. One element of Pitch Black was to look at how that works (and) see how we want to manage those initiatives as we move forward through Plan Jericho and towards the networked Air Force."
Heron debut
Two Heron air vehicles and a Ground Mission Station were deployed to Tindal for PB16, marking the first ever use of an unmanned aerial system in the exercise.
The involvement of 5 Flight, operators of the Heron capability, was part of the RAAF's ongoing strategy to 'normalise' RPA operations ahead of the introduction of the Triton and an armed Medium Altitude Long Endurance UAS early next decade.
During the exercise, 5 Flight not only worked with JTACs on Close Air Support (CAS) missions, but also provided dynamic targeting information to other assets, including USAF B-52s.
"We haven't really done a lot of CAS or dynamic targeting before," 5 Flt's Executive Officer, Squadron Leader Simon Longley explained to ADM. "Our role in Afghanistan was to support coalition forces on the ground with preparation of the battlespace and more persistent ISR-type roles. PB16 was really good for us because, for the first time, we were interacting with 4 Sqn FAC-As (airborne Forward Air Controllers in the PC-9/A), as well as USAF B-52s and other fast jets in the stack above us.
"It will help us with further activities we intend to conduct next year, but we were also able to successfully provide a video feed, not only to the JTACs but further afield, to the exercise HQ in Darwin and Joint Operations Command in Canberra."
Networking Hercules
The recent initiatives of Air Mobility Group (AMG) to enhance capability within the framework of Plan Jericho were also exercised during PB16, with the operational test and evaluation of a Link 16 data link aboard a 37 Squadron C-130J-30 Hercules.
The data link was just one of three systems employed by the Hercules force in the Air-Land integration phase of the exercise, the others being the recently-installed wideband SATCOM capability and the Joint Precision Air Drop System (JPADS). The Link 16 capability is an Agility Joint Range Extension (JRE) system installed on a CMC Electronics TacView flight computer and is accessible via three displays in the flight deck (pilot, co-pilot and auxiliary crew station) and two terminals in the cargo bay.The system is now being installed throughout the fleet during regular maintenance periods by Airbus Group Australia Pacific and is unique among Link 16 systems fitted to other C-130s around the world in that it can be also be used by the loadmasters in the rear of the aircraft.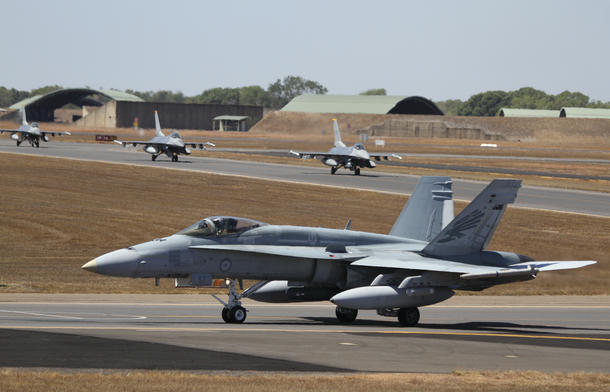 The manned and unmanned elements of Pitch Black were impressive. Credit: Nigel Pittaway
After a period of testing in Darwin, the system was trialled under operational conditions from August 11.
"In the cockpit we were able to take in the entire picture in a quick glance, where normally we would have to listen to our voice radios to try and build a complex mental picture of what is happening," commented Flight Lieutenant Shaun Wilkinson, a C-130J pilot and part of the Link 16 integration team.
"If you are not taking up your brain space up with that, you can now look out and take in all those other aspects of the battlespace, which is huge to say the least."
Integrated Air Defence
Another initiative employed during PB16 for the first time was the deployment of a Northrop Grumman Joint Threat Emitter (JTE) system, provided by the US Air Force. Comprised of a Command and Control Unit (C2U) and two Threat Emitter Units (TEU), the system was transported to Darwin from Mountain Home Air Force Base in Idaho aboard a RAAF C-17A – the first time two TEUs had been transported in a single C-17.
JTE can realistically simulate electronic emissions from a range of surface to air threats, including both single and double-digit Russian SAMs and Anti-Aircraft Artillery (AAA) systems. It was transported by road to the Delamere Air Weapons Range and, together with two batteries of Singapore Air Force I-Hawk missiles, provided an air threat to attacking aircraft.
Although JTE was not integrated with the I-Hawk, the two systems worked closely together to provide a representative Integrated Air Defence System (IADS) threat.
"We had a lot of positive feedback, particularly from the pilots flying against it," commented Northrop Grumman's Greg Kuntz. "It is also the only training system in the US inventory that can provide a full-up training capability against the F-35 Joint Strike Fighter."
Wedgetail & MRTT
Other firsts recorded during PB16 included use of the Wedgetail's IP chat capability, and the refuelling of US Air Force and (by the end of the exercise) Singapore Air Force F-16C fighters outside the test community.
Wedgetail has had an interim chat capability for a couple of years and is used on a daily basis by the aircraft deployed for Operation Okra, but PB16 was its first use during exercise conditions in Australia. Although not used as widely or as intensively as it is in the MEAO, it was successfully employed when working with the RAAF's ground-based 114 Mobile Command & Reporting Unit (MCRU).
The RAAF's KC-30A multi-role tanker transport (MRTT) received clearance to refuel F-16s in the weeks leading up to PB16 and this was immediately put to good use by 33 Sqn, when they supported the deployment of 14 USAF aircraft from Okinawa to Darwin to participate in the exercise."It was a six hour trip requiring five air-to-air refuelling events for each fighter and it was historic because it was the first time a USAF F-16 had ever refuelled from a KC-30A outside the test environment," explained the USAF 14th Fighter Squadron Commander, Lieutenant Colonel Mark Heusinkveld. "We took combat-ready F-16s with combat-ready pilots and we would not have gotten here in the timeframe that we needed without that KC-30A support."