Delays in the introduction of the MRH90 Taipan multirole helicopter have triggered a second life extension for more than half the Army's Black Hawk fleet, the last of which will now remain in service in the special operations role until 2021.
Julian Kerr | Sydney
Following the acceptance of the first two of 47 MRH90s in 2007, the 34 Black Hawks were originally to have been retired between January 2011 and December 2013.
With Taipan deliveries running four years behind schedule, withdrawal of the Black Hawks was subsequently rescheduled to kick off in January 2014 and be completed in June 2018.
But with a Special Operations configuration for the MRH90 yet to be finalised, the Chief of Army has decided the Black Hawks should remain in service until the end of 2021 to ensure no risks are taken with this critical defence capability, Major-General Andrew Mathewson, Head Helicopter Systems Division in Defence's Capability, Acquisition and Sustainment Group, disclosed to ADM.
---
"Although the Taipan entered 2016 with more than four years as a Project of Concern, there appears to be some light at the end of the tunnel."
---
Until then, 18 Black Hawks will continue to equip the 6th Aviation Regiment at Holsworthy on the western outskirts of Sydney and two others will be stationed at the Oakey Army Aviation Centre.
"The Special Operations community has not been exposed to the MRH90 very much at all because naturally, they're doing their business with Black Hawk," MAJGEN Mathewson said. "In most operational areas replacing a Black Hawk with a Taipan is a relatively straightforward activity because the capabilities are similar. But in a special operations role the configuration is different and has to be developed.
"The Black Hawk is still performing quite effectively and it's sensible that we don't rush that transition."
According to the Australian National Audit Office (ANAO), the cost of retaining the Black Hawks in service from 2014 to 2018 is budgeted at $311 million. The anticipated cost of the extension from 2019 to 2021 has yet to be disclosed.
"We have to extend some of the maintenance and training contracts, but the good thing about an older aircraft like the Black Hawk is it's reasonably cheap to operate," MAJGEN Mathewson noted. "Since we're now operating only 20 of our 34 Black Hawks we're drawing down on the spares and other items so the cost is not extreme."
Project of Concern status
Although the Taipan entered 2016 with more than four years as a Project of Concern, there appears to be some light at the end of the tunnel.
The key operational milestone currently outstanding for Army is Operational Capability Land 2 (OCL2), anticipated in early 2016 after being delayed from July 2015. When declared, this will confirm the ability of Townsville-based 5 Aviation Regiment to operate one airmobile squadron land-based by day and by night.
Although there is no exact definition of a squadron, in the airmobile role this is assumed to be approximately 10 aircraft. In the case of the RAN's Nowra-based 808 Squadron, its maritime support responsibilities are met by six Taipans.
OCL1, a loosely-defined airmobile troop lift capability, was declared by Army in September 2015.
As explained by MAJGEN Mathewson, "It depends, it could be three or four aircraft. It's a somewhat complex equation because it's not necessarily just about the number of aircraft or soldiers, it's about the configuration of the role they're going to perform at their destination, and where that is".
Army's MRH90s accommodate 20 people on crash-proof seats but a new configuration is under development that will seat up to 16 fully-equipped infantry on wider units.
Final Army Land Capability, designated OCL3 and planned for the end of this year, involves two squadrons, land-based operating by day and night. This does not include support to Special Operations, the milestones for which are currently 2020 and 2021.
With respect to Army amphibious support, Operational Capability Amphibious 1 (OCA1) was declared in December 2014 and OCA2 and OCA3 a year later, albeit with some limitations. OCA3 involves the operational deployment of up to four MRH90, including embarked operations, within the immediate or wider region in a low threat environment
Declaration of final amphibious capability under OCA4 is planned for late 2017, MAJGEN Mathewson said. A November 2015 ANAO report on Defence test & evaluation defines this capability as up to 12 MRH90 operating off an RAN Landing Helicopter Dock (LHD) by day and night in a high threat environment.
In February 2015 the RAN declared Operational Capability Maritime 1 (OCM1), a single MRH90 embarked - not necessarily on an LHD - for day-only support missions and limited search and rescue and medical evacuation capability in a low threat environment.
OCM2, anticipated in early 2016 after being delayed from July 2015, will confirm 808 Squadron's ability to operate two embarked flights, each of a single aircraft, capable of day and night operations in a medium threat environment.
OCM2 is understood to be the final milestone that must be achieved before a recommendation is made to government to delist the MRH90 as a Project of Concern.
---
"In broad terms the EW system is still performing a function and it can respond to specific threats but it's not working to the fullest extent of its design."
---
EW concerns
The only outstanding materiel issue involved in declaration of OCM2 by the Chief of Navy is thought to be remediation of the Electronic Warfare Self-Protection (EWSP) system that also equips Army's 22 Tiger Armed Reconnaissance Helicopters (ARH).
"In broad terms the EW system is still performing a function and it can respond to specific threats but it's not working to the fullest extent of its design," MAJGEN Mathewson commented to ADM. "It's not related to the Australian threat library, it's a design issue, it relates to the recognition of threats and the response to those threats. Tiger is the lead capability on that particular system so we're going to solve the problem on the Tiger first and then on the MRH90."
OCM3, comprising three single aircraft flights embarked on selected Navy vessels and capable of day and night operations in a high threat environment, is now scheduled for the final quarter of 2016, almost four years later than originally intended.
First-of-class flight trials in March and April 2015 aboard the RAN's first LHD, HMAS Canberra, found that while rotating slowly during startup and shutdown, the Taipan's rotor blades were prone to excessive "blade sailing" when relative wind speeds exceeded 25 knots.
Although a Defence spokesperson said in July that consequent damage to the main rotor head was "minor", the ANAO T&E report described the damage as "significant" and disclosed that similar damage had been experienced by an MRH90 aboard HMAS Success in March 2014 during the search for Malaysian Airlines flight MH370.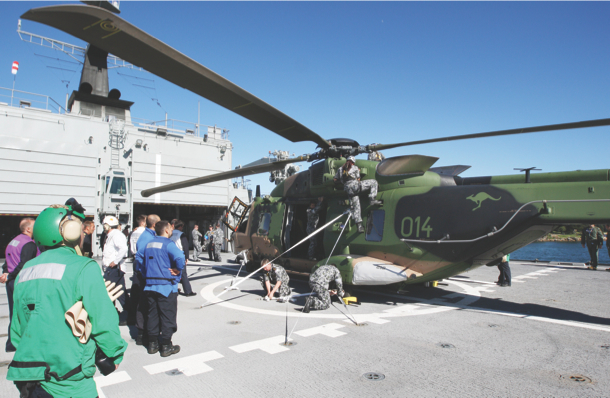 Spanish sailors from ESPS Cantabria observe as Royal Australian Navy sailors apply lashings to their MRH90 helicopter as part of flight deck trials conducted onboard ESPS Cantabria at Fleet Base East, Sydney. Credit: Defence
While the MRH90 Flight Manual limits the maximum wind speed for starting/stopping rotors while embarked to 60 knots,
reducing to 30 knots in some conditions, in August 2015 Navy released a Special Flying Instruction limiting starting/stopping MRH90 rotors when embarked on the LHDs to an absolute maximum wind speed of 45 knots.
Charles Crocombe, Vice President Government Helicopters for MRH90 contractor Airbus Group Australia-Pacific (AGAP), told ADM the rotor head would be redesigned " in a way that will prevent the phenomena of blades being pushed up on one side and pushed down on the other when they're not fully at their flying speed".
He did not say when the new design would be available.
Retrofitting the first 13 MRH90s to be produced to the final contractually-defined configuration would be completed around mid-February, Crocombe said.
This had required a significant amount of disassembly and the removal from each aircraft of a number of systems which had been sent to Europe for upgrading, returned, and subsequently reinstalled.
The turnaround time of repairable items had been progressively slashed from 400 days to the low 200s and the target for 2016 was to push that time down to 170 days, incentivised by the 2013 contractual changes by which AGAP was now paid predominantly through flying hours.
In the meantime, the 36th MRH90 had been accepted by Defence and the 47th and last Taipan was roughly half-built in AGAP's Brisbane facility. This would be delivered in the first half of 2017, allowing the acquisition contract to be closed by September of that year.
Special Operations capabilities
Special operations capabilities now being developed to Australian contractual requirements by MRH90 manufacturer NHIndustries include bespoke fast roping and rappelling systems. These are necessitated by a difference in the hover attitude of the MRH90 and Black Hawk, how the systems are to be mounted to the MRH90 structure, and the optimum movement through the cabin of troops in full combat gear.
Crocombe accepted criticisms that an initial fast roping design appeared to have had little input from potential users. However, a new prototype tested in Australia in December had been well-received and was attracting attention from the French army – probably only the second armed force after the ADF currently intending to use the Taipan (NH90 in European service) in a special forces role.
Another issue still to be settled is the siting of the self-defence machinegun – fired from the window of a Black Hawk but on the MRH90 currently intended to be fired out either of the doors through which troops might concurrently be fast roping or rappelling.
"That's not safe," MAJGEN Mathewson said, noting however that the intention was not to turn an MRH90 into a Black Hawk, but in an unrushed manner to look for opportunities while developing tactics, procedures, and the special operations configuration.
Although the cargo hook for the Taipans has already been modified to meet original specifications, AGAP has been separately contracted to produce a completely new design that will allow the RAN to use the NATO rigid strop for underslung loads.
The design has been subcontracted to French company LISI Aerospace but progress has been slow, according to MAJGEN Mathewson, because of the complexity of integrating the hook with the aircraft software.
As AGAP's Crocombe points out "it has a system that actually weighs the load, it has a system that allows you to release the load, and it has an emergency release device which is actually a pyrotechnic".
He anticipates release of the new hook towards the end of 2017, and interest from other NH90 customers.
In which case, the ANAO T&E report reveals, the Commonwealth will receive 27 per cent of the value of such onsold hooks.
This article first appeared in the February 2016 issue of ADM.