Patrick Durrant | Canberra
The Second Annual Army Innovation Day (AID2015) took place at the Australian Defence Force Academy in Canberra on Monday. On display for the gathered Army but also Navy and Air Force officers and industry personnel attending was a showcase of twenty-nine of the latest innovative technologies that could serve to boost the performance of the soldier in the field.
Industry presentations from twenty three industry groups showcased cutting edge technologies designed to enhance soldier performance – helping soldiers to out-think, out-perform and outlast an adversary. This included nutrition technologies, load-sharing equipment to reduce the weight burden carried by soldiers, physiological condition monitoring, 3D immersive and holographic simulation and land/air integration technology.
Head of Army Modernisation and Strategic Planning Major General Gus McLachlan, who was featured in ADM's From the Source article in September, opened the day saying that AID2015 was all about facilitating a closer, more regular relationship with industry and would help to inform Army, and indeed the other services, to understand what the human performance modernisation model would look like.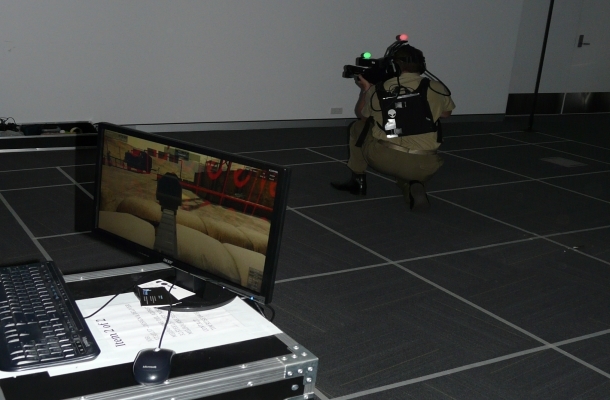 MAJGEN Gus McLachlan led by example and was keen to try his hand engaging with "the enemy" in a 3D immersive simulation. Credit: ADM Patrick Durrant
McLachlan said he wanted to speed up the "flash to bang" time of the process at which new technologies were tested and delivered to the frontline troops and stated he was aiming to have some in service within twelve months. He also wanted to increase the number of such events to two or more per year.
The new Minister for Defence Materiel and Science Mal Brough and Chief Defence Scientist Dr Alex Zelinsky attended the event and toured the various industry stands.
"The Turnbull Government strongly supports maximising the opportunities for Australian industries to participate in defence acquisition and sustainment," Minister Brough said.
"In a global environment where the pace of technological change is rapid, innovative ideas and solutions are necessary to achieve the capability outcomes for our Defence Force."