ASPI has hosted an audience of entrepreneurs, scientists, academics, military leaders, and journalists (including ADM) at the Building Australia's Strategy for Space conference in Canberra as the countdown continues to the launch of the national space agency on July 1.
Speakers included Minister for Defence Marise Payne, Senator Michaelia Cash, Vice Chief of the Defence Force VADM Ray Griggs, Deputy Chief of Air Force AVM Gavin Turnbull, Shadow Minister for Defence Richard Marles, Vice Commander US Space Command LT GEN David Thompson, former astronauts Dr Paul Scully-Power and COL (ret'd) Pam Melroy, and many more.
The conference was structured around a series of themed sessions: the strategic implications of the space domain; opportunities for space cooperation; how Australian industry might develop; state perspectives on space; a crisis simulation; space science; best practice; Defence and space; and leveraging 'New Space' in the next golden era of space endeavours.
A particular highlight for your correspondent was LT GEN David Thompson, VADM Ray Griggs, and Dr David Williams' panel discussion on opportunities for space cooperation.
LT GEN Thompson emphasised the importance of Australia's culture and values to the US alliance and highlighted the many existent areas of bilateral cooperation in space, particularly through Pine Gap and the Harold E Holt station in WA. All three panellists also pointed to the importance of practising operations in a space-denied or space-degraded environment as other nations develop counter-space capabilities.
The three panellists were then asked whether space should form another operational domain.
"I'm not a big domain person," VADM Griggs responded. "There's too many. I mean what are we up to now, seven? Eight? We need a domain non-proliferation treaty. There is a single war fighting domain as far as I am concerned."
According to VADM Griggs, the creation of too many domains institutionalises cultural differences and inhibits joint cooperation.
As VADM Griggs observed, different operational domains are certainly drawn along somewhat arbitrary lines. After all, the US Navy is the world's second-largest air force. The increasing overlap of domain operations was evident in the crisis simulation later in the afternoon (the scenario was an AWD hitting rocks as a result of Chinese GPS jamming).
Yet there is also an equally arbitrary line drawn between war and peace. Discussion at the conference revolved around preparing for a 'future conflict' in which space is likely to feature heavily. The inherent assumption here is that conflict is black and white; either we are at war, or we are at peace.
The pattern of conflict over the past decade, however, shows that revisionist states tend not to engage in open, declared war. Instead, they blur the line between war and peace to achieve hostile objectives without crossing a reaction threshold that brings conventional capabilities (like kinetic counter-space measures) into play.
This does not rule out the possibility of a future open war, but it does mean that Australia is at risk of constantly preparing for a conflict that is, in many ways, already happening. One question the conference did not consider is how this low-level conflict might express itself in space, and how Defence might prepare as the country formulates a national space strategy and industry capabilities.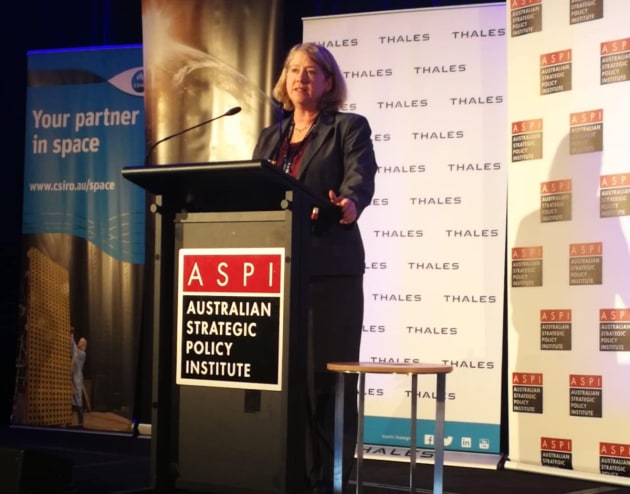 Another highlight was the on-going debate over where the Space Agency's HQ should be located. The overwhelming consensus from speakers was that state competition is an unwelcome distraction. Most advocated for a Canberra HQ with nodes in each state and territory to facilitate local strengths, such as equatorial launches from the NT and radar capabilities in WA.
Numerous speakers were keen to point out that the national agency will not be a 'NASA down under' due to budgetary constraints and the increasingly commercial nature of space activity. It will not create numerous jobs, will not manufacture space hardware, and will not build and launch rockets.
Rather, the agency will act as a facilitating body, a single front door, that will nurture Australia's nascent space economy and work with industry players to formulate national policy and engage the next generation in STEM education. It will also need to work closely with CSIRO, Defence, DFAT, and Austrade to bring together the many actors with interests in space – and those agencies are headquartered in Canberra.
Even state representatives acknowledged that space must be a national endeavour – which strengthens the case to locate the agency HQ in the national capital.
Professor Peter Klinken said it best. "We've got a small population. We need to identify where capabilities and gaps exist, and work together. The competition is global, not local. Don't waste time squabbling amongst yourselves."
All attendees, however, were unanimous in their excitement as Australia begins to bring its space capabilities to bear on the world stage.
Dr Jason Held of SABER Astronautics summed this up well.
"Americans were saying 'your company is Australian - you guys don't do space!'" Dr Held said. "That stereotype needs to be broken."
ASPI's conference leaves ADM cautiously confident that it will be.