The Force Posture Agreement signed between the Australian and US governments will see the Defence footprint in the NT grow significantly in the next few years.
Nigel Pittaway | Melbourne
The 25-year agreement will oversee a continuing ramp up of US Marine Corps presence in the Top End until to around 2,500 personnel by 2020, and will also result in increased rotations of US Air Force elements.
Under the agreed principle of 'proportional use — proportional pay', the construction and operating costs of some of the Defence Estate will be funded by the US which, together with an increased ADF presence in the north will provide opportunities for Australian industry participation.
The Marines' presence in the NT (Marine Rotational Force — Darwin) is now in its fourth year of rotations and has grown from 200 personnel in 2012 to a Battalion-sized force of around 1,150 today.
The MRF-D activities occur during the northern dry season and this year the ground force was bolstered by an aviation detachment of four Sikorsky CH-53E Sea Stallions and around 120 support personnel, accommodated at RAAF Darwin. The remainder of the MRF-D are accommodated at Robertson Barracks.
The potential for increased US Air Force rotations is covered under the Enhanced Air Co-operation (EAC) initiative but, given the current level of deployments and exercises, has not yet seen an increase in activity.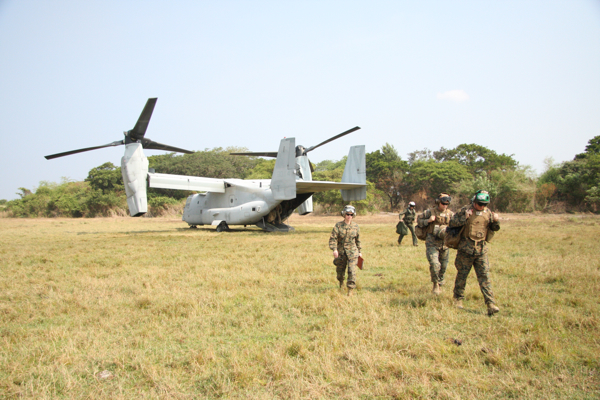 Australian and USMC personnel disembark from a USMC V-22 Osprey during Exercise Balikatan 15. Credit: Defence
Accommodating the MarinesFor the first MRF-D rotation in 2012, there was sufficient temporary accommodation available at Robertson Barracks to absorb the modest increase in personnel, however by 2014 other measures needed to be taken.
"We were lucky in that the Single Living Environment and Accommodation Precinct (LEAP) program delivered new accommodation about two months before last years' rotation," explained Air Commodore Anker Brodersen, Program Manager USFPI (US Force Posture Initiatives Program Issues). "We were to demolish a range of older blocks, but we refurbished them and converted them to double-bunk accommodation and were able to accommodate about 600 of that personnel increase."
The balance was accommodated in demountables (Modular Sleeping Accommodation) under a project delivered by Sitzler and Jacobs in just 117 days of construction between October 2013 and February 2014.
"That project also delivered administration and support facilities at Robertson Barracks and some accommodation blocks at RAAF Darwin to house the air combat element," AIRCDRE Brodersen explained.
---
"We see the big opportunities to come and my view of the potential for Australian industry hasn't changed."
---
AIRCDRE Brodersen said that adding further demountables to cope with future increases is not a favoured option, due to land area limitations and their low life-span in the harsh tropical climate.
"The agreement is for 25 years and clearly demountable infrastructure is not going to last the full duration of the agreement. We are still estimating that the work which needs to be done to support the initiatives will be in the vicinity of $2 billion," he said.
"The Americans will fund any development and they will need to work out what they require. One issue to be looked at is, what is a cost-effective solution for the whole of life arrangement and I would anticipate that there has to be at least semi-permanent structures. You wouldn't be looking at temporary buildings as the enduring arrangement."
One opportunity may result from the Defence Estate consolidation process, which may see the refurbishment and re-use of surplus infrastructure.
"We are always looking for facilities that we might be able to re-use and if something becomes available then we will try our hardest to reduce the bill. We are also looking to see if there are any commercial options to provide services that might again reduce the outright construction bill, depending on how it was delivered," AIRCDRE Brodersen said.
"From a program office perspective our job is to define what the need and requirements are within Australia; we're effectively the capability sponsor on behalf of the US. We will advise the Defence Estate and Infrastructure Group of those requirements and they will look at what might be the best use of Defence assets going forward."
Australian industry opportunitySo far, the Australian government has spent $11 million on the construction of temporary infrastructure to ramp up to 1,150 US Marines and AIRCDRE Brodersen predicts significant opportunities for Australian industry looking forward.
"We see the big opportunities to come and my view of the potential for Australian industry hasn't changed. We will need to construct or refurbish facilities and infrastructure on a number of NT bases and training areas to support the rotations. The timing of these opportunities will depend on finalising negotiations on cost sharing and the normal government approval process for both countries," he said.
There are also significant long-term opportunities in the provision of support services and work is now underway to understand exactly what the US requirements will be, other than the obvious provision of basics such as food.
"We're keen to understand what opportunities there may be for Australian industry to support equipment and then there's a range of other services, such as communications and security arrangements, that still need to be determined," AIRCDRE Brodersen continued.
"The NT is predicting a slow-down in construction activity in Darwin over the next 5-6 years, and a gradual tapering off of construction work, so I would anticipate that we're actually in a pretty good space right now, for Defence to provide construction opportunities in the Darwin market."
AIRCDRE Brodersen points to what he sees as the 'positives' for the NT economy from both the Force Posture Initiatives and the broader ADF footprint likely to result from the forthcoming Defence White Paper and Force Structure Review.
"We strongly support the Force Posture Initiatives because we see a lot of value in them. It is good for regional stability and we also see benefits in interoperability and the training," he concluded.
"We are very keen to see that it fits in to a broader scheme of Defence thinking strategically about its long-term needs, because Darwin's proximity to South East Asia is really vital for our national security interests."
Note: AIRCDRE Anker Broderson spoke about this issue at ADM's Defence Estate and Support Services Summit in Canberra in September. See the ADM website for details.