ASX listed Department 13 has commercially launched its flagship counter-UAS product, Mesmer, on Monday 23rd January.
The company, supported by Australian distributor EPE, demonstrated the platform to ADM and stakeholders in November last year and more detail surrounding the technology can be read here. Mesmer uses sophisticated, automated detection and mitigation strategies to stop, redirect, land or take control of small UAS across a range of national security, defence and commercial scenarios.
Mesmer's key differentiator is its ability to manipulate weaknesses in all digital radio protocols and take control of a UAS's computer, allowing it to land safely in a defined exclusion zone.
"Our solution is superior to other technologies available in the market that jam or shoot drones down and pose significant risk for the personnel and infrastructure they are designed to protect," Department 13 CEO Jonathan Hunter said.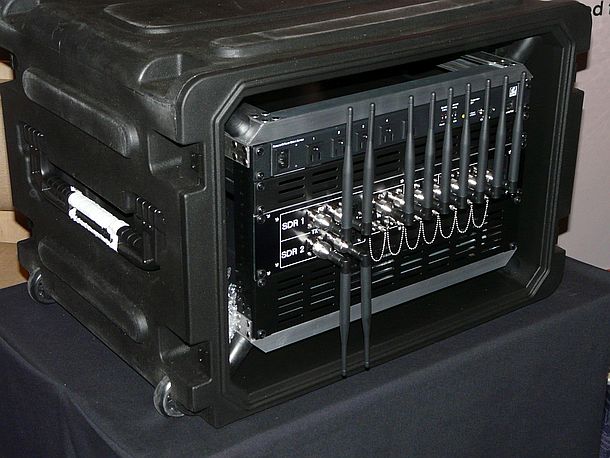 The physical system consists of a 41 kilogram stand-alone, rack mountable unit. Credit: ADM (Patrick Durrant)
"Having delivered Mesmer on time and on budget, Department 13's focus is now to drive sales, both directly and through our partner channels, and to establish the product as the global market leader in counter-drone technology."
A number of tier one customers have commenced commercial trials and scheduled demonstrations of Mesmer, which follow a series of successful validation exercises conducted last year including Black Dart and the MITRE Challenge.
Department 13's global distribution network enables MESMER to be marketed to an initial 37 countries. The sales channel comprises strategic partners Booz Allen Hamilton in the US, EPE in Australasia, Phoenix Group in Latin America and ISM in the UK and Europe.
For more on counter-UAS solutions, read our forthcoming article in the February issue of ADM.
Department 13 CEO Jonathan Hunter (L) and technical lead Brian Halfpap at the demonstration held in Sydney on November 2. Credit: ADM (Patrick Durrant)